Process Integration Raises Productivity and Quality
CNC manufacturing is more than machining: the workpieces often require finishing, washing, measuring or marking operations to be ready for shipping. Sometimes assembly, welding or heat treatment operations can be necessary. The process might also include tool pre-setting with a dedicated device or moving workpieces or tools with an AGV system. These processes and devices can be automated by integrating them to be a part of an automation system. This results in more unmanned production capacity, shorter lead times, more stable quality and more.
What CNC Supportive Processes or Devices to Automate?
Below you can see the main categories of supportive devices and processes that Fastems integrates and automates. In reality, the list is longer and if you don't find your device/process there, be in touch with your local Fastems representative! Higher revenue and profits with less tied capital
Integrating CNC machining supportive processes and devices into an automation system leads into higher utilization of resources by enabling unmanned production, more throughput and higher quality. In short: the production achieves higher volumes and profits and operates with less money (less stocks and WIP). Less idling, more capacity, higher quality and easier production planning
Intelligent automation and process integration makes sure planned production will happen – oftentimes without human intervention. This means less waiting (OEE), shorter lead times and stable and high quality. Happier people, customers and planet
Automation helps fighting the challenges of finding and keeping skilled labor and being able to deliver quality on time. By increasing resource efficiency and making jobs more meaningful, safe and accessible it also supports in reaching sustainability targets.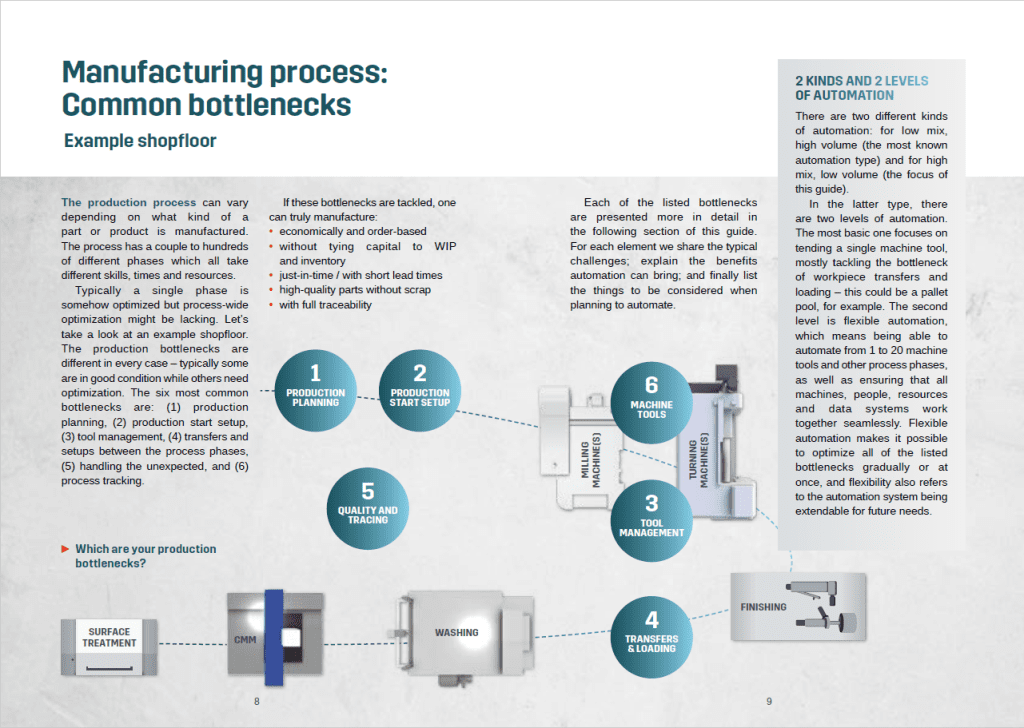 To better understand automating CNC supportive processes or devices start here:
Download our automation guide for a practical, step-by-step instructions on how to improve and automate metalworking batch manufacturing – including supportive processes and devices. There is a snippet of the guide next to this text.
Enjoy a webinar recording where our MMS product manager Janne Kivinen explains the six solution blocks of economic small batch manufacturing.
Contact your local Fastems representative. Developing a well-working automation system requires always case-by-case evaluation, discussions and concepting. That journey can begin today!
Solution Finder
Use the below selections to browse our automation solution platforms and get a head start for discussion with your local Fastems representative:
Tired of browsing?
Give us as a call or send and email for any questions you might have!
"*" indicates required fields