MMS –
Manufacturing Management Software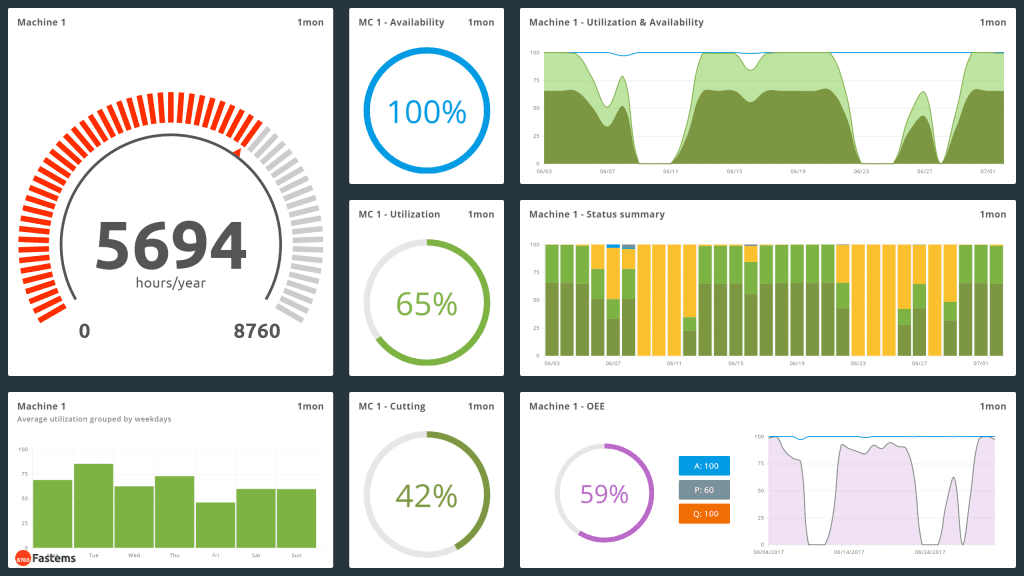 What is MMS?
The Most Intelligent Software in the Industry 4.0
MMS is the industry's most advanced production planning and execution software. MMS is always one step ahead by automatically calculating the optimized production workflow and necessary resources based on orders.
MMS automatically adapts to changes in the daily production schedule and displays information to maintain the production output.
Brochure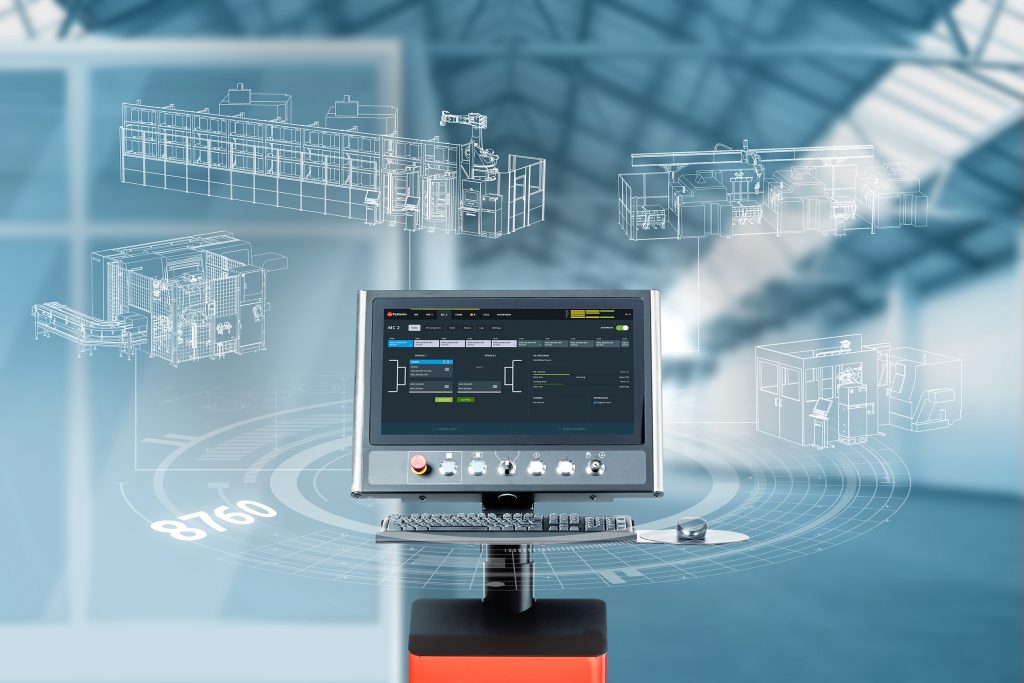 The ultimate planning and execution software 
Key benefits of MMS
MMS calculates, even days ahead, automatically the optimized production workflow and necessary resources based on orders – no hassle even when sudden changes occur 
Suitable for diverse production needs: high product mix, low volume, and small batch production 
Scales up from simple standalone work cells to highly complex automated production lines 
Maximizing spindle uptime and high delivery reliability 
No more scheduling problems because of missing tools, urgent orders, unexpected machine stops, and incorrect NC program revisions 
Pallet-, part- and work cell operations are under the same control – choose all or just one module for your production  
Easy integration of different production machinery and data systems (e.g. ERP and CAM) 
Integrate to different production machinery
MMS FOR PALLET
Pallet handling automation
Production control software for pallet based automation solutions (FMS)
Detailed production scheduling for the entire system
Adaptive production simulation based on real-time data up to 96 hours ahead
Seamless real-time manufacturing process control and visibility over the whole production
Extendable with integrated tool automation
MMS FOR PART
Part handling automation
Batch production and setup scheduling for lathes and milling machines
Coordinate-based material management with configurable matrices
Top-of-the-line production control for advanced part handling solutions
Ideal control software for high-mix production
MMS FOR WORK CELL
Work cell operations
Scheduling for stand-alone machines and other manufacturing operations such as inspection and quality
Seamless real-time manufacturing process control and visibility over stand-alone and automated manufacturing operations
Batch production and setup change scheduling
Seamless production flow over automated and non-automated work cells
Intelligent & Adaptive Production Planning and Execution
Tool for Resource Management
MMS takes care of all the resources you need for automated manufacturing. Once you input the workpiece, fixture, NC programs, tooling and material information, MMS shares it with your machine tools based on current orders, and maintains all the information in one place.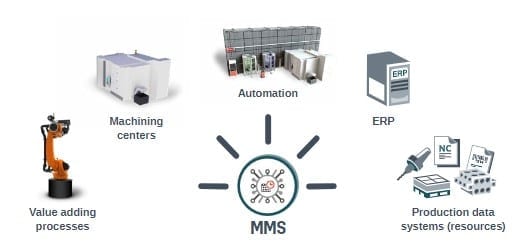 MMS Integrates your Production
In the modern manufacturing environment, seamless team-play is created by integrated production data systems and machinery. MMS creates a bridge to individual data systems and binds the production data and resources together. Production data integration enables to use up-to-date information for fact-based decisions and gives the visibility from shop floor to top floor.
Advanced factory automation process with MMS
One solution to plan, run and monitor production from the shop floor to the top floor.
Digital Ergonomics – Easy to Use
for Everyone
MMS has been designed with three different user interfaces that provide exactly the right information and the best possible user experience for each user group. It is truly easy to learn and easy to use. 
MMS Dashboard —
for production data transparency from shop floor to top floor 
Follow the KPIs of your choice at a glance in a fully configurable dashboard view
Monitor your production and its performance in real time from 3D overview or machine status view
See current resource shortages and other issues requiring immediate attention
MMS Data Manager —
for production managers
Manage your production master data such as production orders, parts, NC programs, tools and fixtures in one place
See and manage your production schedule and order completion dates up to six months ahead
See the realized utilization and availability reports for all the connected machines and devices
MMS Station Commander —
for production operators
User interface for daily manufacturing operations, like loading and unloading tasks
See the current statuses of the production machinery
Easy access to documents and instructions
Improve Workstation Ergonomics
The MMS Station Commander has been carefully designed to upscale production operators' work. One can adjust both the height and the angle of the screen and the small table. Thanks to the simple and ergonomic design combined with an easily operated MMS user interface, Station Commander offers an effortless user experience. 
See how it looks like: MMS Station Commander!
Ready to find a solution?
Give us a call or send an email.