The Benefits of CNC Automation
Automation Makes Manufacturing Competitive and Sustainable
This page summarizes the 10 key benefits of CNC automation grouped in three categories. First, operative excellence leads to higher efficiency and productivity, which in turn boost financial results. Furthermore, customers are more satisfied thanks to faster lead times, more stable quality and price competitiveness. People working in manufacturing also experience more safe and meaningful jobs. In short, everyone wins – a lot.
Want to know how much YOUR production could benefit from automation? Take our 3-minute-long machine tool utilization test or just keep on reading:
The benefits of CNC automation
The vision behind our automation solutions is having production do only the right things, at the right time – all the time. The ultimate goal for people and businesses is to make the most out of the time we've got. In numbers, that's exactly 8760 hours each year.
Put shortly, automation makes manufacturing competitive but also a significant effect on sustainability. Higher efficiency, more timely production, less waste, improved quality and better work are all ways in which automation and digitalization contribute to manufacturing sustainability in practice.
Below you can find a summary on the key automation benefits followed by a more detailed explanation of each category. Here, it's important to note that there's a lot of interrelationships between the benefits, for example 'machinery utilization rate' vs 'production volumes' vs 'work piece unit cost'. This is because like many real-life phenomena, the benefits of automation don't come in neat, isolated categories either.
The benefits of CNC automation include:
Higher output and revenues
Stronger gross profit and net result
Higher return-on-capital
Improved customer satisfaction
Better employee engagement
Faster and more reliable lead times
Higher machinery utilization and OEE
Better and more stable quality
Less stress for production managers
Smaller inventories
More sustainable manufacturing
Here's an illustration summarizing the CNC automation benefits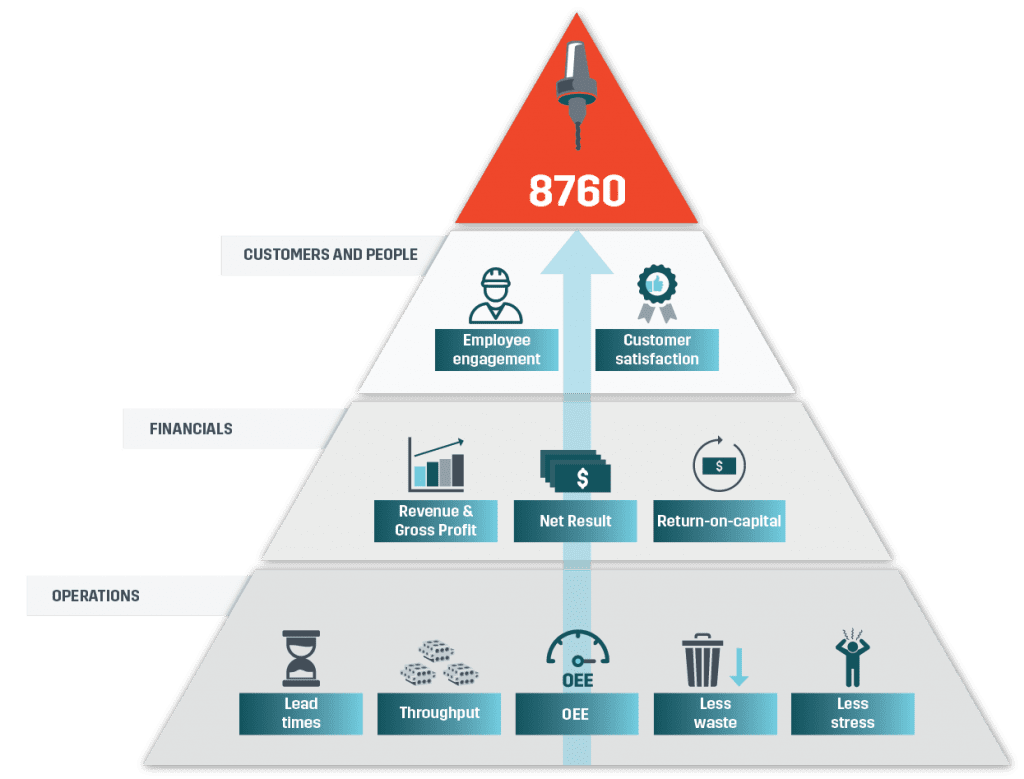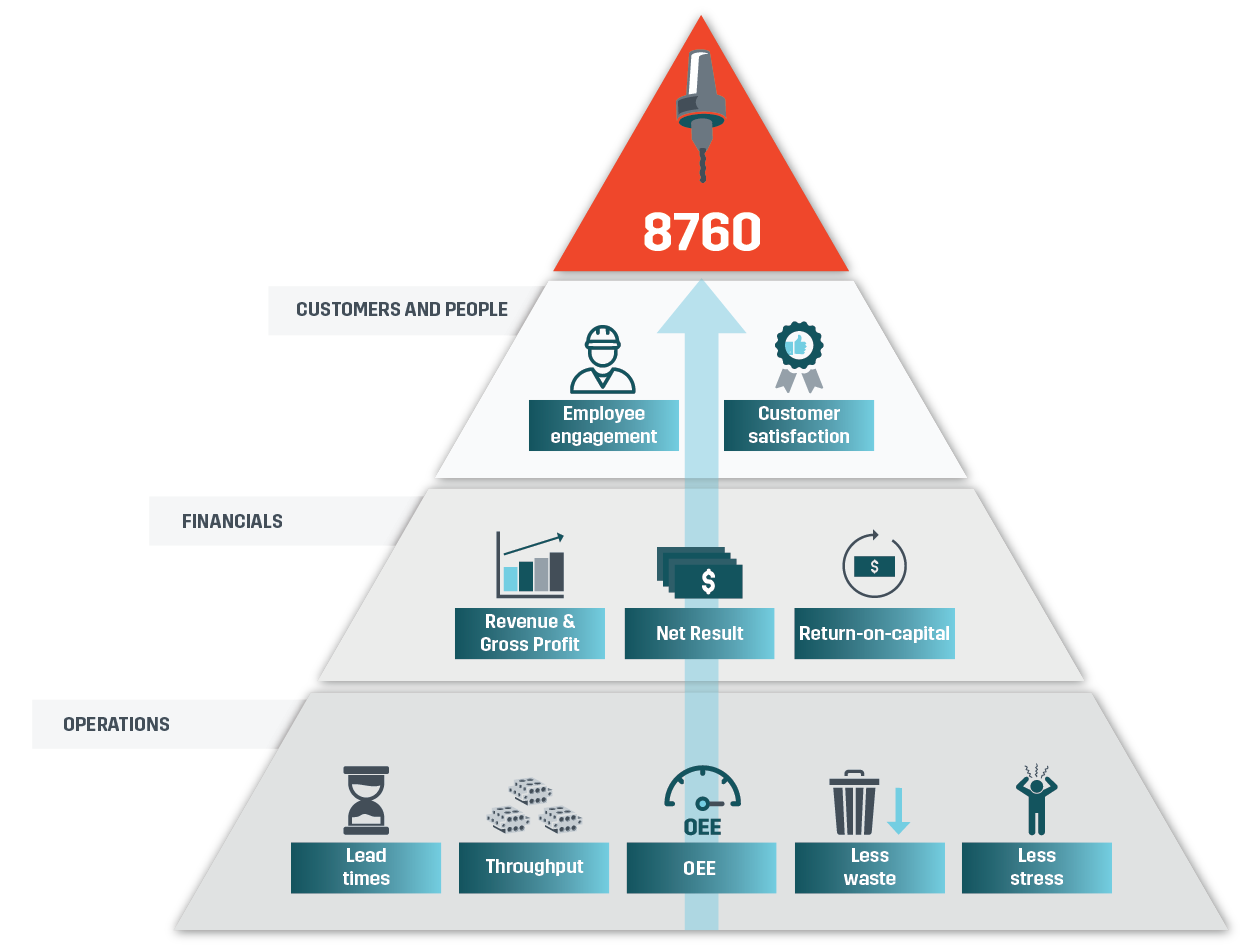 Unpacking the automation benefits

Operations
Automation transforms the daily operations making them much more productive, efficient and stable. At the end of the day this is measurable in the five key production metrics mentioned in above pyramid. How do they come about? Keep on reading:
Less idle times
In pallet handling automation systems set-ups can be prepared while another pallet is being machined eliminated set-up times almost completely. In robotic automation the part loading sequence is fully standardized and quick. Here, possible gripper changes related to handling of different parts can also be automated. This effect can raise utilization of machine tools from circa  20% to 60-80 %.
Higher and more stable quality
Automation requires reproducible processes that it completes almost completely error-free – unlike humans. The end result is obvious: stable and high quality.
More effective and integrated processes
The standardization of processes required by automation opens the door for easier integration of auxiliary processes like finishing, washing, marking, measuring etc to be part of the automation system. The end result: the total automation rate of your manufacturing increases.
Automated production planning and resource management
Production happens as an interplay between machinery, people and IT-systems. The band needs to be properly orchestrated to perform well together. Intelligent production planning and execution software makes proactively sure that production orders can be completed when necessary and that machinery are highly utilized. This means guiding the operators, managing resources, scheduling machinery capacity and forecasting that all requited order scan be completed (no missing tools for example).
Unmanned production
Standardized processes combined with automated production planning and execution enable unmanned production – day and night.

Financials
Improved financial results are of course driven by development in operations such as higher utilization of resources, more throughput, higher quality or more proactive production planning. The effect in short: the production achieves higher volumes and profits and operates with less money (less stocks and WIP).
Higher production capacity grows revenues
Automation increases output per machine meaning that you can produce (and sell) more. Transparent capacity planning, provided by intelligent automation, raises output as unnecessary buffers are reduced from the production. Increasing volumes scale all fixed costs.
Decrease in indirect and direct labor costs per part
Automated production need less human interventions to operate. Direct labor costs decrease as one operator can run e.g. triple the quantity of machinery with automation vs stand-alone machines. Indirect labor cost decrease as intelligent production planning features scale production planning engineers for e.g. triple the size of operations.
Please note that according to our experience, manufacturers investing in automation end up either 1) running larger operations with current staff, or even more often, 2) hiring more workforce as they reap the benefits of higher productivity and stronger financials.
Decreased machine tool investment allocation per part
Machine tool (+automation) investment gets allocated to larger production volumes as the machine(s) idle less. The change is usually from around 2000 hours of machining in stand-alone vs around 6000 hours of machining per year with automation. Automation means also less machine tools occupying costly floor space.
Decrease in working capital
As one can produce just-in-time and not over-sized batches, less capital is tied to work-in-progress and stocks. Optimized set-up times also reduce the need for over-size batch production. In practice, some level of stocks are often necessary life but minimizing them frees up capital for e.g. investments or dividends.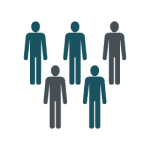 Customers and people
Smarter operations are good both for the workforce and customers. They help fighting the challenge of finding and keeping skilled labor and being able to deliver quality on time – while remaining profitable.
Meaningful and safer work
Finding and keeping skilled employees in manufacturing jobs isn't easy today. Automation makes the work of operators more meaningful and engaging. How? By providing better ergonomics, handling repetitive tasks and improving safety related to heavy weights and difficult working positions. Using intelligent automation systems is also intuitive and pleasant.
Lead times, quality and cost
Transparent production planning and stable processes give high reliability to both the manufacturer and customer that the promised lead times will stand – and that they are quick. This also enables the manufacturer to utilize it's full production capacity instead of leaving unnecessary buffers to deal with the unexpected while coping with lead time promises. As automation provides higher productivity, it also helps the manufacturer to survive with constant pressure for cost-reduction.
Read More About The Companies Who Have Benefited from CNC Automation
Or rather talk or mail directly with us?
"*" indicates required fields
Why Should I Automate My Production?
Did you know that the average non-automated production process has a machine utilization of max 30%? That means that out of the 8,760 productive hours available in a year, over 6,000 are lost.
 In contrast, automated production can achieve utilization of up to 90% (8,000 hours) a year.
Why? Read more below.
Do you know the utilization rate of your machine tools? Take our 3-min test!