AGV and Flexible Automation
Reducing Manual Transfers with AGVs
AGVs (automated guided vehicles) and AMRs (autonomous mobile robots), are becoming standard solutions in workshops of all sizes. They can be of great help in intralogistics due to their flexible route possibilities and ability to carry various loads. Today, AGVs and AMRs are often integrated as a part of flexible manufacturing systems to ensure timely and safe transfers of production resources such as raw materials, cutting tools or machine pallets.
AGVs Integrated with CNC Automation
Today, almost all manufacturing industries are using AGVs or AMRs. Whether in aerospace and defense, fluid power, medical, heavy vehicle, subcontracting or general machine building industry, there are automated vehicles on shop floors. The biggest benefits brought by AGVs are timely and safe transfers of various objects via flexible point-to-point routes inside a factory or a warehouse. When it comes to CNC automation and automated transport vehicles, they can be a great help to reduce the manual transfers or forklift operations, reducing buffer sizes, increasing the automation level and making the production flow more predictable and reproducible.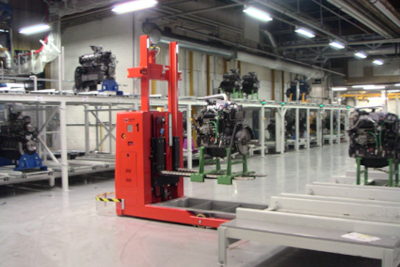 AGV types
AGV, an automated guided vehicle, and AMR, an autonomous mobile robot, are unmanned transport devices for moving various kinds of loads inside a factory. There are four main categories to meet with different transfer needs:
forklift / fork type AGVs in different sizes for moving work pieces, tools and material pallets of up to 2,500 kilograms
top load AGVs are conveyor-looking vehicles for moving various loads from 100 to 60,000 kilograms
AMR is an AGV capable of free-movement and real-time path planning
Mobile robot is an AMR unit with a mounted industrial 6-axis robot, able to reach and transfer various light loads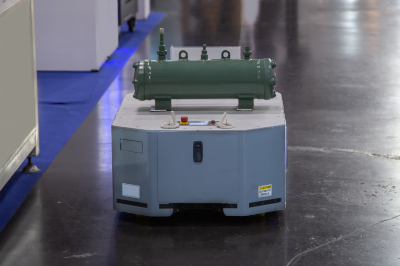 AGVs in CNC Production
AGVs or AMRs can be of great help to reduce repetitive and heavy manual work from internal logistics. Typical applications with CNC production are:
moving raw materials from storage to machining
transferring cutting tools between the tool room and machines
delivering semi-finished or finished parts to the next process phase
moving workpieces between machines when the floor space is tight.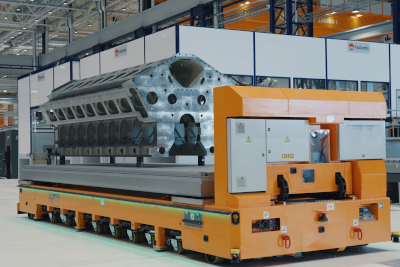 Integration Possibilities
Fastems is an open integrator with a library of hundreds machine and device interfaces, meaning we can integrate with any AGV or AMR brand. After 40 years of interfacing with different software and hardware, we can support our customers in selecting the right kind of automated vehicle.
AGVs and AMRs are commanded by a fleet management software
we have ready-made interfaces for several AGV/AMR fleet managers
Fastems in-house interfacing specialists are here to ensure that the communication is fluent between CNC automation and the fleet manager
AGVs for Material Logistics
Step 1: Adding centralized material storage and AGVs

Customer with an existing flexible manufacturing system (FMS) wanted extend material storage and to automate the internal logistics for timely material transfers and more organized way of working.
AGVs for Tool Transfers
Step 1: AGV transferring tools between machines and tool room

Customer has a dedicated tool room for tool reworking and wanted to reduce the consuming manual transfers of heavy and edgy tools. AGVs were implemented to carry sets of tools between the machining centers and the tool room.
AGV + Fastems MMS = Winning Combination
AGV or AMR with fleet management software is an excellent tool for creating point-to-point routes, plus maintaining and charging the vehicles timely. However, the fleet manager does not have visibility over production. Integrating your AGVs with Fastems MMS (Manufacturing Management Software = automation control of all Fastems systems) enables seamless integration of AGV transfer tasks with needs of the manufacturing operations. MMS schedules to do the right AGV transfers tasks just at the right time. Here is how Fastems MMS and the AGV fleet management software work together: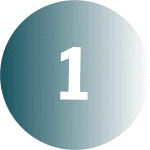 Production Planning and Scheduling
MMS checks the order backlog and available production resources (NC programs, machines, tools, raw materials, work holding). It creates a production plan based on the order due dates and available production resources so that everything will be ready on time, there are no unnecessary WIP, and all the production capacity is used efficiently. MMS creates a fine schedule for the upcoming 96 hours where you can see all the details on the upcoming resource needs.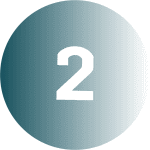 AGV routes and transfers
MMS informs AGV fleet manager on which transfers to order and when. Then AGV fleet manager commands the best available AGV to make the transfer. All the transfers are done just-in-time to reduce need for large buffer storages between resource phases, and the operators are alerted in advance of the missing resources so that they can ensure everything is in place.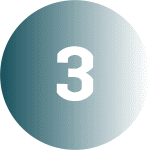 Adapting to changes
There are sudden changes in production, there is no way around it. Whether it is a missing resource, an urgent customer order, a sudden machine or tool break or a faulty NC program, MMS tracks all the machinery and data systems real-time and adjusts the production plan accordingly. This means that the AGV or AMR transfers support the real-time plan and there is no unnecessary WIP created.
Amount of transfers. List your manufacturing mix and make a cycle time analysis to understand how many transfers are needed to do in a certain time period. This helps you to evaluate which transfer devices have enough capacity for you and how many of them you need. It is good to keep in mind that even though automated vehicles are very flexible route-wise, their transfer capacity is lower than in linear systems.
Buffer storage. Like with any flexible production system, a buffer storage is needed to avoid unnecessary WIP on the shop floor.
Load handling for different machines and devices. How are the physical interfaces of your machinery with AGVs? To achieve the highest machine utilization possible, is important that an AGV or AMR can load the item. Can you use conveyors or robot stations for moving the parts from the AGV to the machine? Can the machine be equipped with an auto-door?
Keeping the shop floor clean. As we know, production and especially CNC machining causes mess – how to ensure that the chips and coolants do not end up on the shop floor?
Ready to find a solution?
Give us a call or send an email.
"*" indicates required fields