What if your production would do the right things, at the right time – all the time?
Fastems in Short
Fastems is the leading supplier of flexible automation solutions for high-mix CNC manufacturing.
We're a family-owned integrator with over 40 years and 5,000 installations of experience with 100+ machine tool, device and software brands. Our customers are industrial machine builders and subcontractors of various kinds, located Europe, North America and Asia. Our mission is to help metalworking manufacturers improve their productivity and profitability and in that way, build competitive and sustainable manufacturing.
Fastems' supplies pallet and robotic automation solutions – always equipped with our industry-leading production planning and execution software MMS. We also have solutions for automating the production and resource planning of stand-alone machine tools. We support our systems with a wide range of services.
Why Work With Us?
The majority of today's CNC manufacturers are at least discussing automation while many have multiple systems in their shopfloor. The benefits of automation are clear and up for grabs but automation also comes with a challenge. Like with most things in life, to get decisive and lasting results, it needs to be done right: just placing a robot in front of a CNC machine does not 'automatically' help. Our decades and thousands of systems worth of experience suggests that the recipe for success in CNC automation goes like this:
Solve the right problems, with the right solution, from a partner you can trust, in the long run.
Below we break down the sentence to four parts and explain what they mean. Remember, that the points might sound obvious and trivial but our experience indicates they really are not.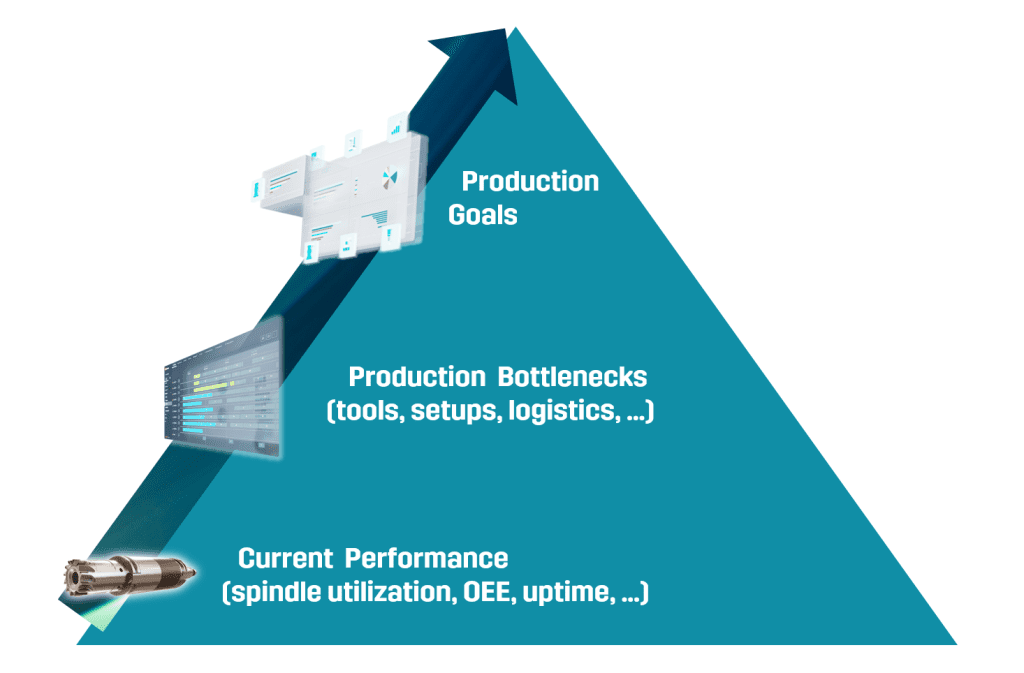 1. Solve the RIGHT problems…
A successful automation project is based on two fundamentals: (1) a realistic understanding on current production set-up and it's bottlenecks, and (2) clearly defined goals that will guide you forwards. For example, do you know how many spindle hours are you now getting per machine? Or would you run out of tool pots if your CNCs were running with higher pace?
Your CNC machine IS NOT what primarily defines the right automation solution for you. It's your production needs and goals that do. We at Fastems have the tools to help you to understand and frame your current production challenges. Building on an accurate view of the current situation, we can together think and develop the RIGHT solution for you. In our experience, buying automation 'off-the-shelf' doesn't get you very far.
Remember also, that it does not matter which machine tool brand or type you use, or how many of them you have. We have 40+ years of experience with 100+ machine tool, supporting device and software brands.
Try our Machine Tool Utilization Test and get free productivity tips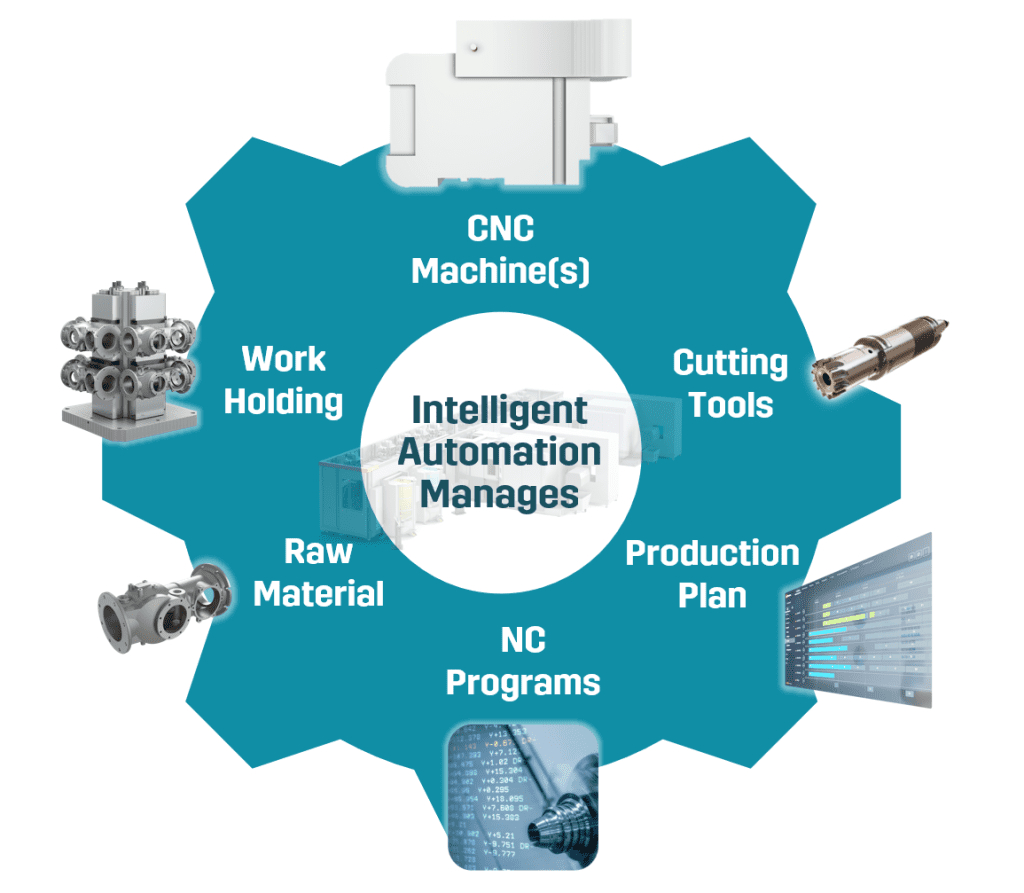 2. With the RIGHT solution…
The unique value in Fastems' automation lies in our MMS (Manufacturing Management Software) control that is like the brain of the production. Feed it with production orders, and MMS schedules and executes your orders on time. By handling production resources like NC programs, tools or materials MMS can (1) ensure your planned production CAN and WILL happen in time, (2) reconfigure after sudden issues like machine breakdowns or missing tools, and (3) constantly guide the operators for the right action. The result is effective, yet flexible CNC batch production with real-time transparency on production status and production plan. You also have a wide production analytic features for tracking your KPIs and improving your production.
Our wide offering and technical platforms ensure that you can get the solution you need, and our integration capabilities help you to plug in your software and supportive devices like measuring, marking or washing, to the process.
Read about Manufacturing Management Software
Check the typical CNC, device and software brands we automate.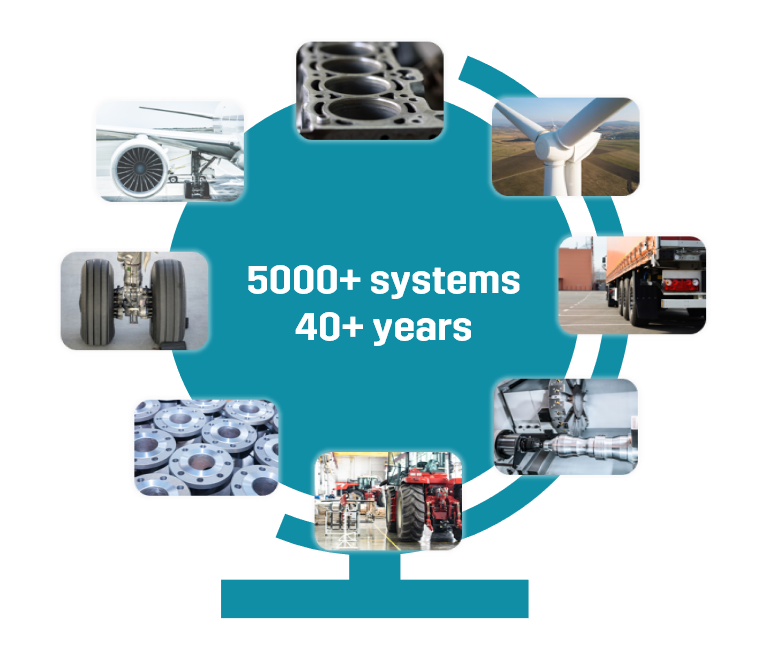 3. From a Partner You Can Trust…
It's one thing to render a picture of a CNC automation system to a brochure and another to deliver over 5,000 of them over four decades. We are a family-owned business that has a long-term view on the business and a culture focused on customer value, learning and results. Our systems typically last at least twice longer than the attached machine tools. Our customer record is 40 years of the system use in engine block manufacturing.
Our 200+ in-house software engineers make sure your production is planned and operated intelligently, and our interfacing team makes sure all your devices, software and processes work together flawlessly. Thousands of OEM manufacturers and subcontractors in aerospace and defense, medical, energy, heavy vehicle and other machine building industries trust Fastems as their productivity partner – around the globe.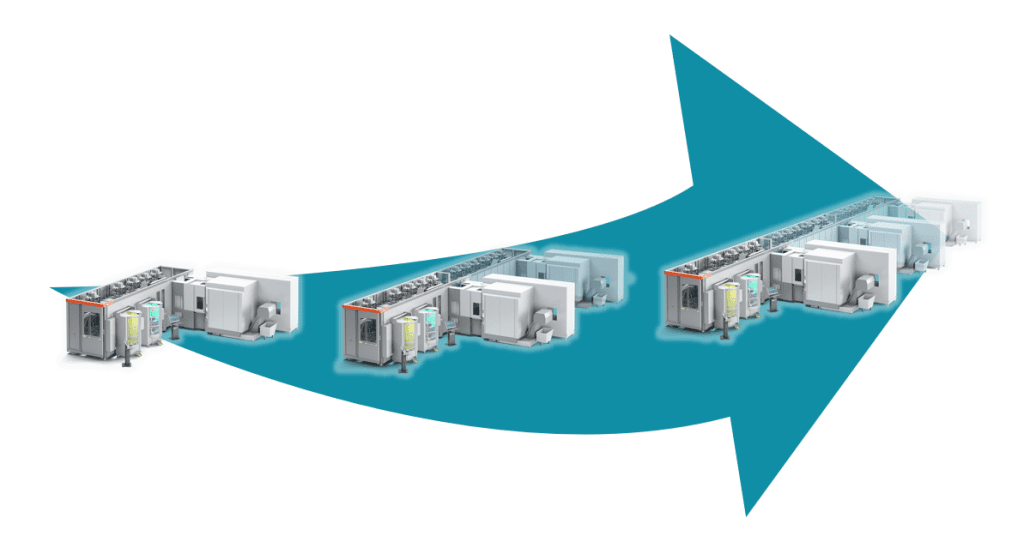 4. In the Long Run!
Servicing automation is quite different than servicing machine tools. Include full life-cycle support like modernizations, and the comparison is even more apparent. To reach the full potential of your automated production, a full-stack service partner is required, capable of fast reaction and support for years to come.
The majority of Fastems' solutions can be extended or modernized – and over 80% of our customers do so! Our 8760 support team is available 24/7 and gets over 90 % of tickets solved remotely. The rest is taken care by our regional service units. Whether it's training, spare parts, periodic maintenance or productivity consultation, our over 130 automation service and support specialists are here to help!
Want to learn more?
Give us a call or send an email.
"*" indicates required fields