Sustainable Manufacturing
We believe the future belongs to those who can produce more with less
Fastems' purpose is to build sustainable, strong and competitive manufacturing with our automation solutions and services. This calls for balance in outcomes for people, planet and profits, also known as the 'triple bottom line'. We are working with high business integrity in building flourishing people, healthy planet and competitive manufacturing. For us, sustainability is about our own operations (footprint) and the impact our solutions (handprint), also known as the 'double materiality' approach.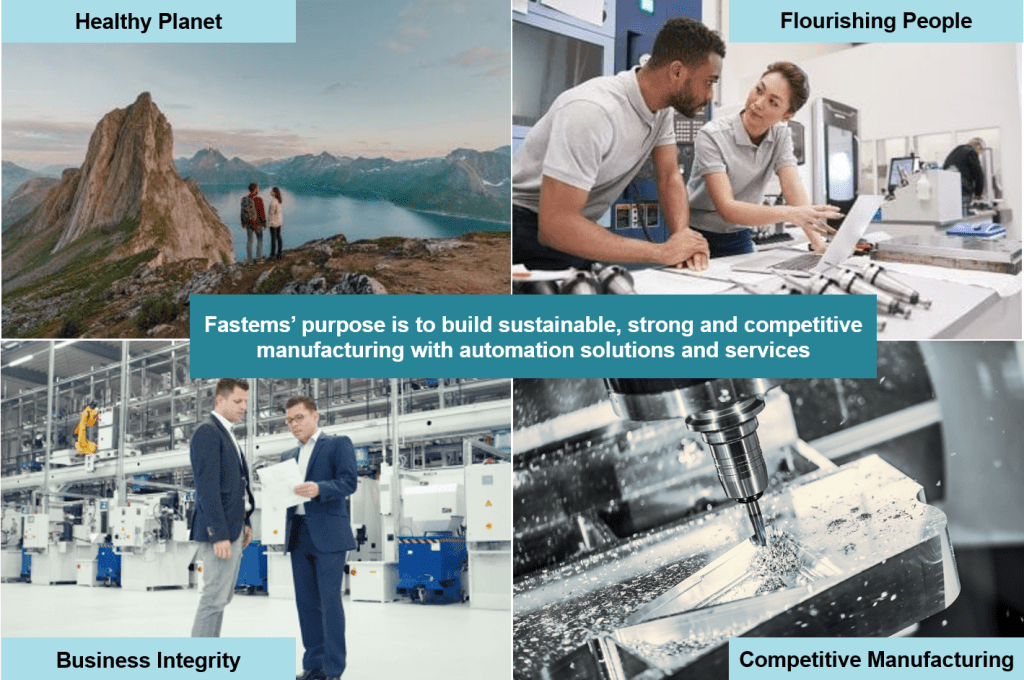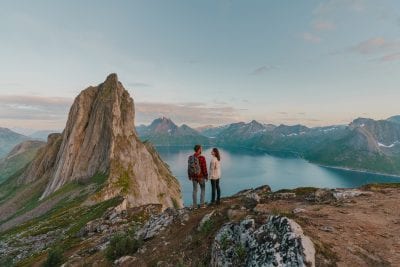 Healthy Planet
Automation builds ecological sustainability by increasing resource and energy efficiency, decreasing the amount of waste and floorspace usage and enabling just-in-time production of just-the-right-quantity of parts.
Fastems strives for environmentally neutral operations and is committed to CO2 emission reductions in accordance with Science-based-targets initiative (SBTi). Our solutions are designed to last for decades and are largely recyclable after decommissioning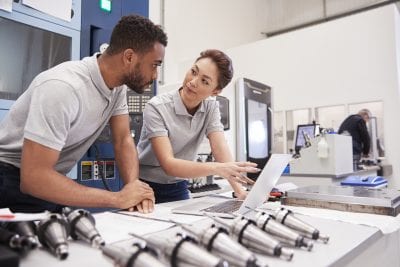 Flourishing People
Automation makes manufacturing jobs more engaging, meaningful and safe. This improves individual lives but also helps manufacturing companies with their workforce challenges.
Fastems' culture is about empowerment, personal growth, inclusion and safety. We constantly track employee engagement, with an aim for improvement.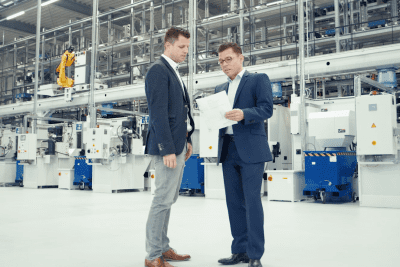 Business Integrity
Intelligent automation supports transparent production reporting that can also extend to value-chain level visibility.
Fastems' code-of-conduct, quality system and culture are built on transparency and high respect for laws, contracts, business partners and human rights. We also commit to high safety standards, including cyber security.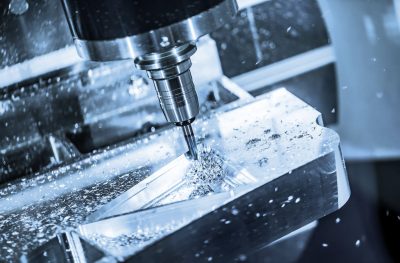 Competitive Manufacturing
Increasing efficiency and productivity through automation is the only way to make manufacturing competitive anywhere in the world – especially in locations where costs are high and labor is difficult to find. Competitive manufacturing sectors also build healthy national economies.
Fastems strives for high customer value and quality in our products and services. This way we can create a positive business cycle, serving the manufacturing industries even better in the future.
"In short, saving the future of the planet we live on…"
Our Carbon Handprint and Footprint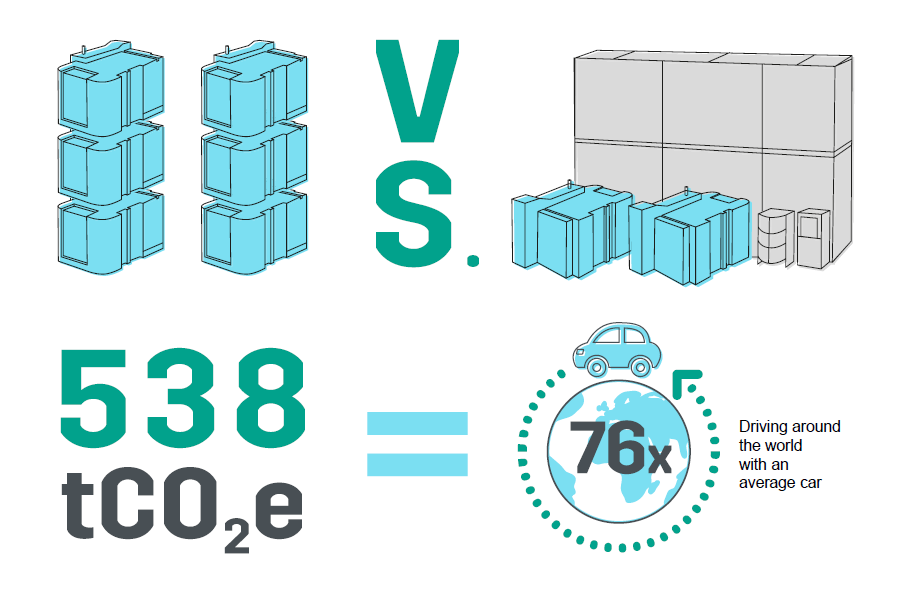 Automation means smaller carbon handprints
Fastems helps its customers develop their manufacturing to combine increased productivity with a positive impact on the environment. The concept of carbon handprint is used to discuss and measure how this comes about. By definition, carbon handprint means the reduction in emissions by a product or a service. So how can one calculate it for Fastems' automation?
As automation multiplies the utilization rate of machine tools, it enables manufacturers to reduce the CO2 emissions related to their production development investments. This happens by reducing the amount of machine tools necessary to reach a certain production capacity. With a typical flexible manufacturing system (FMS) with two integrated machine tools running on utilization rates of 60 % each, the system can replace six stand-alone machine tools that can't yield more than about 20 % of utilization.
In the situation above, one can save up to 538 tCO2e during the investment in decreased machine tool and space costs – which equals to taking 76 trips in your car around the globe. And there's more: 34 tCO2e is being saved every year in heating (or cooling) costs because of how automation consumes less floor space. The figures represent the typical machine sizes integrated by Fastems and the typical emissions caused by their production – netted against the emissions caused by the production of the automation solution.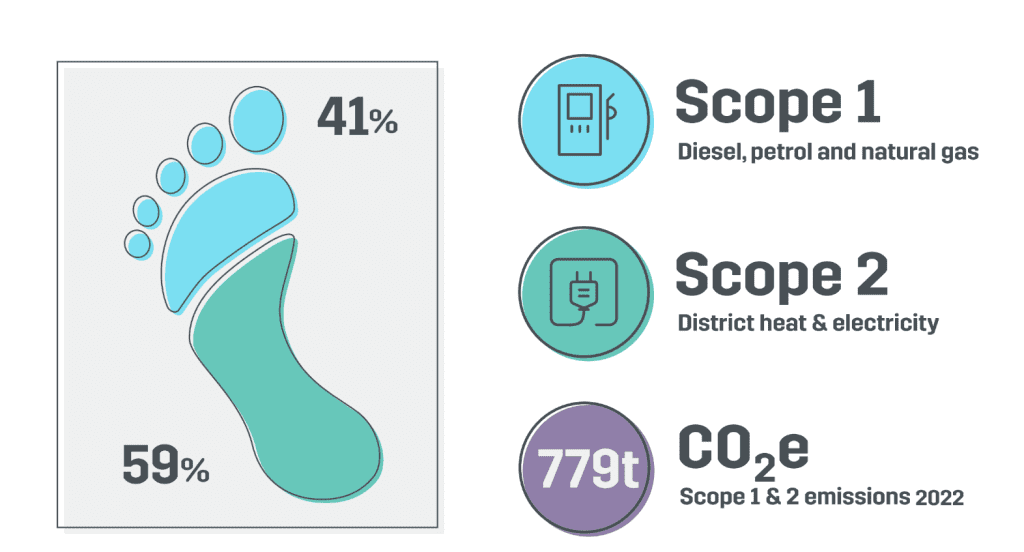 We're working on reducing our footprint
Carbon footprint means the (CO2 equivalent) amount of emissions that are associated with Fastems' own operations. For our direct emissions and emissions from purchased energy (GHG Protocol Scopes 1-2), the biggest share comes from electricity and heat consumption. They make up for nearly two-thirds of our carbon footprint.
From 2019 to 2022, we have been able to reduce our fooptrint for 47 CO2te or 6 %. We're working in reduction measures to reach the science-based-targets (SBTi) level which means 50 % reduction of emissions by 2030 in GHG scopes 1-2. We have also calculated our GHG scope 3 emissions from the categories of 1-6 where purchase goods and capital goods (category 1-2) make 88 % of the emissions.
Want to know more? Contact us!
If you'd like to learn more about Fastems' sustainability, don't hesitate to be in touch.
"*" indicates required fields