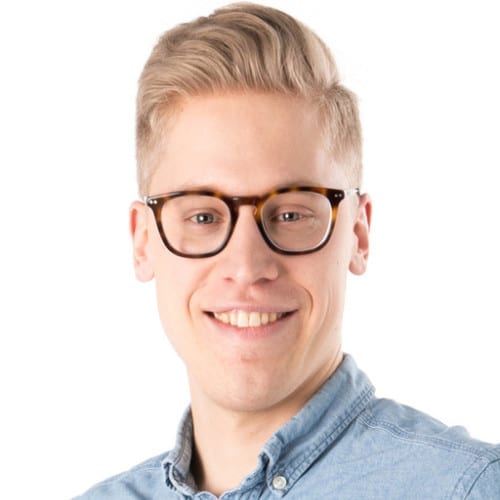 Written by Mikko Tuomaala, Marketing Director
In this blog post, we recap the highlights of FasTALKS episode four – the future of manufacturing. What will change on the shopfloor, what is needed to implement these changes and what are the implications? Director of RDI Harri Nieminen and Product Manager Janne Kivinen look at the big picture, and discuss changes on two levels:
Smart factory referring to changes within the walls of a single factory
Hyper-connected factories referring to changes in the network of factories.
Let's find out what these concepts mean and why are they relevant for the manufacturers today.
This blog post is a summary of the fourth episode of FasTALKS – our podcast that discusses relevant topics around factory automation in the metalworking industries. This means that everything covered in this post is also available for listening on Spotify and can be watched on the Fastems YouTube Channel.
FasTALKS episode 1: Top five factory automation myths FasTALKS episode 2: The daily life (or hell) of a production manager "FasTALKS episode 3: Tool management and how to improve
What is a smart factory?
Smart factories can be considered the outcome of the fourth industrial revolution. It's a highly digitalized and connected factory where all of its bits and pieces such as machines, systems and humans are able to communicate together and work towards a common goal. The main driver behind this trend is end customer needs. Demands for manufacturers to create more individual and customized products is ever increasing. Manufacturing companies need to do something to overcome this challenge.
What changes on the shop floor?
From the machining-point of view, 5-axis machining is becoming more common. This is because 5-axis machines are able to produce broader ranges of different workpieces and more efficiently than 4-axis machines for example.
Furthermore, additive manufacturing is now actually hitting the shop floors. As is, additive manufacturing is not enough to manufacture functional parts and the process chain typically includes additional operations. This include things like heat treatment, support structure-removal, quality assurance and in many cases, also subtractive processes. In this context, smooth and flexible production means optimization of many factors, which is not possible without novel, system-level solutions.
Offline programming is also becoming more important. This is because of how it enables preparing new workpieces and processes without interrupting production and introducing them quickly when needed. As such, offline programming also calls for sophisticated production planning and execution software. We'll get back to this later.
Digital twins are a step up from offline programming. Currently, there are many companies calling all kinds of things 'digital twins', but what the term actual refers to is the automatic two-way data sync between the physical product and its digital counterpart. If the automatic data transfer is only one-way, from physical to digital,then we're talking about a digital shadow. Without any automated data transfer, we're talking about a digital model. But how does this create value and what are the low hanging fruits?
First, digital twins can be utilized in training. Here, safe trial-and-error methods can be used without disturbing actual production. The opportunities for simulation and optimization offer also very interesting.  This is because it can be difficult to analyze what outcomes changes have in complex production systems. Here digital twin offers a safe sandbox for learning. Furthermore, maintenance can be optimized as digital twins allows for predicting errors via machine learning. It can also provide great opportunies for product development by enabling behavior observation via the digital counterpart.
MES (manufacturing execution system) is an information system which monitors and tracks the manufacturing process on the factory floor. It works in near real time to enable the control of various elements of the manufacturing process, making it a very hot topic in today's manufacturing industry. Why is it relevant? When  implemented well together with LEAN -principles, MES can help manufacturing companies live with an increasing level of complexity.
Before moving to the next level, let's summarize the drivers behind smart factories. Machinery and processes are becoming more complex due customer needs for customization and part variability. From the perspective of manufacturing, for production-ensemble to play well together, system-level solutions are needed.
What are hyper-connected factories?
Hyper-connected factories go beyond one shop floor or building. Here, the process and players throughout the entire supply chain are connected and communication takes place over the whole network. The demands for hyper-connected factories lie in the nature of manufacturing: it always happens in some networks involving suppliers, partners and customers. One has to be able to succeed and work efficiently in this environment. Technically speaking, this means data-sharing in the network. In turn, this creates transparency, traceability and situational awareness.
Someday in the future, manufacturing operation management solutions will most likely be able to control resources on a network level. In the world of hyper-connected factories, one could know in practice when the parts needed in their assembly are arriving and that the necessary quality features and checks are fulfilled (without asking or checking separately).
Although hyper-connected factories are widely discussed today, implementations are scarce. Fastems has some large enterprise-level customers with whom we are developing solutions together. The technical enablers required for hyper-connected factories are out there: connectivity, data-sharing and information security to name a few. Things get more challenging however, when it comes to building trust within networks, culminating in questions around data ownership and security.
Summary
There are three takeaways for manufacturers who want to implement the newest technologies in ways that add actual value. Together, these three points create a vision and give direction on where to go and what to achieve:
Investing in agile, future-proof solutions

This means e.g. paying attention to connectivity capabilities

Not falling in love with technology – it's only a tool

Concentrating on creating customer value. Business is always human-to-human at the end of the day.

Always considering continuous improvement

Nothing remains static for long, so planning ahead is key.
To  learn more about the world of automation and it's trends, you can check Fastems youtube channel, other podcasts and our blog.
FasTALKS episode 1: Top five factory automation myths FasTALKS episode 2: The daily life (or hell) of a production manager "FasTALKS episode 3: Tool management and how to improve