For Fastems, this year's EMO in Hannover was marked by a large number of innovations under the motto "Manufacture flexible batch sizes economically":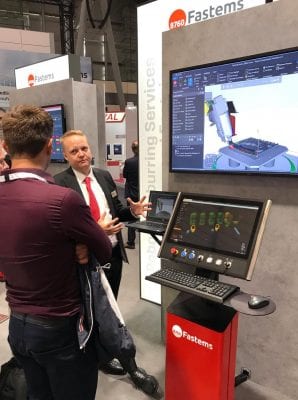 RoboCell ONE: An easy-to-configure robotic cell for the automation of up to two machine tools for machining heavier workpieces in particular.
MMS: The new version of the Manufacturing Management Software (MMS) now combines three previously strictly separate manufacturing worlds in a single, high-performance software platform: pallet-based automation, automation of direct workpiece handling with robots, and workcell operation for individual machines and other manual manufacturing processes.
RFC – FastSimu: Fastems robotic finishing cells standardize batch size-independent finishing of workpieces. In this context, Fastems presented a special service in the form of a preliminary study on the customer-specific configuration of an RFC during EMO. The study uses customer-specific workpieces to select the correct tools for an RFC, determine the deburring processes and finally verify the quality of the machining processes. An integral tool for the preliminary study is FastSimu, a universal offline programming software with unique simulation functions.
The wide range of automation solutions from Fastems was rounded off by a "Living Factory", an interactive touch screen where visitors could learn interesting details about the versatile automation solutions and immerse themselves in a way in the machining productions of the future.
The numerous international visitors from Europe, North America, Asia, and Africa at the booth reflected a high level of interest in the topics presented. The relatively high number of new contacts was particularly positive this year. The number of visitors was slightly lower than in 2017 and thus joined the lower total number of visitors to EMO compared to 2017. The weaker conjectural situation, especially in the EU, certainly had a significant influence here.