The ever-growing complexity and change around industrial manufacturing needs intelligent automation that enables resilient and efficient high-mix production. Come to meet Fastems in EMO Hanover to hear the latest news, releases, and insight – relevant to both OEM and contract manufacturers.
Highlights at booth D67 in Hall 12 include new 4 and 5 axis milling automation solutions Flexible Pallet Tower (FPT) and Flexible Pallet System (FPS), and Auto-Loading Cell (ALD) for robotic loading of parts into pallets. Fastems is also presenting its new productivity-enhancing customer service portal myFastems and Factory Cockpit, a revolutionary software to achieve situational awareness and analytics on entire production performance.
Flexible Pallet Tower for 4- and 5-axis CNC machines
To enable lights-out manufacturing and high spindle utilization in high-mix production with 4 and 5 axis milling and mill-turn machines – including vertical 5-axis machines – Fastems launched its Flexible Pallet Tower (FPT) in 2022. This year Fastems is releasing and showcasing a new larger version for 1,000 kg payloads and 500-630 mm pallets. With extremely compact footprint of just 19 sqm, FPT-1000 can accommodate 12 to 24 machining pallets of two different heights and enable order-based production with a single CNC.
Fastems welcomes EMO visitors to see the system live at their booth! 
Modular Flexible Pallet System for 4- and 5-Axis Milling Machines Fits for Any Shopfloor
Fastems is excited to announce launch of a multi-machine version of the above-listed FPT – Flexible Pallet System (FPS). FPS is a modular solution with a unique 360-degree design. Compared to typical flexible manufacturing system, FPS allows customer to place machine tools, pallet storage units and operator loading stations flexibly utilizing all the four sides of the system. With the same maximum height of only 3.1-3.8 meters like FPT, FPS is a perfect fit for also low-ceiling facilities. FPS offers the full FMS benefits for producing high mix with minimum production setup times and maximum spindle utilization. Like all Fastems systems, FPS can integrate CNCs of over 90 different brands and be later extended or upgraded if the production needs change.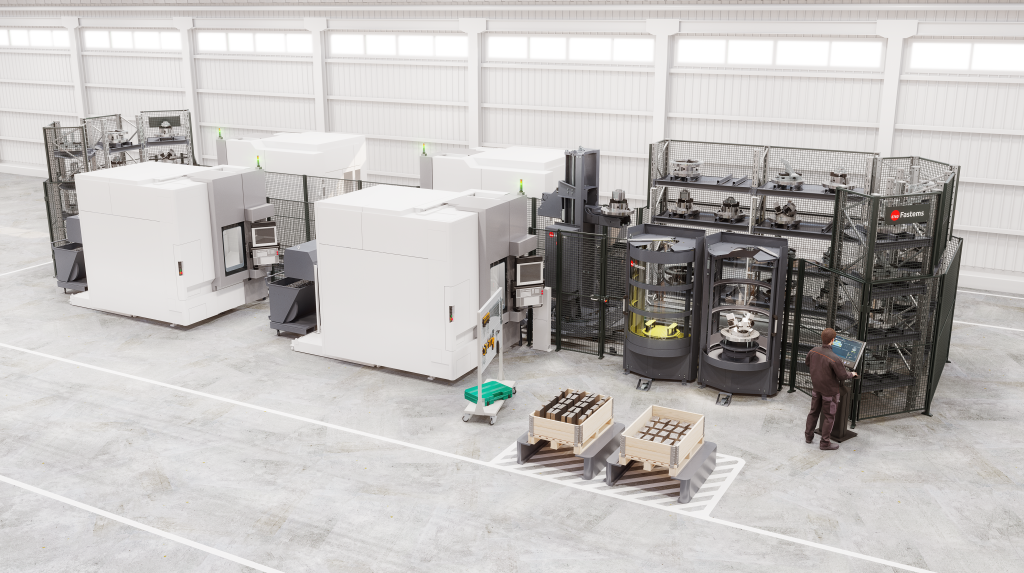 Auto-Loading Cell Maximizes Unmanned FMS Production Capacity
The Auto-Loading Cell (ALD) ensures that Fastems FMS runs unmanned around the clock – even when the pallet demand is extremely high. The robot cell loads and unloads the parts to and from the pallets automatically – as well as re-clamps parts between machining operations. In addition to making sure the FMS never stops during nights and weekends, ALD can reduce the pallet and fixture need significantly – saving both money and space. Fastems live robot showcase in EMO demonstrates the principles of auto-loading functionality, including clamping the part in different operations, into conventional clamping fixtures that are more affordable option compared to hydraulic or pneumatic fixtures. 
myFastems: Ready for Production Around the Clock
Visitors to the Fastems booth will be able to learn about myFastems. Offered as Software-as-a-Service (SaaS) product, as part of Fastems' automation solutions, myFastems provides powerful tools to help customers keep their Fastems systems up and running around the clock, for maximum availability and productivity. The digital service is available as a web progressive application and easily accessible via mobiles, tablets, or laptops, providing transparency to all Fastems systems: service history, spare parts usage, and comprehensive system overview for connected systems, as well as alarm-based recovery instructions and support request tickets. In addition, myFastems also serves as a customer portal, from which its users can easily order spare parts and request support tickets. With myFastems, customers can utilize the full potential of their Fastems systems! 
Factory Cockpit: Factory-wide transparency on central key figures
Last but not least, Fastems is presenting (Factory Cockpit), a new solution that collects, integrates and analyzes data from shop floor devices and IT systems (e.g. ERP or MES). Factory Cockpit provides tools for real-time situational awareness and data-informed insights for part manufacturing, which help optimize the overall production flow and resource efficiency. With Factory Cockpit, real-time production statuses or important manufacturing KPIs such as OEE, utilization, and availability, are easily available for all selected stakeholders, both internally and externally. From operators in the shop floor, to production managers, business managers, and customers, the seamless information flow increases transparency and enhances collaboration throughout the whole production process, enabling manufacturing companies to lead and develop their manufacturing with data.