6 September 2018, Tampere, Finland – Fastems has been selected as the winner of Responsible Summer Job (Vastuullinen kesäduuni) campaign 2018. The company reached excellent scores in all the evaluated areas in the research conducted by the campaign organizers, and best-in-class ratings in overall work satisfaction and contract process.
Responsible Summer Job (Vastuullinen kesäduuni) is an annual event in Finland, challenging employers to offer more summer jobs to 14-29-year-old youth and to aim for them to get an excellent employee experience during the summer. This year, over 400 employers participated to the campaign in three categories: 1000Plus companies, Large companies, and Small to mid-sized companies.
Today, the competition committee announced the 10 best companies in each category 2018, and we are proud to say that Fastems was selected as number one in the large companies' category. The award is based on a summer employee research that received answers from 7,790 summer employees in 128 different companies, evaluating six principles of a good summer job, including the application and contract processes, induction and leadership, meaningfulness of the given work and equality among employees.
The reasons for selecting Fastems as the winner are excellent results in all the above areas, and the highest overall satisfaction among the category respondents.
"The summer employees of Fastems have really enjoyed their work during the past months. The company reached excellent scores in all the different aspects of the summer employee survey, getting very close to the maximum score. The overall work satisfaction and the contract process got the best scores in the large companies' category."
Top 10, large companies:
Fastems
Kojamo
Algol
Osuuskauppa Maakunta
Länsirannikon Koulutus WinNova
Ensto
Fingrid
Vahanen-yhtiöt
Peab
Granlund
This year Fastems hired over 20 young summer employees to Tampere, Finland and Issum, Germany. The summer employees got to work in various roles in programming, automation and robotics, product management, marketing, purchasing, product development, mechanical and electrical design, spare part sales and finance. Most of Fastems summer employees have worked in the company already in the previous years, and Fastems is very grateful that so many young talents have wanted to re-join year after year.
Contact:
Sanna Niittymäki, Talent Manager of Fastems, sanna.niittymaki(a)fastems.com, m. +358 50 325 2229
Sarianne Niemi, Marketing Manager of Fastems, sarianne.niemi(a)fastems.com, m. +358 50 520 3183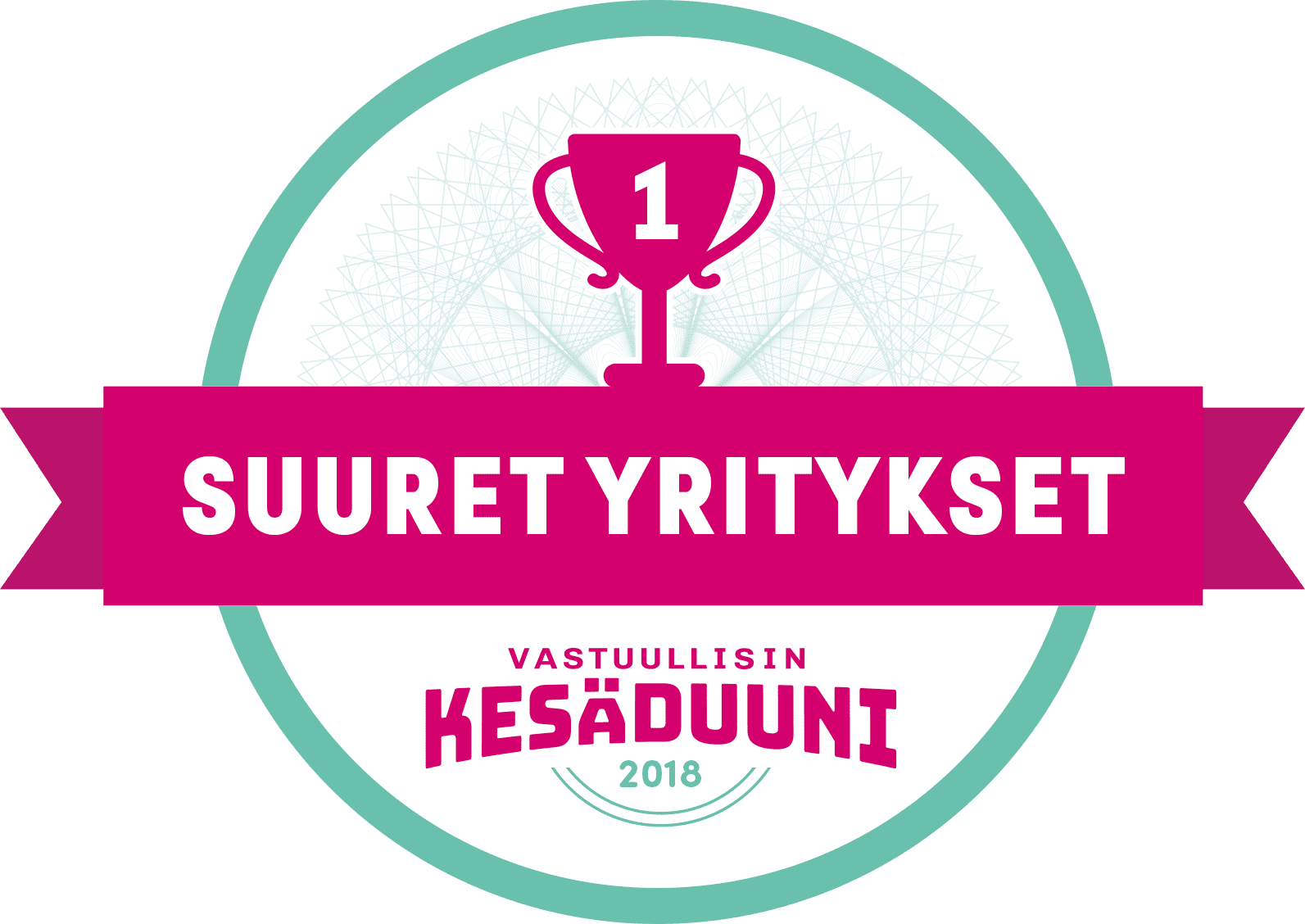 OFFICIAL ANNOUNCEMENT BY EMBARGO (IN FINNISH) / VIRALLINEN TIEDOTE, EMBARGO:
Vastuullinen kesäduuni -tutkimus: kesätyö vahvistaa nuorten luottamusta tulevaisuuden työllistymiseen
Suomalaisten nuorten kesätyökokemukset ovat kokonaisuudessaan huippuluokkaa ja kesätyöprosessi on viritetty korkealle tasolle. Kesätyökokemus rakentaa vahvasti nuoren pystyvyyskäsitystä työntekijänä.
Yli 80 prosenttia Vastuullinen kesäduuni -kampanjan kesäduunikyselyyn vastanneista nuorista sanoo kesätyökokemuksen lisänneen luottamusta tulevaisuuden työllistymiseen. Kesätyötehtävät koetaan mielekkäinä ikäryhmästä riippumatta, mutta alle 18-vuotiaat kesätyöntekijät kokevat kohdanneensa epäoikeudenmukaista kohtelua muita ikäryhmiä useammin.
"Nuoria kesätyöntekijöitä ei saa aliarvioida. On huolehdittava, että heidät otetaan tosissaan, jotta he kokevat saavansa äänensä kuuluviin", ohjeistaa Vastuullinen kesäduuni -kampanjan projektijohtaja Päivi Salminen-Kultanen.
Myös perehdytyksessä on pientä parantamisen varaa. Erityisesti vanhemmat ja useamman vuoden samassa yrityksessä työskennelleet kesätyöntekijät toivoivat kattavampaa perehdytystä, samoin naiset. Toisaalta henkilökohtaiseen ohjaamiseen on panostettu ja kesätyöntekijät kokevat pääsevänsä kehittymään kesätyössään enemmän kuin aiempina vuosina.
"Tutkimustulosten mukaan huomiota tulee kiinnittää sukupuolten väliseen tasa-arvoon erityisesti ohjauksen kohdalla, nuorimpien kesätyöntekijöiden äänen kuulumiseen ja vanhimpien kesätyöntekijöiden perehdytykseen. Kaiken kaikkiaan kesätyöprosessin on pystyttävä huomioimaan yksilölliset tarpeet yhä paremmin", Päivi Salminen-Kultanen painottaa.
Tulokset selviävät Vastuullinen kesäduuni 2018 -kampanjaan liittyvästä kesätyötutkimuksesta. Vastuullinen kesäduuni -kampanjan tutkimukseen osallistui 128 yritystä ja vastasi 7790 14–29-vuotiasta nuorta.
Vuoden parhaat kesätyönantajat ovat IKEA, Fastems Oy ja Kraton Chemical
Vastuullisin kesäduuni 2018 -kilpailun voittoon ylsi pienten ja keskisuurten sarjassa kemian alan yritys Kraton Chemical ja suurten yritysten sarjassa Fastems Oy. Uudessa 1000Plus-sarjassa voiton vei IKEA.
"IKEA tarjoaa huipputason kesätyökokemuksen. Osa-alueista jopa neljä, hakijakokemus, työtehtävien mielekkyys, perehdytys ja oikeudenmukaisuus, arvioidaan 1000PLUS sarjan kaikkein parhaimmiksi. Erinomainen suoritus heijastuu edelleen yleisen tyytyväisyyden erittäin korkeana tasona."

"Fastemsin kesätyöntekijät ovat todella viihtyneet kesätyössään. Kaikki Fastemsin kesätyön osa-alueet yltävät erinomaiselle tasolle, hyvin lähelle parhainta arvosanaa. Kokonaistyytyväisyys ja työsopimusten hoitaminen arvioidaan suurten sarjan parhaimmiksi."

"Kaikki Kraton Chemicalin kesätyökokemuksen osa-alueet yltävät erinomaiselle tasolle, suurin osa hyvin lähelle parhainta arvosanaa. Erityisenä vahvuutena nousee kesätyöntekijöiden oikeudenmukainen kohtelu, joka arvioidaan sarjansa parhaimmaksi. Kokonaistyytyväisyyden taso on huikea ja samalla sarjansa paras."
Vastuullisin kesäduuni 2018 -kilpailun TOP 10:
1000Plus yritysten sarja:
1. IKEA
2. Ponsse
3. Teknos Group
4. Paulig-konserni
5. Stora Enso
6. Telia
7. Osuuskauppa KPO
8. LähiTapiola
9. Osuuskauppa Arina
10. Pohjois-Karjalan Osuuskauppa
Suurten yritysten sarja:
1. Fastems
2. Kojamo
3. Algol
4. Osuuskauppa Maakunta
5. Länsirannikon Koulutus WinNova
6. Ensto
7. Fingrid
8. Vahanen-yhtiöt
9. Peab
10. Granlund
Pienten ja keskisuurten yritysten sarja:
1. Kraton Chemical
2. Alfa Laval Aalborg
3. Lasten Kesä
4. Pääkaupunkiseudun 4H-yhdistykset
5. mySafety
6. Kuopion Energia
7. Viexpo
8. Lounaismaan Osuuspankki
9. Kokkola-Camping
10. KSS Energia
Kunniamaininnat:
• Vuoden kesätyöntekijä 2018/Maija Rintala Rinnekoti-Säätiö
• Alle 18-vuotiaiden työllistäjä/ Osuuskunta Viexpo
• Kunniamaininta vammaisten ja erityisnuorten työllistäjälle /Vaasan kaupunki
• Yrittäjäesimerkin tarjoaminen nuorille/mySafety Oy
• Akava: Teoriasta tekoihin – korkeakouluopiskelijoita ansiokkaasti työllistänyt yritys: Kraton Chemical
Infoa tutkimuksesta ja kampanjasta
Vastuullisin kesäduuni -kilpailuun osallistui 128 työnantajaa ja vastauksia saatiin 7790 kesätyöntekijältä iältään 14–29-vuotiaita. Kilpailu toteutettiin verkkokyselynä touko-heinäkuun 2018 aikana ja voittajat valittiin kesätyöntekijöiltä saadun kokonaispalautteen perusteella. Työnantajia arvioitiin muun muassa työnhakuprosessin, perehdytyksen, työtehtävien mielekkyyden ja tasapuolisuuden perusteella. Tutkimuksen toteutti T-Media Oy.
Oikotie Työpaikkojen luotsaama Vastuullinen kesäduuni 2018 -kampanjaan osallistui tänä vuonna ennätykselliset 459 työnantajaa, jotka tarjosivat yhteensä yli 65 000 vastuullista kesätyöpaikkaa. Kampanjaan osallistuvat työnantajat sitoutuvat kuuteen hyvän kesätyön periaatteeseen, jotka ovat hyvä hakijakokemus, mielekäs työ, perehdytys ja ohjaaminen, oikeudenmukaisuus ja tasapuolisuus, kohtuullinen palkka sekä kirjallinen työsopimus ja työtodistus. Vuoden 2018 kampanjan pääyhteistyökumppanit ovat Telia, Destia, S-ryhmä, Barona, Varma, Kojamo, Metsä Group, Kraton Chemical, EK, Taloudellinen tiedotustoimisto TAT ja T-Media. www.kesaduuni.org.
Lisätietoja:
Päivi Salminen-Kultanen, Projektijohtaja, Vastuullinen kesäduuni 2018 -kampanja, Oikotie Työpaikat / Sanoma Digital Finland, paivi.salminen-kultanen(a)t-media.fi, m. 040 727 9717
Sanna Niittymäki, Talent Manager, Fastems, sanna.niittymaki(a)fastems.com, m. 050 325 2229
Sarianne Niemi, Marketing Manager, Fastems, sarianne.niemi(a)fastems.com, m. 050 520 3183