PRESS RELEASE 3.12.2019
Fastems has launched three new products to enable educational institutions and enterprises to benefit from its advanced Digital Manufacturing (DM) solutions for factory automation. In addition to functioning as a classroom teaching and learning tool, DM enables companies to do training and testing before ramp-up and simulation during production, for example.
Thanks to Fastems' Digital Manufacturing solutions, no physical automation system is needed to simulate, educate or introduce a factory automation system to clients, students or employees. The DM offers a cost-effective way to demonstrate and educate new factory automation technology. Fastems is a forerunner in this kind of solution offering in the field of automation for metal cutting.
"Our new offering enables teaching the theory of flexible manufacturing systems, demonstrating flexibility in manufacturing and the different flexible automation systems, and making classroom sessions more tangible through realistic visualizations," says Product Manager Janne Kivinen. "In addition to the benefits for educational institutes, DM brings great financial and productivity benefits to our industrial clients, making it possible to simulate the system effectively before hardware installation. Preparations can be done before the system is delivered, which saves precious time during ramp-up. Software and layout verification can be done during sales and delivery, and detailed simulation and visualization capabilities allow testing options before committing to a certain layout or order. Employees can be trained in a safe and interactive environment so that training doesn't disturb ongoing production. New, innovative features to simulate and analyze alternative production scenarios in order to make decisions based on the results are under innovation development."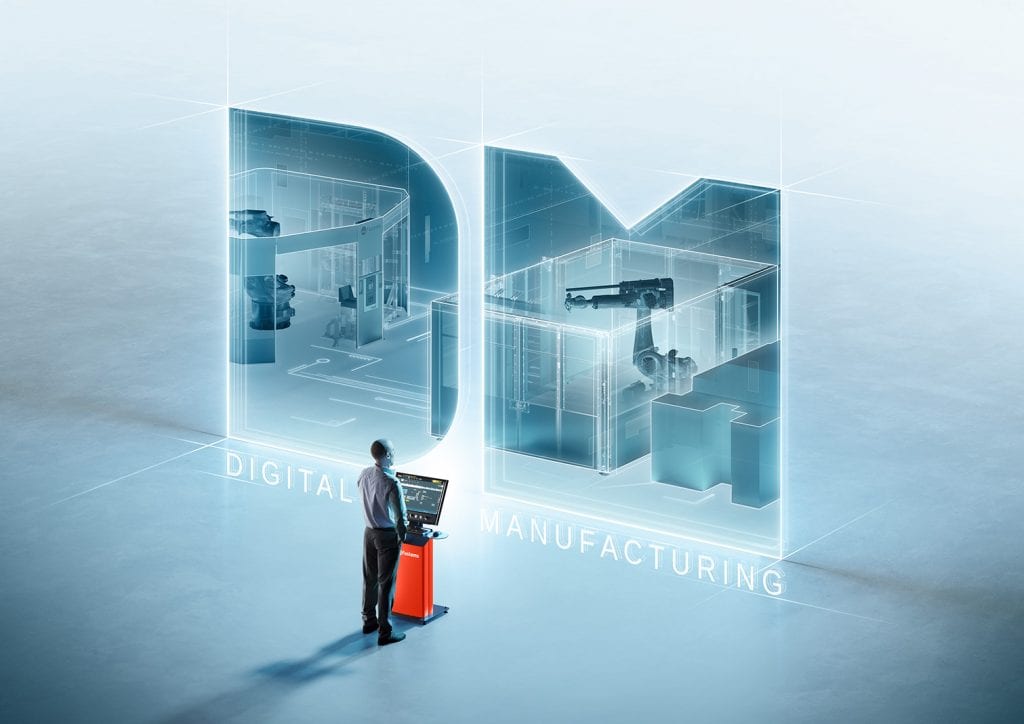 The new offering consists of three options: Virtual MMS (Manufacturing Management Software), Virtual FMS (Flexible Manufacturing System) and Virtual AMC (Agile Manufacturing Cell). Each of these solutions includes access to the software and 24/7 customer support. The Virtual FMS and AMC options include a Visual Components model, a 3D simulation software for manufacturing applications, including layout planning, production simulation, offline programming and PLC verification, which functions as the manufacturing hardware of the system. All three products can be used as a local installation, and Virtual MMS can also be used as a cloud-based installation.
"Fastems DM is an excellent addition to classroom teaching. This solution allows us the opportunity to provide our students with a supreme learning experience in a classic classroom setting. We have received highly positive feedback on the courses, and we are able to constantly develop and improve our educational capabilities with the help of this system," say University Instructor Hasse Nylund and Professor Minna Lanz of Tampere University.
"Fastems Digital Manufacturing products provide a concrete way to bring manufacturing into the virtual world," says Janne Kivinen. "Better visualization capabilities allow our customers to understand the underlying concepts of our solutions and systems and to utilize their systems more efficiently. For educational purposes, hands-on experience is extremely valuable and hard to achieve for such large and complex systems, so bringing them virtually into the classroom is a great alternative."
The DM concept is the first step towards developing a true Digital Twin for Fastems automation solutions, which will translate into better maintenance and production efficiency to the users of the system. In the future, Digital Twins will allow following the system, its parameters, and everything it interacts with for the entire lifecycle of the system, enabling better tools for production optimization, maintenance and intelligent manufacturing.
For more information, please contact:
Janne Kivinen
Product Manager, Digital Products
Fastems Oy Ab
Tel. +358 50 4524 578
Email: janne.t.kivinen@fastems.com
Fastems in brief
Founded in 1901, Fastems delivers intelligent factory automation solutions that help metalworking manufacturers to increase their productivity. Its industry-leading control software and the capability to integrate any industrial machine tools into one entity, combined with its broad service selection and decades of experience is what makes Fastems unique.
Fastems mission is to build a world where the manufacturing industry is a cornerstone of success and a source of sustainable well-being in the society. Fastems has delivered over 4 000 installed systems to its main markets in Europe, North America and Asia. In 2018, the company's turnover was 90 MEUR and it employed 450 people.