Flexible automation enables round-a-clock production and higher employee retention for Koneistus Suomi
Koneistus Suomi, a Finnish contract manufacturer of hydraulic blocks, wanted to achieve more flexible and efficient production. After deciding to work with Fastems and invest in CNC automation, their competitivity is in another level with higher production capacity and 24/7 production that runs partly unmanned. With a Flexible Manufacturing System (FMS) and a robot cell taking care of monotonous tasks and night shifts, employees at Koneistus Suomi are also now more engaged and the new talents are easier to recruit.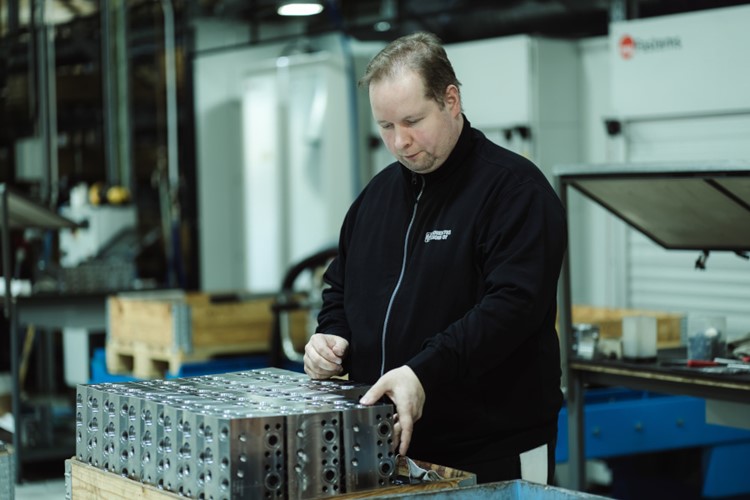 Collaboration between Koneistus Suomi and Fastems
·         The 120-pallet FMS with DMG Mori NHX machines enables easy-to-manage, flexible and profitable hydraulic block production. Koneistus Suomi can produce any part with any machine tool – any time!
·         The RoboCell ONE (RCO) ensures precise variable-batch production of cylinder parts with two DMG lathes.
·         Manufacturing Management Software, the automation control of Fastems automation systems, offers adaptive production scheduling, manages production resources, and guides operators for right action at the right time.
·         Automation systems can be extended or modified in the future when the production volumes increase.
Investment in CNC automation has increased unmanned production
"The starting point was our need to increase production capacity by enabling more unmanned hours"

Jani Suomi, CEO, Koneistus Suomi Oy
Jani Suomi, the CEO of Koneistus Suomi and the Entrepreneur of the Year in the city Hartola, says that Koneistus Suomi decided to invest in automation already in 2015. The company wanted to increase the share of unmanned operations and improve competitivity. A well-known CNC automation house Fastems with a good reputation was selected as the productivity partner.
As a first step, the company invested in Fastems FMS that was integrated with one horizontal machining center. Since then, two more machines have been added to the system, and there still is space for three more. Both raw material pallets as well as the finished parts can be stored in the system.
"We opted for an automation system as big as our facility allows, to be able to easily scale up our production capacity in the future," shares Suomi.
The latest automation addition is Fastems RoboCell ONE (RCO) that was acquired in 2021 to support operations of two DMG Mori lathes. It produces accurate and consistent results in variable batch production requiring great precision.
A boost to productivity, competitiveness and recruitments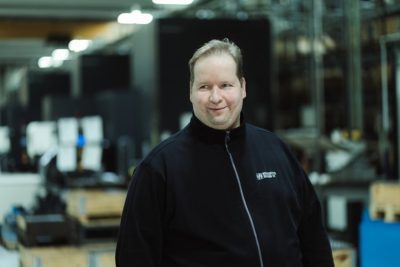 According to Suomi, their automation systems have significantly increased the share of unmanned hours:
"Our people work in a day shift – our machines round the clock. Therefore, we have been able to recruit highly qualified professionals who prefer working during the daytime. Thanks to automation, no one needs to be here at night loading the machines."
Suomi is certain that Koneistus Suomi would not have reached its current size without Fastems' automation systems. The company's yearly revenue is now about 4 MEUR and EBIT over 6%.
"With automation, we have been and still are able to increase our production volumes and produce consistent quality," Suomi emphasizes.
Smart automation brings added flexibility and predictability to production operations
In addition to increased efficiency, the automation systems and especially the Fastems control software MMS have introduced a whole new level of flexibility and predictability to Koneistus Suomi's production.
"We can carry out various operations simultaneously. We can fit in an emergency order between batches, for example, without messing up everything else for the coming days," says Suomi, describing the flexibility provided by the pallet automation.
"Our pallet handling system has space for 120 pallets compared to a standard machine that can only accommodate two."

Jani Suomi, Koneistus Suomi Oy
The MMS software collects data on the production status and enables advanced production scheduling. It provides a detailed view on the production operations and all the needed resources up to 96 hours ahead.
"What makes the software smart is that it enables us to see accurately what will happen in production and what's needed from the operators," explains Suomi.
Fastems is a reliable partner that knows the CNC machining domain
Suomi has been extremely happy with Fastems' expertise and reliability throughout the years. According to Suomi, Fastems is an established operator with an excellent reputation, which made it an obvious choice as a productivity partner.
"Fastems has been in operation for 40 years already, which guarantees that their products no longer suffer from teething problems," notes Suomi.
Other factors that swayed the decision in favor of Fastems include its independence of any brands – and compatibility of its systems also with DMG Mori machines which Koneistus Suomi uses.
Jani Suomi says that Fastems has a broad knowledge of machining operations. The company's automation control MMS is constantly developed by a team of over 200 software engineers to meet the needs of various manufacturing companies today and tomorrow. Suomi says he himself also uses MMS to gain an overall view of production operations. And whenever there is a problem or a question, he gets fast and reliable support from Fastems.
As the automation systems can evolve along with the production, Suomi sees the future in a positive way: the company is in very good shaped in terms of operations and financials.
Interested to see the Fastems' systems working? Watch the video!