Perfection in practice
A zero-error strategy and a high degree of automation cut out retooling times
When problems and errors in machining that might once have been tolerable reach a certain threshold, it's time to think about making changes. That's exactly what entrepreneur Stefan Kempf did. The result is a highly automated and extremely flexible manufacturing system, which is probably the only one of its kind in the country.
With a workforce of 100, Norbert Kempf CNC-Technik GmbH in St. Ingbert (Saarland) manufactures simple to highly complex components in batches of 1 to 500, as well as prototypes for pneumatic and hydraulic applications, for the automotive industry and for construction machinery. Founded in 1970 by Norbert Kempf as a conventional turning shop, the company grew continuously. When Stefan Kempf joined his father's business, the company began moving towards CNC production in 1990. Nine years later, the company had ten CNC machining centers.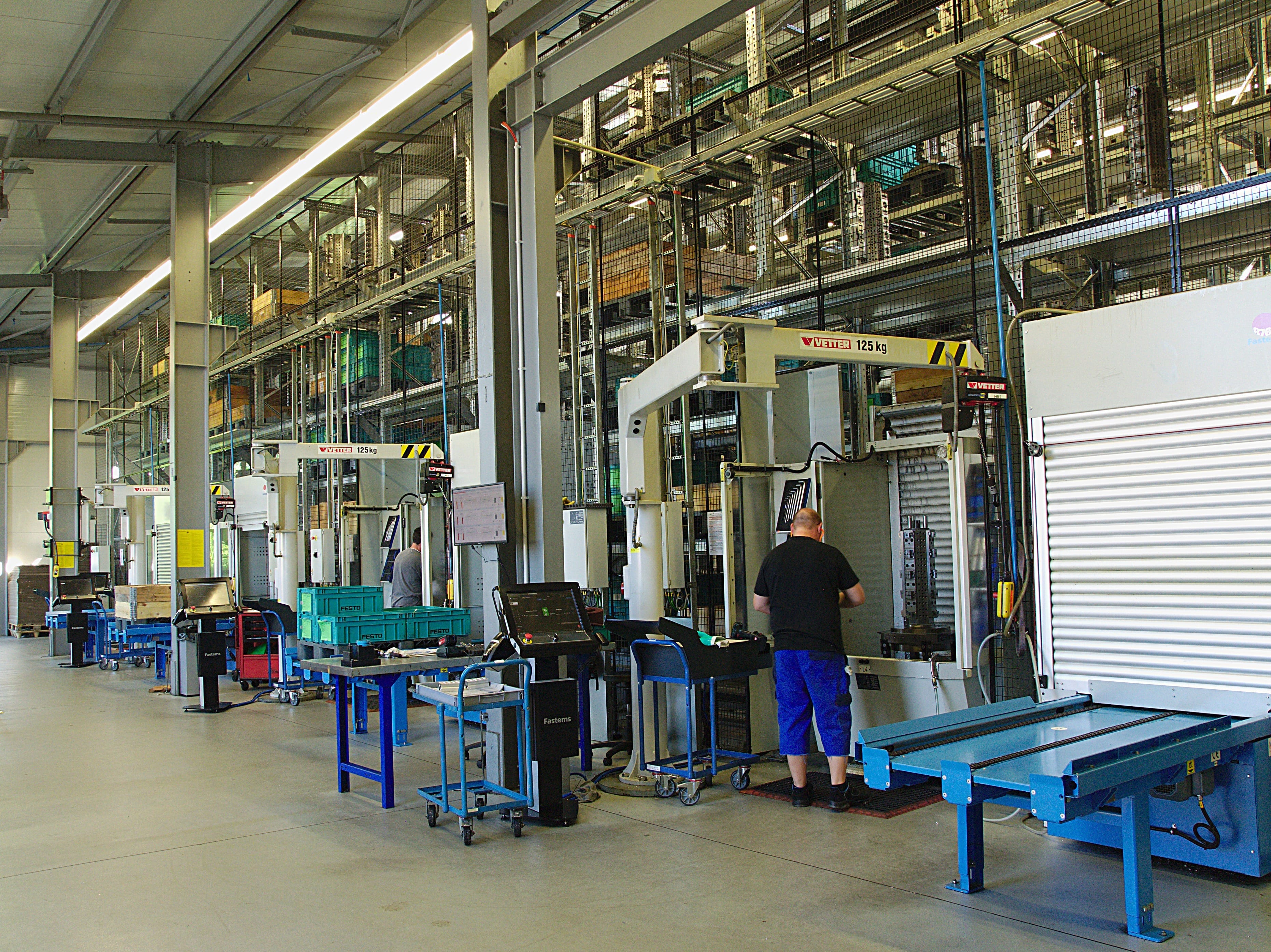 Conventional growth has its limits 
"At that point we realized that conventional growth just by purchasing machines has its limits. Basically, the more machines we installed, the worse our productivity became. Qualified staff, who you had to have back then for retooling, were hard to find and the surrounding organization and support processes were getting harder and harder for us to handle. The processes were just not stable," says CEO Stefan Kempf. As a result, more and more errors were made, taking a lot of time, patience and expense to eliminate. But it couldn't go on like that.
"I was tired of coming to work every morning and always being confronted with the same problems, mistakes and causes. That's why I decided to make a fundamental change," explains Kempf, as he describes the situation back then of "traditional" CNC production. "At the time, we had about five retoolings a day, 250 manual transports for tooling, 40 to 50 tool transports due to wear, and an average of six clamp assemblies. All these activities had a lot of potential for mistakes, and tool management in particular turned out to be a major source of errors."
The FMS is gradually growing
The question was how to carry out those tasks without errors as close as possible to the machining time? The answer was to maximize automation. Before that, however, the key business processes had to be prepared. Stefan Kempf: "First, we purchased a tool data management system and invested a lot of time in setting up a complete system of tool management. In addition, we made sure we could manufacture the machining pallets and workpiece clamping fixtures ourselves. It was only then that we decided to install a flexible manufacturing system with a Fastems multi-level system (MLS)."
In 2003, an existing machine was connected to the MLS (with a capacity of 12 machining pallets). By 2011, the system had gradually grown to the maximum possible configuration with a total of four loading stations and 96 machining pallets on three levels. In addition to the existing machine, another five Mori Seiki NH 4000 machining centers were connected to the MLS. "Right from the start, we made sure the tool interfaces and machining pallets for these machines were standardized, with each machine having a large tool storage with 180 tool spaces."
Tools as a limiting factor
Although the FMS brought the company a significant gain in productivity, the system had one crucial disadvantage from Stefan Kempf's point of view: "Given our manufacturing range with batch sizes of 1 to 500, and around 18,000 part numbers in the portfolio, the number of tools on the machines was not enough to perform all the production operations, which were basically dictated by the 96 machine pallets in the system, on each machine. This meant we always had to allocate a certain pallet pool to a specific machine." A constantly high level of machine utilization was therefore impossible. In addition, Kempf says there were still a number of error sources which prevented truly reliable production.
Central storage for 2,500 tools 
For this reason, in 2013 the company invested in another Fastems FMS with a raw material store, including construction of a new hall. The MLS-MD (medium duty) with a payload of 1,000 kilograms per pallet has space on four levels for a total of 156 pallets, half of which are machining pallets and the other half raw material pallets. The system, which is now connected to seven machining centers, has four loading cells, each with a loading station for the machining pallet and a station for the raw material pallet. In addition, five other machining centers are automatically supplied with tools from the central tool storage.
One outstanding feature of this system is its combination of a Fastems CTS central tool storage, which holds 2,500 tools, and a robot for transporting the tools. Because each machine also has its own tool magazine with 60 tools, it can access 3,200 tools. And this is from every machine, because a gantry system with the robot conveys the tools from the central storage to the appropriate machining center as required. For unique tool identification by the robot's reader, each individual, pre-set tool is equipped with an RFID chip.
Software handles production planning and control
As the main system intelligence, the Fastems manufacturing management software (MMS) handles all production planning and control in the FMS. This includes robot-aided tool transport from the central tool storage (CTS) to the machines. However, the software not only controls the delivery logistics, in which it plans the pallet order in the system, but it also manages all the CNC programs and tool data. Before each start of production, the MMS also carries out a resource check to verify, among other things, whether the required raw material is present in the system and that the tools required for a specific order have the necessary service life. "If the service life of a tool is no longer sufficient for machining, our tool assembly and presetting system automatically receives a requirement message from the software," explains Kempf, emphasizing: "One of our key considerations even before we commissioned the FMS was that the preparations for production are crucially important for a reliable production process. That's why we initiate a process planning order for every new part or every change to a component. From the FMEA analysis, to the production control plan, to tool design and CNC programming, every single step is planned in advance, always with the focus on process reliability."
Fully automated retooling
With the latest FMS, the company is now able to carry out every processing job on each machine, thus completely automating retooling. "Our retooling times are actually 0.0 minutes, which means that every component always has the same price for our customers, regardless of whether they order ten of them or a hundred," says Stefan Kempf, emphasizing a key advantage of his highly automated, flexible manufacturing, while other impressive numbers already speak for themselves: Around 1,000 tool transports and 500 pallet transports take place in the system each day. The average spindle utilization of all machines is between 95 and 98 percent.
Pushing automation to the limits
"Despite such high levels of automation, we haven't cut down on staff since FMS was installed, but have achieved an average annual growth of 15 percent since 2014 with the same workforce," says Kempf, who you might expect to be satisfied with what has already been achieved, but actually wants more: "The flexibility we gain by being able to process every workpiece on every machine in the FMS is so great that we want to continue with this approach." A new production hall is currently being built. Another Fastems MLS will be installed there, and seven horizontal machining centers will be connected to what is now the third FMS. Across the halls, a gantry robot will access the tool storage of the second FMS and the new system. "We're going to use a Fastems GTS (gantry tool storage) for the additional tool spaces of the new FMS to gain more space in the production area. This system's robot performs two tasks. It transports the tools between Hall 3 and the new building, and can also supply the new machines with tools", says Stefan Kempf about the planning.
Published in "Automationspraxis", issue 09/2017
Want to learn more?
Give us a call or send an email.
"*" indicates required fields