Automation is an Investment in the Future
Fortune favors the brave. The team at INDEX in Esslingen – a producer of CNC lathes –knows all too well how true this statement is. With the purchase of a flexible manufacturing system in 2005, two new machining centers were connected in order to allow a more effective automated production process. This was followed in 2007 by the purchase of two large-scale machining centers, including one additional Multi-Level System (MLS). The system was delivered in 2009, right in the middle of the economic crisis. Nonetheless, this was still a worthwhile investment for INDEX right from the outset.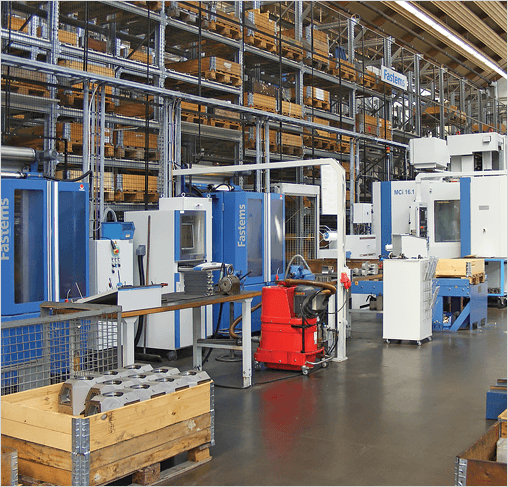 Anyone looking to buy a CNC lathe will invariably have to consider INDEX. The company is based in Esslingen near Stuttgart, and considered a premium manufacturer with high development standards. They are thus able to offer a wide range of both standard and customer-specific solutions in this area. Following their takeover of TRAUB in 1997, INDEX was able to add universal lathes, fixed headstock lathes, and sliding headstock lathes to their product portfolio.
"The INDEX product range includes single-spindle and multi-spindle lathes, with our assembly plants in Esslingen, Deizisau, and Reichenbach producing machines for the key automotive, medical engineering, mechanical engineering, electronics, and sanitation branches," comments Dieter Grözinger, Manager of Parts Processing in the Deizisau plant, where cubic parts for all three sites are produced. The plant specializes in the processing of large parts and the production of spindle parts and carriage parts.
Using wasted space
"Since the middle of the 1980s, all machines in the Deizisau plant have been equipped with a pallet storage containing at least six machining pallets," comments Dieter Grözinger. Although the plant currently has a production area of around 13,000 square meters, sufficient free space is always at a premium, especially when all signs point to future growth. "The concept of further developing our existing pallet storage while simultaneously integrating material pallets in the system was a logical step. With this in mind, we planned the purchase of two Heller MCi16 machining centers in 2005 for the production of small cubic parts such as multi-spindle carriage parts, feed casings, and support arms," comments Grözinger. As Joachim Fink – the Plant Manager in Deizisau – adds, "Additional space can be utilized, as rack systems allow us to use the height of the building. A flexible manufacturing system with racks on multiple levels where different machining centers could be connected was thus a logical step."
However, as INDEX found out, suitable solutions could not be found at the machine manufacturers themselves. As Joachim Fink says: "Manufacturers focus on the development and production of established machines, with only limited resources for peripheral automation solutions. For example, the solutions suggested for our planned system only offered enough space for a maximum of ten pallets – these were also mostly designed for machining pallets, not material pallets."
A standard system, yet tailored to the customer
"We then looked around the market for a solution. Our final choice was the Multi-Level System (MLS) MD from Fastems. The Finnish system provider is based in Göppingen and offers much more than just good references. What convinced us the most was the MLS‑MD concept, a standard system comprised of modules that can be constructed and expanded according to customer needs with high levels of flexibility," emphasizes Dieter Grözinger.
Unmanned shifts despite a wide range of part variations
The Fastems MLS‑MD was delivered and installed in 2005. The system measures approximately 28 meters in length and six meters in height, with a maximum load capacity of 1000 kilograms per storage place. It offers enough space for over 60 machining pallets measuring 500 x 400 mm at a maximum fixture size of 800 x 800 x 1200 mm, and 116 wooden Euro pallets measuring 800 x 1200mm at a maximum height of 950 mm.
"With a machine running time of around 15 minutes per workpiece, we thus always have enough raw parts available in storage for high machine loads – provided we constantly replenish them over two shifts," comments Joachim Fink, who also considers the following, "When using a pallet system with between six and eight machining pallets, we would only reach an unmanned production time of between one and two hours on both Heller MCi16 systems, provided this is allowed by the order composition. However, when using the Fastems system, we can reach six to eight hours of unmanned production under full machine capacity and a corresponding order composition. We can also produce over 100 different parts, with this figure constantly rising. This is an enormous increase in productivity while remaining flexible, which is absolutely essential in a high-salary country such as Germany in order to make the machine investment profitable."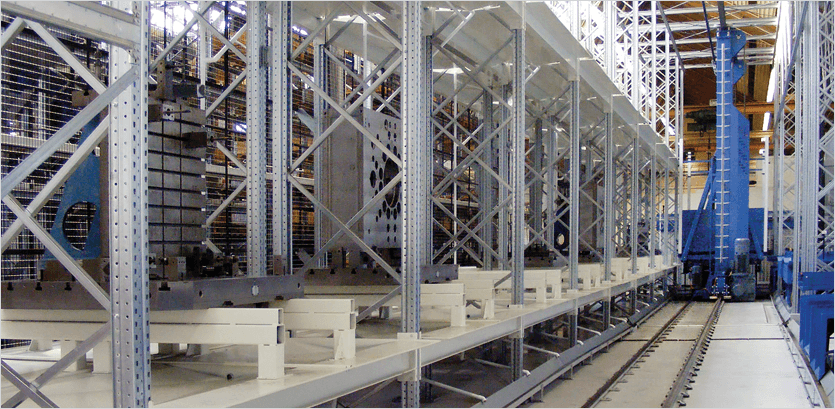 The peripherals must also match expectations
However, the peripheral systems used for production must also be optimally synchronized with the automation system. Dieter Grözinger explains this in more detail: "The strategy must be to have the machines in production, and not standing idle waiting for preparations or checks to finish. Therefore, we carry out tasks in the Deizisau plant – such as programming of workpiece processing, checks, and simulations – with-out loading the machine at all. This also includes the preparation and setting of the machining pallets, plus the presetting of all tools necessary for processing. These are all equipped with data chips, and contain all the information they need."
Joachim Fink is convinced: "The choice of the MLS-MD was the correct one." There are no dissenting voices on this point – due to the productivity and availability, the system was expanded in 2007 with another Heller MCi16 machining center.
Major projects on the horizon
In the same year, INDEX decided to invest in a machining center from Burk-hardt+Weber for producing large, cubic parts such as machine beds. Dieter Grözinger explains why: "Germany was experiencing a boom, everything was working at full capacity and – like many others – we had capacity problems at our suppliers. In addition, our two existing machining centers for large parts were already running in a three-shift system. As INDEX uses a clock system for lathe assembly and has to produce individual components (such as machine beds) just-in-time, we needed to act. We also wanted to keep the core competencies in this area in-house."
No space for a pallet pool
There were two available automation solutions for the Burkhardt+Weber machine – one offered by the machine manufacturer and the other a rack system based on the positive experiences made with the first system. In the end, the Fastems system was chosen. This was not only due to the planned connection of another machine, but also due to the positive previous experiences with their first system and the ability of the Fastems system to handle the necessary weights. The MLS-XXHD was used, with a load capacity of 11 metric tons per storage place.
Combining machines with different pallet sizes
The extra-large version of the Fastems MLS was designed for INDEX with a length of 37.5 meters and a height of 7.8 meters, with a Burkhardt+Weber MCX1400 and a MCX1200 connected. Eight pallet places of 2500 x 1600 mm (max. fixture size including pallets = 4000 x 2400 x 2800 mm) or 1600 x 1250 mm (max. fixture size including pallets = 4000 x 2400 x 2200 mm) were available for each respective machine. "We thus have a multi-level system which combines two machines with different pallet sizes into one system. The stacker crane can handle both pallet sizes thanks to its adjustable forks, and any pallet can be handled in either loading station," describes Dieter Grözinger. As Joachim Fink adds, "The complete system comprised of standardized elements is an ingenious concept. The professional project management by Fastems allows quick assembly and rapid, problem-free commissioning. The comprehensive experience of Fastems as a practical system integrator shines through here – and this doesn't just apply to the MLS itself, but also to the control system."
"Somebody has to take charge."
So much praise can be suspic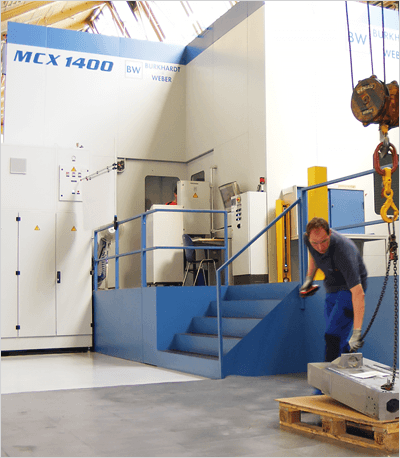 ious. However, as Joachim Fink sums up the Manufacturing Management System (MMS) from Fastems: "Somebody has to take charge." As a flexible control system, the MMS basically takes over the entire organization of the MLS-XXHD. Describing the range of MMS functions here in detail would take far too long – after all, this system contains over ten years of continuous development and can be adjusted according to the customer. Among other things, the MMS manages all of the machining pallets and tools, and also monitors the NC programs assigned through the computer-based control systems on the individual machining centers.
"The MMS was accepted by our operators with great enthusiasm. They were already able to work with the graphical user interface after brief instructions, and noticed that improper operation is virtually impossible thanks to the range of safety features. This is decisive for problem-free operation and system safety," comments Joachim Fink.
Facing up to the economic crisis
"Due to the long delivery times for large-scale machining centers, the system could only be put into operation in 2009 – right in the middle of the economic crisis." Despite this, the Plant Manager in Deizisau does not regret the investment. "The order situation has improved greatly since the end of last year. We are happy that the Burkhardt+Weber and Fastems systems are available for dealing with the increased production as a result. This system also allows us to deal with a wide variety of orders." Joachim Fink is able to use his team to produce special parts and individual parts while simultaneously preparing for unmanned series production, even with small batch sizes or series. "We are able to offer the levels of flexibility required by our customers, and are also well prepared as regards future productivity."
The Whole Turning Spectrum
The product range at INDEX-Werke GmbH & Co. KG, Hahn & Tessky includes automatic production lathes, turning-milling centers, turning and grinding centers, vertical lathes, and CNC multi-spindle automatic lathes. TRAUB Drehmaschinen GmbH & Co. KG has belonged to the INDEX Group since 1997, and adds universal lathes, fixed headstock lathes, and sliding headstock lathes to the product portfolio. The INDEX team, with their 2000 employees in three German plants (Esslingen, Deizisau, and Reichenbach), are thus able to cover the entire turning spectrum.
Want to learn more?
Give us a call or send an email.
"*" indicates required fields