This blog post discusses what flexible manufacturing is and explains why it's relevant. Furthermore, it presents what an actual flexible manufacturing system or FMS consists of and how its different parts play together. The context of this blog is the metal cutting industries.
Machine tools automated with an FMS typically reach from 6 000 up to 8 000 annual manufacturing hours, whereas standalone, manually loaded machine tools typically max out at only 2 000 hours. Undoubtedly, the gap is huge, so let's find out how this is possible!
Flexible Manufacturing – system or a paradigm?
Flexible Manufacturing is a production concept that enables economic manufacturing of variable workpieces in small and repeatable batches – that's why it's called flexible. When one adds the word system, the concept comes alive. In short, the idea is to feed machine tool(s) using a rail guided vehicle or a robot, thus enabling simultaneous setups while another workpiece is being machined. The system also needs a buffer storage and control software to allow all this to happen.
Before going any further, let's consider the two systemic problems causing inefficiency in variable small batch manufacturing. This helps us to understand why FMS is relevant and how it can help achieve impressive machine utilization figures:
1. Productivity and speed loss due to set-up changes
Manual workpiece set-up changes take a lot of time, even with automatic pallet changers (APC). Given the large amount of different production items, this becomes the biggest systemic problem for variable small batch manufacturing. In addition, to ensure quality and avoid collisions, the first item needs to be produced with reduced speed and with an operator overseeing the process.
FMS solves this with a buffer of pre-configured pallets and fixtures, combined with related production data such as workpiece item IDs, NC-programs, required tools and tool life. It separates the work schedules of the operator and the machine tool, which means no unnecessary waiting for either. This enables an automated and smooth flow of production items for the machines, and keeps their utilization close to 100% also during nights, weekends and holidays.
The flexibility also means dynamic re-routing of pallets to different machines, creating a huge difference compared to pallet pools, in case of a tool or machine error. Pre-configured set-ups mean that every item, starting from the first, can be run with 100% speed.
2. Problems in managing manufacturing resources and data
The second problem in variable small batch manufacturing is the complexity of organizing different kinds of resources like tools, materials or workholding as well as data, like NC-programs or tool wear information. This quickly becomes one of the main reasons for production ineffectiveness. Scheduled production fails because of fast, unexpected changes, unrealistic production scenarios or unavailable resources. The result is very tangible: low utilization of machines.
Here's how FMS does it
What does an FMS consists of?
As we understand the principal concept and drivers behind flexible manufacturing, it's time to look at what an actual FMS consists of. Below we illustrate the typical parts of a solution designed to move larger  – 400mm or above – pallets. Other scenarios will be discussed in coming blog posts:
Rail guided pallet transportation vehicle or robot
Setup Station (and possible material station on the right side of it)
Buffer storage
Control System
Integrated machine tool(s)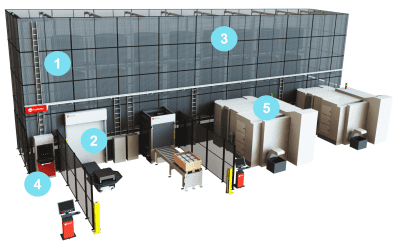 Let's take a closer look on each item:
1. The rail guided pallet transportation vehicle (or industrial robot) is responsible for handling workpiece logistics between machine tools, setup stations and buffer storage. The device is typically capable of stacking the pallets in several levels, creating benefits in terms of floorspace usage. Below, you can see a picture taken inside of one Fastems' FMS: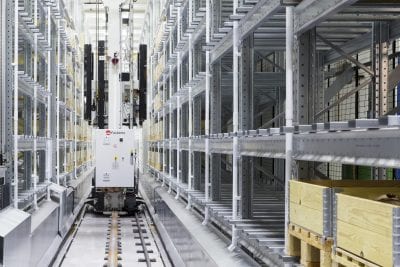 2. Loading station(s) for system input and output. As they're separate from actual machine tools, loading stations can improve the ergonomics of the operator. They can e.g. tilt the pallet for easier and faster access of heavy workpieces. Below you can see a picture of Fastems' door-operated loading stations that rotate.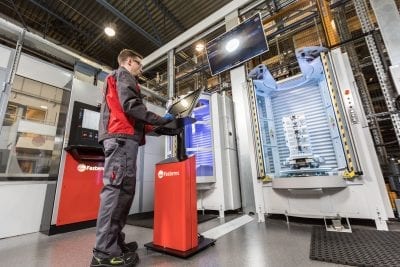 3. Buffer storage organizes the preconfigured pallet / fixture setups to enable efficient small batch size manufacturing. It also enables unattended manufacturing. Moreover, integrated material management in which the system takes care of both blanks and ready workpiece logistics is possible. This picture (© by advanced manufacturing) is from an installation at Hirsh.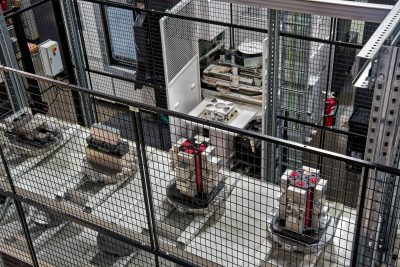 4. The control system plans, visualizes and executes production. It's the brains of the entire system because of how it takes care of all resource and data management, and gives the user the opportunity to optimize the manufacturing process. At Fastems, we think control software is the most important part of a modern FMS system. Why? Watch this MMS video or read more on the product page.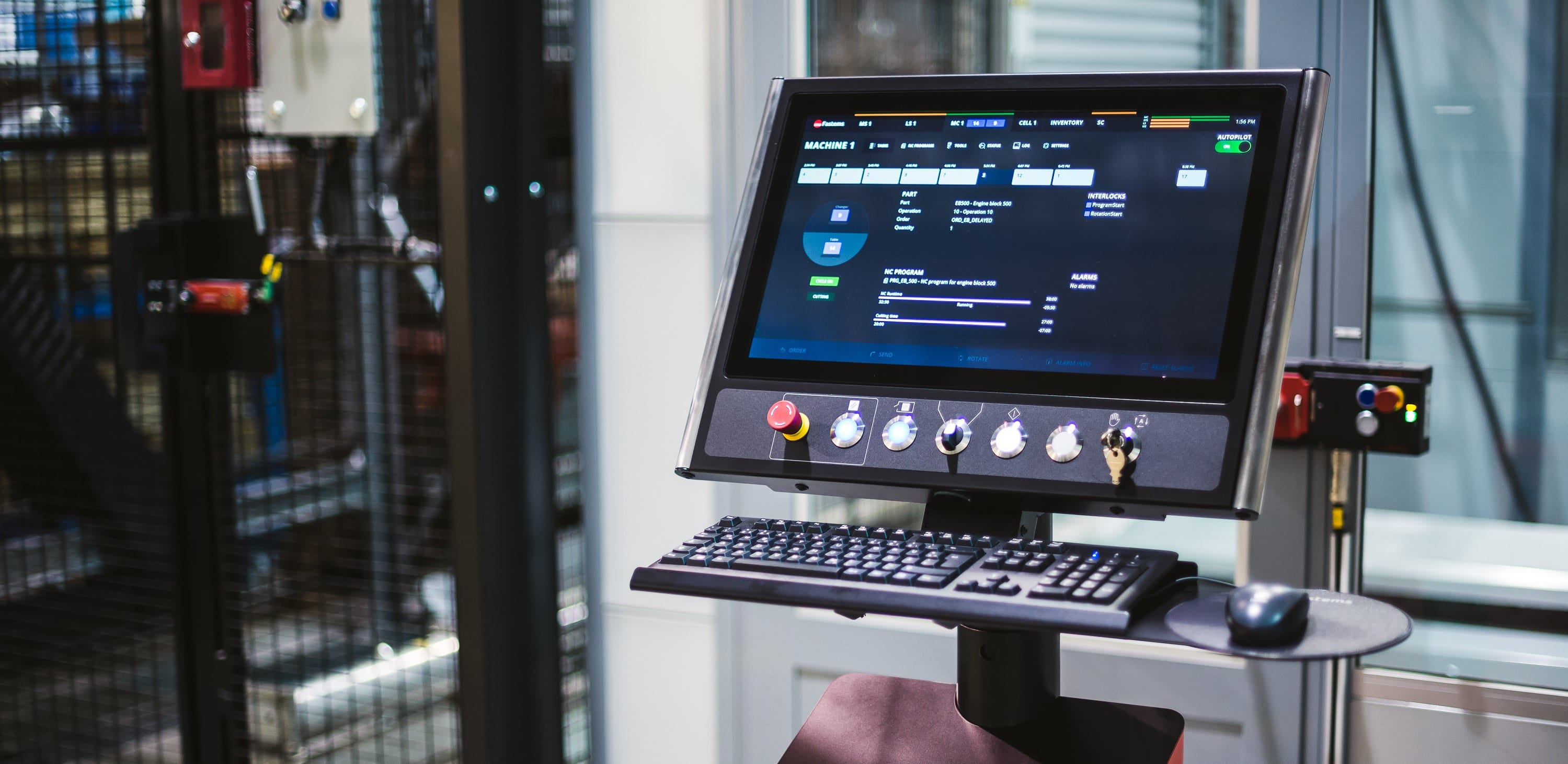 5.Integrated Machining Center(s) of choice. It's also possible to have different sizes of milling machines within the same automation system. For turning machines, see our concept of Agile Manufacturing Cell, which is an adoption of FMS principles in a world where pallets are not utilized, such as direct turning machine tending.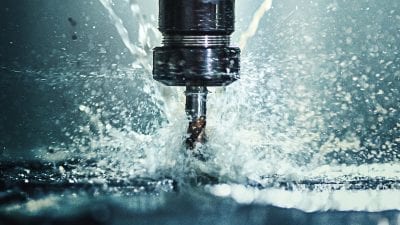 Finally
With proper control software, a flexible manufacturing system can give you really impressive machine tool utilization figures, but the story doesn't end there: Fastems FMS provides you with the right parts at the right time – and does it at low costs and without large stocks. It enables economic manufacturing of repeatable small batches used in thousands of industrial applications such as:
Aircrafts and other aerospace
Pumps
Compressors
Gears
Valves
Machine tools and other machinery
….You name it!
Stay tuned, because in our coming blog posts we'll discuss the different types of FMS, such as RoboFMS, and elaborate on the different kinds of auxiliary processes such as deburring or automated loading. We'll also give you our take on how to optimize OEE (overall operative efficiency) by using FMS.
Want to learn more? Download our ultimate guide for Flexible Manufacturing!
Want to learn more? Download our ultimate guide for Flexible Manufacturing!