Batch size one? The solution is Fastems' lean system
Manufacturing companies are increasingly striving for machining process automation and flexibility. In this case, an automation system with two loading stations and a washing machine has yielded many benefits.
"The system is able to operate completely independently, even in unmanned production"
Robuschi S.p.A. is a company that was founded in Parma, Italy in 1941. It started out as a small workshop that repaired centrifugal pumps employed in the agricultural sector. Nowadays, ­Robuschi is an international company that has three well-established product lines: centrifugal pumps, liquid ring vacuum pumps, and vacuum blowers. Each product line includes a variety of devices to meet any industrial needs. The company's production and financial growth took place between the 1960s and the 1980s: continuous innovation resulted in the development of carefully designed high-precision electromechanical devices. The company's main product is the low pressure rotary blower that compresses the gas passing through it. The Parma-based company is one of the first manufacturers in the world for this type of product, and they have a widespread distribution network that includes seven subsidiaries and an extensive network of agents/distributors that encom passes 70 countries. ­Robuschi maintains its competitiveness with careful production planning and advanced automation systems: major investments in technology are made every year to improve products and processes. Investments were made in 2009 as well despite the unfavorable global economic situation and the resulting uncertainties in the market.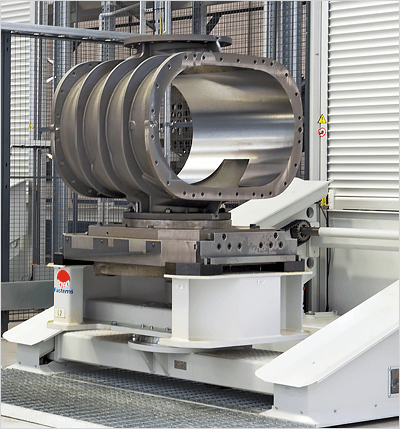 Automation for optimization
A new ­Fastems flexible manufacturing system (FMS) was taken into use in September 2009. ­Fastems systems are able to integrate the widest variety of machinery and accessories to achieve a true automated factory, able to work day and night with minimal human operation. ­Michele ­Maestrini, Head of Process Technology at the ­Robuschi plant, tells how they came to this decision: "A horizontal machining center, Mazak FH10800, was operated in this area for several years. This machine tool was dedicated to manufacturing components that can reach two meters in rotational diameter: the most important parts of our blowers including body and rotors. The loads on the machining pallets are up to 1.60 meters high and the load weight can easily reach 3.5 metric tons. The machining center had excellent productivity and accuracy, and it was also equipped with a special tool magazine with 240 pots, created specifically to hold boring tools with machining diameters up to 650 mm. However, every time we needed to change the production lot it was necessary to replace the pallet and the machine tool was stopped for several hours for setup. Setup was also not an easy task, and it was certainly inefficient. In order to achieve reasonable payback periods for the tools, we were forced to increase the production lot sizes which also increased our inventory and related costs. We looked for a solution to the problem and also wanted to increase our production capacity, so we first decided to buy a second machine tool, and our choice was a new Mazak, because of the positive experiences on the reliability and efficiency of the existing FH10800. Then we also found an automation system that could integrate both machine tools, ensuring maximum flexibility of the production process, and in particular manage pallet transfers between the loading stations and machine tools."
Complete process
Robuschi considered various options, and after seeing other plants automated by Fastems they chose the Finnish company. The system is now fully operational and can accommodate all the workpieces in a special two-level storage rack, which has also freed floor space for future needs. All machines are served by a high-speed stacker crane, a rail-guided vehicle controlled wirelessly over a data photocell. Loading and unloading is performed in two loading stations that transfer the pallets diagonally to an ergonomic working height for the operators. The machine tools communicate with the automation system via Ethernet, creating a real plant intranet. The system also includes a pallet washing machine. Pallets are tilted 90 degrees and rotated on their horizontal axis while in the washing machine. This, together with the strong jets of water from the nozzles of the washing machine, removes chips and dirt that is usually quite difficult to clean. After machining, all workpieces are washed, transferred to the loading station, and unloaded from the system.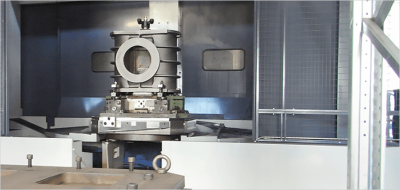 Manufacture what is needed when it is needed
Maestrini says: "Integration of the washing phase provides further benefits as it avoids the need for manual cleaning and having to take the workpieces outside the system, not to mention the large quantities of chips that are now automatically managed. In the new system, a single operator can operate two machine tools, which used to be unimaginable. The system also includes loading stations, a storage rack, and a washing machine. Thus, we have dramatically increased the flexibility in this area; we can shift production from one machine tool to another at any time, instantly. We can manufacture workpieces in single batches now! Clamped workpieces are always waiting in the storage rack, ready to be transferred to the machine tools for machining, and the automation system makes it possible to prepare workpieces for either machine in either loading station."
The advantage of manufacturing small batches without additional costs is easily imaginable: "The operator enters the order coming from the office in charge of production into the system, and the system decides the priorities according to the deadlines and last minute requirements. Of course, the automatically proposed production schedule may be accepted or not. Each time a pallet is transferred to a machine tool, the system uploads the correct NC program to the machine tool, so there is no chance of human error. The system keeps track of tool use, and informs the operator when a tool has reached its expected life, so that tool maintenance or replacement can be performed quickly and efficiently. The machine tools use high-tech cutting materials, such as cubic boron nitride and silicon nitride, in many trimming and roughing processes. The system Fastems built for Robuschi is the first system in Europe that integrates two Mazak machine tools of these sizes: "the positioning of the stacker crane forks is so precise that it ensures full compliance with the tolerance; the weight of the pallet and special references ensure complete reliability. As it is clear from the number 8760 that is so dear to Fastems, the system is able to operate completely independently, even in unmanned production."
Pay Attention to Ecology
Robuschi products, particularly the new ROBOX screw compressor units, high-efficiency "oil free" compressors, provide an effective response to the impact of electricity costs and result in lower environmental impact. Great thermodynamic efficiency, excellent volumetric efficiency, low noise level, no oil in the circuit, and reduced maintenance costs are some of the properties of these top-quality products.
Extreme care is taken in both the design and manufacturing of all product lines (lobe blowers, screw compressors, vacuum pumps, and centrifugal pumps): "this allows us to position ourselves among the market leaders for equipment for the waste water treatment sector and pneumatic transport in various industrial applications."
Written by Giancarlo Giannangeli
Want to learn more?
Give us a call or send an email.
"*" indicates required fields