MULTIVAC relies consistently on Fastems
Higher Productivity and flexibility are two essential attributes which are named again and again in reference to the systems of Fastems. That a high degree of flexibility is also the company philosophy of this system integrator from Göppingen is something that was experienced first-hand by MULTIVAC Sepp Haggenmüller GmbH & Co. KG, with headquarters in Wolfertschwenden, Germany. From the outset.
MULTIVAC is a globally leading manufacturer of packaging machines, including thermoformers, traysealers, chamber machines and belt conveyors. In its production, the company relies consistently on the multi-level systems (MLS) from Fastems for its solutions for automating machine tools. MULTIVAC has on average been investing in one Fastems MLS per year since 2006, with the systems being installed either at the headquarters in Wolfertschwenden or at the factory in Lechaschau, Austria.
Classical division of labor
"Between the factory in Lechaschau and our company headquarters in Wolfertschwenden there is a classical division of labor. While in Austria predominantly stainless steel is produced, our focus is on sheet metal processing and the manufacture of forming and sealing tools, which ultimately form the customer-specific end products of MULTIVAC. The final assembly of machine frames and functional units, which are made in Lechaschau, also occurs here at headquarters," explains Uwe Glöckler (Dipl.-Ing., BA), divisional manager of production at MULTIVAC.
Stronger international orientation
In the course of steady growth, the international orientation of MULTIVAC is also on the rise. The divisional manager continues: "Since we provide support to our 60 worldwide subsidiaries centrally from Wolfertschwenden, we have in the last years considerably increased our personnel coverage here at this location and invested in new company buildings as well as in new application technologies." MULTIVAC now employs about 1,400 workers at its headquarters. The more than 3,800 staff employed worldwide were able to achieve sales of well over a half billion Euros.
Efficiency always on the test stand
With constant growth, production must of course always keep pace, as Uwe Glöckler knows only too well: "Due to our customer-specific solutions, we have a very wide variety of parts and therefore produce the smallest batch sizes, which usually consist of individual parts at the Wolfertschwenden site. A high degree of productivity can only be achieved here with highly automated systems. And in this process, the economy of production is always something we scrutinize." Against this background, according to the divisional manager, one of the moves made was shifting the production of very simple components with very short cutting times to the flexible manufacturing systems (FMS) of Fastems. "Previously we produced such parts at stand-alone machines and concentrated on the parts with longer running times for the FMS. This is however no longer the case. As this concrete example shows, we are systematically furthering our automation efforts while also exploring new ideas," says Glöckler.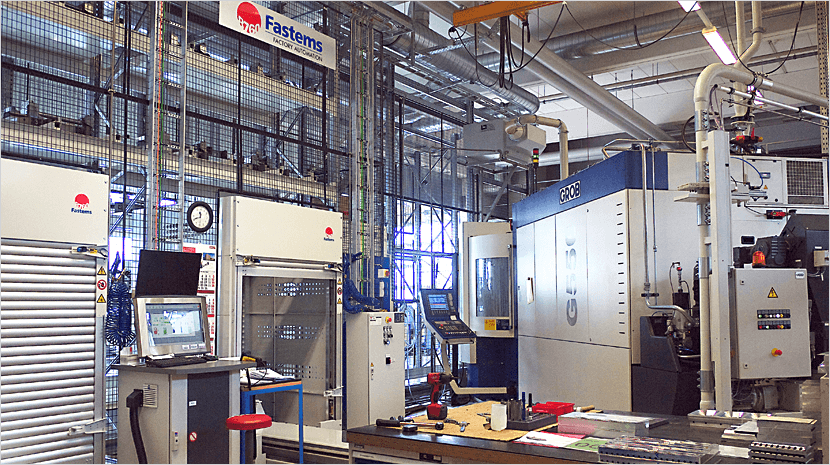 Kinematic system offers advantages
Evidence of this can be seen in the 2012 modernization effort bringing in five-axis universal machining centers of the type G550, representing the first investments of MULTIVAC in the machining centers manufactured by GROB. "The decision in favor of these machine tools was made for good reasons, since the special kinematic principle of these installations offers considerable advantages for a very specific range of components," says Glöckler, who then further explained: "With the horizontal five-axis machining of its G350 and G550, GROB has departed from its previous axis configuration and moved the Z- and X- axis to the spindles, while the Y-, A- and B-axis are in the workpiece. Since this design enables the machining pallet to be manipulated in all directions within the working space of the machining center, we can process these special components on a G550 in a single clamping."

Automation was always the obvious direction
The automation of the new machining centers was from Glöckler's perspective unquestionably the aim. "Since there is only a single workpiece on the machining pallet, the spindle runtimes per pallet are reduced, which results in a correspondingly larger number of workpiece pallets required in an automation system. The automation was therefore a necessity, in which it was also clear to us that the machines were to be connected to an MLS of type MD (medium duty) from Fastems, since we already had a wealth of positive experiences with this system in terms of productivity and flexibility," the divisional manager stated, stressing that one could however also gain even more flexibility through Fastems.
Fast responses ensure on-time assembly
"Originally, two older machining centers were to be replaced by two G550. This determined the layout for the entire system. However, one day before the installation of the MLS, we examined this more closely with the FMS and ultimately opted for the future integration of an additional machine in the system," remembers Glöckler, who contacted Thomas Weinhold (Dipl.-Ing.) of Fastems on the day before the MLS installation.
The sales director for Austria and OEM products of Fastems GmbH with headquarters in Göppingen responded immediately. "If we speak of automation with simultaneously higher manufacturing flexibility, we at Fastems should actually put this philosophy into practice. Flexibility thus means accommodation of the customers wishes on short notice," says Weinhold, who also drove to MULTIVAC's company headquarters in Wolfertschwenden on the day of receiving Glöckler's call and then collaborated with the divisional production manager to change the layout according to the new specifications.
These changes included the positions of the machines and loading stations, as well as an additional connection for an optional third machining center, while also taking into account an expansion of the system with additional pallet places. "Mr. Weinhold also sent plans to Fastems in Finland on the evening of that day, so that not only the planned assembly start on the following day could be adhered to, but also the installation of the MLS could be implemented according to the original timeline without any delay," said Glöckler, praising the commitment of Fastems.
Project successfully completed
The MLS-MD was installed in July 2012. The connection of the two G550 to this system represented a premier for the machine manufacturer as well as for Fastems. "We were well aware of the risks which could occur in view of the interface difficulties in such projects with two established but as yet untried with one another system landscapes. We were not seriously concerned, however. With justification, as it turned out, since the specialists of both companies handled the project very professionally to its successful completion," says Glöckler.
Expansion after only six months
The MLS-MD (medium duty) with a load capacity of 1.5 tons in combination with the first two G550 provided places over four levels for a total of 72 machining pallets of size 630 x 630 mm, and was adapted as requested by MULTIVAC for parameters such as varying workpiece height. Only six months after the initial installation, MULTIVAC invested in an additional G550, thereby transforming the original option into a reality. Similarly, the MLS-MD was previously expanded by 12 additional pallet places. "This expansion was also so well prepared by Fastems that it had absolutely no effect on our running production," emphasized Glöckler, who then spoke about the most recent project with Fastems that illustrates the potential of the system integrator's FMS.
MLS: "Multi" in terms of the machine as well
"Currently we are installing an MLS-MD from Fastems with different machine types of various manufactures. Not only are we investing in new machines, an already existing machining center from Heller (model FP 4000) will be integrated in the FMS in order to increase the unmanned running times of this 5-axis machine."
An additional two MC 8000 made by Heller as well as another G550 made by GROB is also planned for this FMS. This system, which currently features three fixedly planned loading stations, can optionally accommodate the integration of a fifth machine tool and alternatively even a fourth loading station. "The system has an overall length of 46 meters with 102 pallet places distributed over a varying number of levels. The different heights of the storage places are designed to facilitate a high utilization of the various machining centers. This means that the planning had to take into account how many components with what frequency and of which clamping type need to be available in the system in order to achieve the highest possible spindle running times of the individual machine tools," explained Glöckler.

Want to learn more?
Give us a call or send an email.
"*" indicates required fields