Machine keeps working hours after everyone has gone home
In order to increase the number of spindle hours, Lemmens Metaalbewerking opted for a FMS ONE system from Fastems. Lemmens partly chose this partner because of previous positive experience with an FPC pallet container, which is a basic system of Fastems. The completed installation consists of a Fastems FMS ONE, connected to a horizontal machining center of OKK. The cell is modular, and prepared for future expansions.
In 2012, Lemmens Metaalbewerking, located in the Dutch town of Bergeijk, kick-started automated production. The first investment invovled a horizontal machining center, combined with a Fastems FPC pallet container which contained ten pallets. Peter van der Zwaan, Director of Lemmens says: "The first pallet container was a prefab solution of Fastems. It gave us the opportunity to gain experience with automation, with a relatively favorable investment. With the automated production cell, we produced parts with repetition and this caused the series to greatly increase. Given the available man-hours, this became a problem because it caused us to work in shifts, and required staff to increase their number of work hours from 1,600 to around 4,000 per year. Furthermore, the system had an important restriction; it was only efficient for repetitive products, due to a limited number of pallets". At Lemmens the series are smaller, which requires more flexibility. In addition, there is the desire to produce different orders at the same time. The FPC pallet container wasn't flexible enough for that purpose. For these reasons, Lemmens recently launched a new, modern FMS ONE system from Fastems, with increased flexibility and capacity.
Eighty Percent More Pallets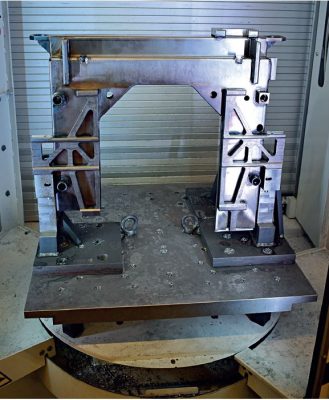 The FMS ONE system loading and unloading OKK horizontal machining center at Lemmens is a modular and flexible system. This means the system is suitable for different brands of machine tools and can easily be expanded with additional machines, pallets, workstations and integrated robot cells. Lemmens opted for a FMS ONE system with eighteen pallets. That's an eighty percent increase of the number of pallets from the previous FPC pallet container. The main difference, however, is that the new FMS ONE system can produce orders simultaneously and interchangeably, with no changeover time. For instance, during the day it is possible to make a short-term series and prototypes while in the evenings and at night larger unmanned series can be produced. It also has the capacity to execute urgent orders. "A major advantage of the new automation is the employability of our professionals. Craftsmen are scarce. In the past, a professional had to reset the machine every time the order got changed. In the meantime, the machine stopped working. That's something you really don't want to see anymore. One must realize that the depreciation of a machine in Eastern Europe is comparable to the depreciation over here. In order to compete, you must achieve maximum return with one single team", says Van der Zwaan. Henk Kremers, director of Valkworks, dealer representative and an authorized supplier of Fastems in the Netherlands, adds:
"Professionals now work eight hours a day realizing their full potential"
"The Fastems logo contains the figure 8760. This figure reflects the number of available hours per year. The purpose of our automation solution is to maximize the utilization of these available hours. At some companies, machines have up to 8,000 hours of production per year, thanks to an FMS system. That's an example of efficiency, which also offers a real competitive advantage".
Shifting of Tasks
With the arrival of the FMS ONE system, the duties of personnel at Lemmens have shifted. Craftsmen are now working eight hours a day and bringing out their full potential. Van der Zwaan says, "Machining remains a profession. Therefore, the knowledge and skills of professionals pay off. By automating simple actions and adding flexibility in the way we organize the production process, we gain maximum benefit from this knowledge. In addition, with the Fastems system, you need someone who thinks less like a miller and more like an administrator. With a focus on process optimization, the question one should ask is: 'What do I have to do in order to get something done on time?' Managers learn how to play with priorities. An example of optimization is the expansion of the number of products per pallet."
In addition to thinking about process optimization, logistics have to be adjusted as well, as this is a crucial aspect of the automated process. "An FMS automation 'eats' a lot of material. Therefore, the user must make a layout of the factory in advance, and map the logistical design. In this way, you ensure sufficient material is always available, and ready-made products won't stand in the way and cause a bottleneck elsewhere in the chain. So, apart from the human aspect, a lot more is involved in an FMS system", says Kremers. The FMS ONE system is equipped with two charging stations. Lemmens deliberately opted for this to enable two orders being organized simultaneously. This means, on one hand, a manager can load products, while on the other hand, another manager can adjust a new order or make prototypes, without getting in each other's way. All this happens during normal day shifts.
Ready for the Future
Before acquiring the automation solution, Lemmens took a close look at future opportunities. "Can we easily expand, is it compatible with other machines and accessories? Answering these questions ensured that we have a complete plan for the future. It has already been laid out", says Van der Zwaan. "Actually, if you consider the FMS system as a basis for production. From there, you can expand with an additional machining center or a robotic solution for robotical deburring. You name it", Kremers adds. At Lemmens, it's clear that the FMS acts as the basis for production. The FMS is positioned in such a way that there is extra space for expansion. The height of the production hall has been fully used. The crane tracks have been turned, in order to create extra space. One could say that the usage of this space has been optimised: the clearance between the bottom of the crane track and the top of the pallet track is just a mere five centimeters.
First MMS
The Fastems FMS system at Lemmens is the first installation in the Netherlands equipped with the new Fastems MMS control system. Kremers says, "MMS is Fastems' answer to the entire Industry 4.0 issue. With MMS we make optimized use of data in the company. In many cases, we no longer need an ERP package. In principle, MMS can already take this over completely".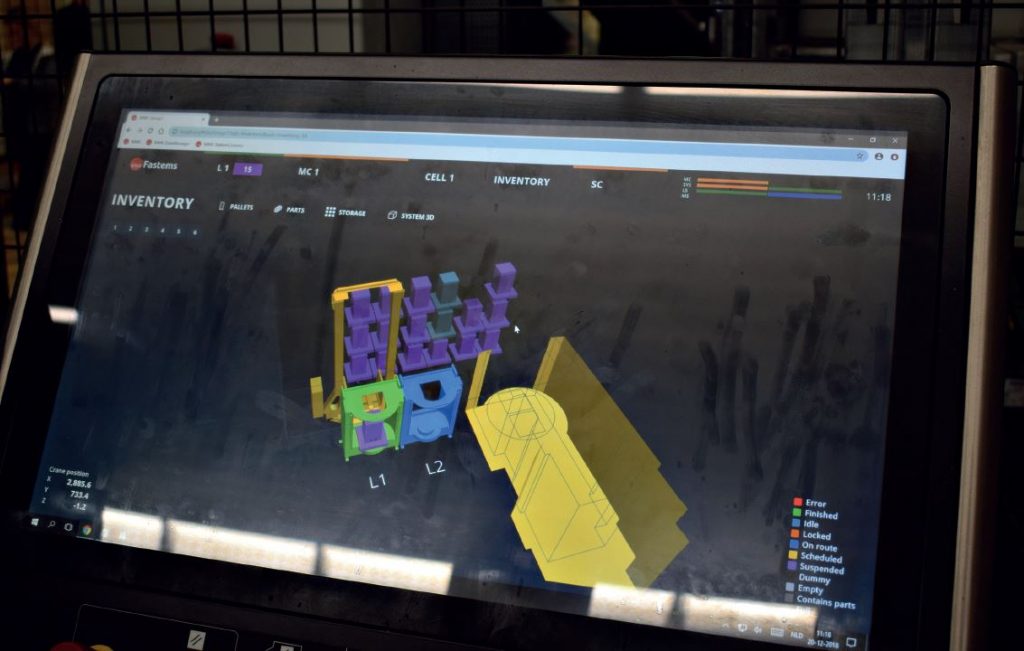 The new MMS is completely web-based, in contrast to the previous version. This allows the company to monitor the entire process, from the outside as well. Operators can use the touchscreen to retrieve information about the product, control, measurement, clamping, and packaging. This information is supplied in a complete set, with PDF's and images to help visualize. Useful functions such as 'Scheduling' help the user to plan orders by simply indicating how many products are needed and when. The Scheduling function reads the NC program and calculates when the production should start. It takes both planned and unexpected maintenance into account. In combination with the tool management function, an order can be planned even more accurately. This function checks whether there are enough tools with sufficient tool life to complete an order. "The MMS control has many functions we don't even use at this moment. One might consider a tool order for Toolmaster, for example for a robot and a material transport order for AGVs. The first goal is to increase capacity and improve logistics. After that is realized, we will further optimize and get more out of the control system. A big advantage is the user-friendliness of the controls. The operators received only a two-day course in order to be able to fully run the system", concludes Van der Zwaan.
"MMS is Fastems' answer to the entire issue of Industry 4.0"

– Henk Kremers
ORIGINALLY PUBLISHED IN TECHNISHOW ENGELS: "TECHNIEK – FMS PERFORMS THE TASK OF SHIFT WORK"
Want to learn more?
Give us a call or send an email.
"*" indicates required fields