High levels of automation despite small batch sizes
Meeting demands for higher productivity and longer machine running times while also maintaining a wide range of part variations can only be realized through intelligent automation concepts. Gebr. Heller Maschinenfabrik GmbH has found a solution for these demands.
Series production? Not at Heller! 
As Dr.-Ing. Peter Herrmann (Production Manager) is well aware, even a company such as Heller must break with tradition and abandon established tried-and-tested assembly and production methods to reach these goals. "We are not series manufacturers – we produce our machines to order. Even back in 2006 and 2007, we experienced a clear tendency towards individual and tailor-made production. As a result, we halved the batch size in 2009. We now only tend to produce the most important parts in batch sizes of between two and three, whereas this used to be between six and ten on average."
Core expertise maintained
These "important parts" are the so-called "core expertise components", such as spindle units, machining pallets, rotary tables, and parts of the tool changer. "The production of these components must be made to very high levels of precision, which sets high technological demands on the production line. We especially wanted to remain efficient in this area in order to produce the necessary parts on schedule."
For Claus Garnjost and Peter Herrmann, remaining efficient meant the complete restructuring of production, leading to higher levels of automation with greater flexibility.
Longer machine running times
Markus Schwirzinger (Project Leader – Production) describes this in more detail. "There were several machines on our production line that were only equipped with pallet changers or pallet pools. It was clear that we could not realize our ideas for more efficient production with this machinery. We also wanted to increase machine running times while using fewer machines and utilize our personnel more efficiently in order to react quicker to production and customer demands. We quickly realized that this would only be possible using a flexible manufacturing system such as the Fastems Multi-Level System (MLS), as this utilizes the unused vertical space towards the ceiling of the plant and allows high levels of flexibility in production."
Meeting the challenges
However, a great deal of preparation was necessary before the new system could be installed. "Not an easy task when you consider that we had to move 50 machines during running production in a full three-shift system in order to make the necessary space for the complete system – some 900 square meters," remembers Claus Garnjost. Even the overhead crane needed to be moved due to the height of the system. However, the greatest challenge was the need to stabilize the plant floor. A road building machine was used to dig up the floor at the planned installation point of the MLS so that new foundations and a new floor could be installed. "This was all made on a tight deadline so that we could keep the planned delivery and installation schedule for the Fastems FMS," comments Claus Garnjost.
Optimal utilization of space
Despite these problems, the Multi-Level System (MLS) from Fastems was installed on schedule in September 2008. The MLS‑XMD (Extra Medium Duty) from Fastems offers enough space for a total of 256 machining pallets and 134 material pallets. The system has a load capacity of 2500 kilograms, is 46 meters in length and 11 meters in height.
Two MCH280 machining centers and two MCH350 machining centers from Heller are currently connected to the MLS. 116 pallets (800 x 800 mm) with a maximum weight of 2500 kilograms are available for the larger machines. A further 140 machining pallets (630 x 630 mm) with a maximum weight of 1500 kilograms are reserved for the two MCH280 centers. The system is designed so that it can be expanded with two additional machining centers. Thanks to its adjustable forks, the stacker crane on the MLS can handle both pallet sizes for the machines.
5000 hours planned
"An area which used to contain seven machining centers now only contains four machines. We can cope with the increased size of the complete system because a significant increase in productivity is possible using these four machines. We hope to reach around 5000 operating hours annually per machine when used in a three-shift system. This is realized by separating the preparation and non-productive times from the actual running time of the machining centers. In comparison, our past annual capacities reached up to 3500 hours per machine, with every hour also being one man hour," comments Peter Herrmann.

Harmonized preparation and processing
When using the system, Claus Garnjost also sees a clear, positive effect on increasing efficiency in mechanical production. "Harmonized preparation and processing are the key words here, although all this basically means is an intelligent automation concept combining the handling of raw materials and ready parts in an efficient way. The MLS includes four machining centers and a total of five loading stations for optimal loading of the machines. Furthermore, raw materials are also available in the system. There are four roller conveyors next to the loading stations that deliver raw materials for loading, and a fifth roller conveyor nearby for feeding the raw materials into the MLS."
Intelligent buffer
The operator can prepare a wide range of parts on the loading stations while the machine is running. It is of no importance when the parts are machined, as the master controller controls the internal flow of materials and provides the materials to the machine as they are needed. The storage thus acts as a buffer between loading and machining so that the machining centers can basically run all the time. Claus Garnjost also sees a further advantage – that highly-qualified personnel are not essential for clamping the workpieces. "This means that we can stay flexible during personnel planning, meaning the eight employees currently working on the system can also be utilized in a three-shift system."
Extremely high levels of flexibility
The new Fastems MLS-XMD has brought a new mechanical processing philosophy at Heller – Stable, unmanned (or semi-manned) production processes instead of rapid machining. "Our machining centers are not pushed to their feasible production limits. Instead, we now focus on a stable, secure, and reliable production process. Among other things, we can save on costs thanks to a longer tool service life as a result," comments Peter Herrmann, who especially welcomes the new levels of flexibility in production. "I have been involved with systems of this type for over 30 years. However, this is the first time I have seen an automated system that can be used to produce two hundred different parts after a start-up phase. This is exactly what we can achieve thanks to the Fastems MLS."
Streamlined efficiency
Claus Garnjost is convinced that the purchase of the MLS was the correct decision. "The whole system is streamlined to a high level of efficiency. Although we could not fully utilize this potential due to the global financial crisis, we are now experiencing an increase in orders after the subsequent market recovery. This is a positive development, which can be met thanks to the advantages of the system regarding productivity and flexibility. The branch will have to increasingly cope with strong fluctuations in the future. Thanks to our automation concept, we are well prepared for this."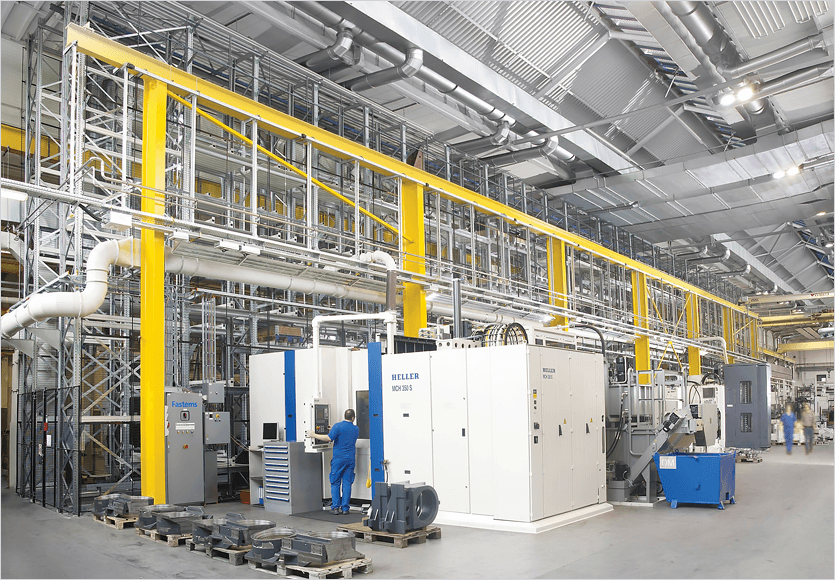 Want to learn more?
Give us a call or send an email.
"*" indicates required fields