Flexible automation for continued growth – a Fastems system solution ensures cost-effective production
In 2007, the clamping specialist Gressel proved its boldness and foresight when it decided to invest in a Fastems multi-level system (MLS) for connecting up to four horizontal machining centers (BAZ). "Today, we wouldn't be able to produce economically without this automation solution," says Jörg Maier, CEO of Gressel AG.
The foundations for Gressel AG were laid in 1933, when production of vises started in Aadorf, Switzerland. The company has always remained true to its location and was owned by three generations of the Müller-Gressel family until mid-2014, when its operations were taken over by H.-D. Schunk GmbH & Co. Spanntechnik KG. "This was a successful handover for the owners, because there had long been good relations with Schunk, including as a sales partner for Gressel vices," explains Jörg Maier. "Gressel is a brand with an excellent reputation and a certain market value. These were good reasons to keep the name even after the takeover."
Continuous growth
The name Gressel stands for high quality, precision and, not least, variety when it comes to clamping technology. The spectrum ranges from workbench vises to automated workpiece loading. Its specialties also include custom solutions for automated production. "We try to use standardized components as far as possible. But the closer we get to customer-specific workpieces, the more individual our solutions become," says Maier.
Gressel AG has recorded continuous growth over the past ten years. The takeover played a decisive part in this, as the CEO knows: "We are financially independent and can envisage more growth from increasing our market share and internationalization thanks to our affiliation with Schunk."
The key to competitiveness
Growth requires investment. And that's what Gressel has consistently done, for example by investing not only in state-of-the-art, automated machinery, but also in jobs. It currently has around 70 employees. "We have a high vertical range of manufacture, and labor costs in Switzerland are one of the reasons why we have a such high degree of automation."
Another reason for this is the persistently high exchange rate of the Swiss franc. However, Jörg Maier says that it was possible to compensate for the effect of the exchange rate on exports using a number of targeted measures, for example by purchasing materials in euros, but also by optimizing in-house processes. "Of course, our automation contributes a significant part in this. It's the key to staying competitive. I always say in this context that we've swallowed the medicine but not yet completely digested it!"
To increase productivity over longer machine running times, Gressel is currently pursuing three automation strategies. The first is direct loading of 3-axis machines using robots, the second is an internally developed workpiece store for unmanned two-shift operation of 5-axis machining centers, and the third is a flexible manufacturing system (FMS) with a multi-level system (MLS) from Fastems.

Deliberately compensating for negative effects
The decision in 2007 to make such a heavy investment for a company of this size was made in connection with the purchase of a Starrag Heckert HEC 500 Athletic horizontal machining center. "We started with two machining centers, including an existing machine, also from Starrag Heckert. Even with this solution, we were able compensate for most of the effects of the already strong Swiss franc and the resulting muted export forecasts after the financial crisis was overcome. In 2012, we connected another Starrag Heckert HEC 500 to the MLS, thus taking another decisive step towards highly flexible multi-shift production," says the CEO.
Equipment and production at separate sites
A new building was erected especially for the FMS. Jörg Maier explains: "For reasons of space, we had no choice but to build a new production hall directly adjacent to an older hall. The MLS is located by the dividing wall, which has openings so that two loading and unloading stations and two material stations could first be installed in the older hall.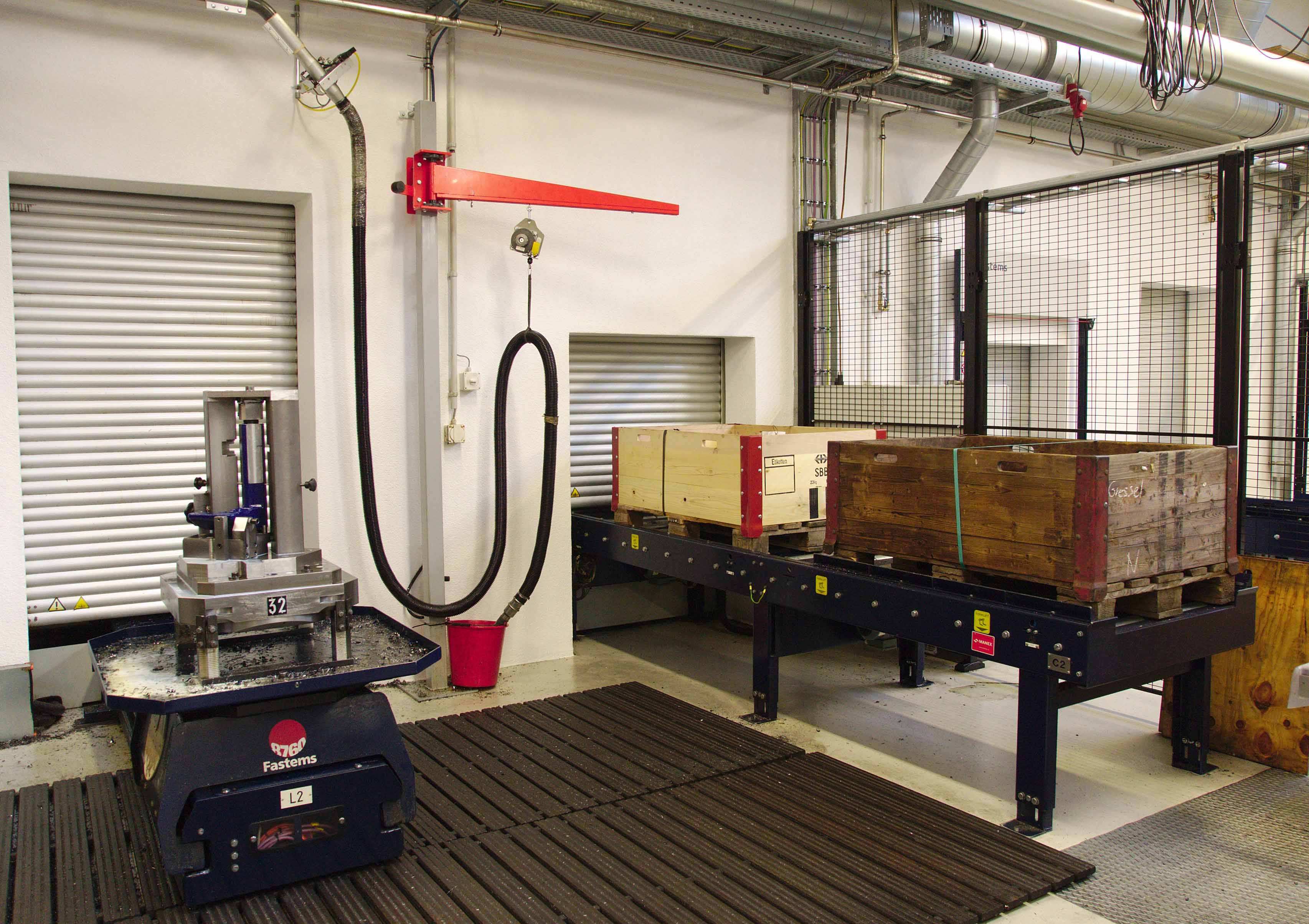 Typically, our clamping towers at the tooling stations are loaded with workpieces for machining the first and second sides. This means that we have to reclamp once for complete machining. There are also manual operations to be carried out on the workpieces directly at the loading and unloading stations so that we can ensure that the parts remain in the process until completion."
Maier believes the separation between the tooling and material stations in one hall and the machining and automation in a separate hall makes perfect sense: "It means we achieve a clear separation between the system operator and the production machinery, because different employees are responsible for their own sections and no-one has any direct influence on the machining anyway. The hall with the FMS is manned in two shifts, for example to transfer new workpieces to the machines. The machining centers themselves usually run around the clock, 24 hours a day."

Plenty of space in a comparatively small area
The MLS-MD (medium duty) with a rated payload 1,500 kg per pallet, 37 meters in length and 10 meters high, occupies almost the whole of one wall in the new building. The two-part system with 5 and 11 levels currently has space for a total of 76 machining pallets. The number of material pallets (EUR-pallets) has increased from initially 411 to currently 500.
Also, the MLS still has space for the 1280 tools of three machines connected so far, which is around 320 tools per machine including sister tools, which are needed for unmanned production at night.
Maximum solution ensures flexibility for the future
"Certainly, at the time we invested in the FMS, it was impossible to predict whether the order volumes would at all reach the utilization capacities of such a system," Jörg Maier points out. "But we have always had a growth-oriented medium-term strategy, which is why we wanted to get where we are today."
Given all this, automation was a logical and consistent step: "Due to the external circumstances, we had to think of something that would enable economical, round-the-clock operation of some of our machines. Before we bought the MLS we were still considering the option with a system for connecting only two machines. Ultimately, however, we decided to take the risks of investing more in a maximum solution for the automation of up to four machines."
Productivity at a high level
Who dares wins, as they say. And the success proves Jörg Maier right. "We grew much faster than planned. The Fastems system has given us the flexible options we needed and has been of fundamental assistance to our growth to the present day."
At the beginning of 2017, due to burgeoning order books, Gressel also invested in larger clamping devices with another Starrag Heckert HEC 500 Athletic for the MLS. In addition, a third tooling and material station was installed in the opposite hall.
While production on the FMS initially ran to around 250 different repeat parts, this number has almost doubled in the meantime, and various new workpieces are constantly being added. The variety of parts has thus increased, but so has the productivity of the overall system. The three machines already connected to the MLS now each achieve 5,000 spindle hours per year, even with chaotically organized loading of the machining center. This means Jörg Maier can be very happy with the result, not least because he is aiming at 6,000 spindle hours per machine for all four machining centers: "We have to remember that the machining centers can't produce non-stop, for example when new parts have to be brought in or the machines have to be serviced. Also, in Switzerland we're not allowed to manufacture on Sundays, not even unmanned. Therefore, the machines run unmanned on Saturdays into the night, before production pauses on Sundays. This means our productivity is already at a very high level."
This article was published in "mav", issue 04/2017
Want to learn more?
Give us a call or send an email.
"*" indicates required fields