Milling Specialist Freyssinet Aero Equipment
Freyssinet, A company that manufactures and delivers precision mechanical equipment for the aeronautics and space industry, produces all complicated equipment in-house on 4- and 5-axis machines. Furthermore, Freyssinet purchases general equipment for material delivery and assembles or transforms it. The assembly of systems and subsystems is by means of surface handling.
All equipment produced is for engines, flight commands and/or even the structure of the aircraft. This company, purchased by Mr. Philippe Parsoire ten years ago, has grown from 10 employees to 70.
FREYSSINET, as a subcontractor, also produces and supplies basic equipment, kits and complete systems, as well as composite equipment.
Equipped with know-how and renowned experience of a demanding sector, the company, led by Philippe Parsoire (who acts as CEO and director of development), recently invested in robotic equipment known as FMS (Flexible Machining System).
With a fleet of 4-axis machines, the ambition of increasing the use of Mitsui Seiki 5-axis heavy-metal machining by means of FPM (Flexible Pallet Manufacturing, currently known as FMS ONE) has led to significant gains. This investment fulfilled two high-priority goals in the view of the director and his team: on the one hand, increasing competitiveness to allow the company to gain a position on the 5-axis metal equipment market, and on the other hand to respond to development requirements needed to rival the competition, such as improvement in quality and saving time while still keeping production costs under control.
The choice of machining equipment was made in December 2011, according to Benoît Lahiton, and we received the machine in July 2012. We learned to work with the machine, which had already been earmarked for Fastems. The aim was to master the machine fully before integrating FMS. FMS arrived in January 2013 and was installed and started up one month later.
The aim of this FMS, Mr. Parsoire tells us, was not only to optimize spindle rotation (number of hours of production) but also to reduce setting times and set-up connected with series launch. Freyssinet series are small as they do not exceed 40 pieces.
Mr. Lahiton also adds that there are other significant advantages:
This FMS, which is piloted by a sole operator, works 24 hours a day, 7 days a week. One person helps with assembly and disassembly of equipment. With the 12 pallets we have installed int he FMS, we can respond very quickly to demands and changes in the market. Mr. Parsoire adds that Freyssinet's delivery times are maintained 95% of the time and that FMS will improve this figure.
Integration of the digital workshop by means of the control system installed in FMS which allows:

improved schedule management
raw material parts management
cutting tool management
and a link to the ERP system from Freyssinet Aero.

Direct tool management using the FPM control system with regard to future potential production allows simulations of delivery times to be made and to give operators precise information on future production, enabling them to manage all tools during the night or at the weekend when there are fewer personnel. Changing tools during "hidden" time allows us to increase the number of valuable hours of production, according to Mr. Lahiton.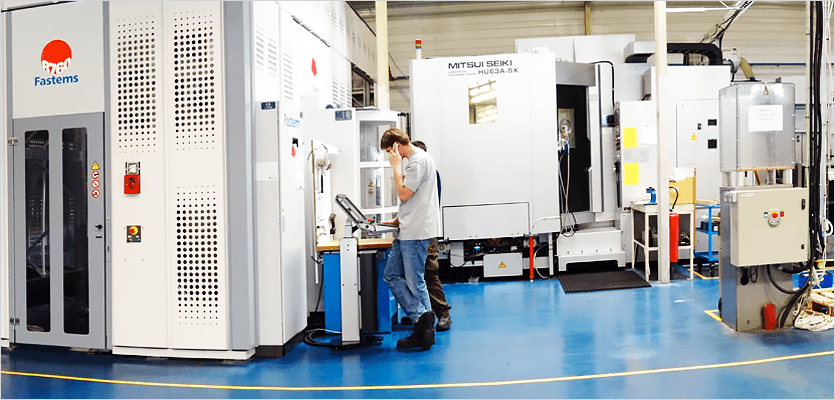 Furthermore, the fact that the control system is connected to our ERP allows for planning of manufacturing orders and gives us an overall view of the production. This enables us to see and react quickly, as required, to any surprises that may arise in production, such as late arrival of raw material parts.
This investment has also been a success because the "Productivez" label awarded by Symop (Syndicats des constructeurs de technologies de production – the union for production technology designers) has been presented to Freyssinet Aéro in the French parliament under the auspices of the president of the parliament, Mr. Claude Bartelonne. The label was awarded to honor the investment, which not only increases the number of production sites, but also makes the company more competitive while remaining on French territory.
By the way, Freyssinet Aéro is not going to leave it at that: a second FPM, this time with a 4-axis Makino, will be installed in fall 2013 in the production hall to continue on this roll.
Want to learn more?
Give us a call or send an email.
"*" indicates required fields