Productivity boost
for precision manufacturing

ZEISS relies on a Fastems flexible manufacturing system (FMS)
In addition to providing its manufacturing services to its own divisions ZEISS also provides them to external customers – who demand attractive prices as well as excellent product quality. "One way of satisfying these requirements is to use an enhanced level of automation," explains Felix Horlacher, Mechanics Project Manager at ZEISS's Oberkochen location. "We've found that a good way to achieve this is to use the Fastems flexible manufacturing system (FMS)."
ZEISS is a leading global technology business within the optical and opto-electronics industry. The company operates in four sectors: Semiconductor Manufacturing Technology, Industrial Quality & Research, Medical Technology, and Consumer Markets. One of ZEISS's manufacturing divisions is responsible – among other things – for the production, assembly and supplying to the company of mechanical and optical components – for example, the mechanical manufacturing facility at Oberkochen produces tubes for high-quality camera lenses.
Increased productivity per square metre
The company's manufacturing operations are constantly striving to improve efficiency and achieve high levels of productivity, and automation is one way of doing this.
According to Horlacher output per unit of area is critical because production space is in short supply due to the constraints of the existing building infrastructure.
Production takes place on two storeys.
Roughly 2,500 square metres of space is available for series production which involves the manufacturing of about 2,500 different components, mainly in batch sizes of between 20 and 200.
By contrast, production orders for items in batches of less than 20 are typically carried out on the upper floor which includes the prototype manufacturing facility.
Investment that enhances
manufacturing flexibilty
Automation which is both efficient and highly productive can be achieved even in compact manufacturing facilities, as Horlacher knows from his own experience: "Once we had invested in a horizontal 5-axis machining centre we also wanted to automate the machine's pallet handling operations".
With that in mind, ZEISS had originally made a conscious decision to acquire a DMC 60 HL system because these types of machine were already used in our manufacturing operations – although they only had 63 tool spaces whereas the new system's magazine was meant to hold over 243 tools in order to enhance manufacturing flexibility.
FFS with the option of extensions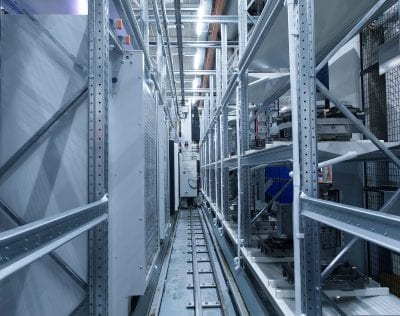 However, ZEISS wanted to retain flexibility even in relation to the automation solution itself. And this is what made them choose a Fastems FMS, more precisely an MD (medium-duty) multi-level system (MLS) with a load capacity of 750 kg per pallet. The clinching factor in favour of the MLS-MD was above all the fact that it could be designed from the outset to be expanded with additional machines to match requirements, and furthermore it could be very flexibly incorporated into the planned, very compact production area. "What's more, unlike other solutions the system can accommodate pallets on two sides, which crucially increases the potential number of pallet spaces within a very compact area." says Horlacher.
Gradual expansion with further machines
The MLS is 28 metres long and almost four metres high, and it provides space for a total of 55 machine pallets and incorporates two loading and unloading stations.
The first stage in this process was in 2017 when the first DMC 60 HL, which initially contained just 30 machine pallets, was connected to the MLS.
The second machine – which was of the same design and had the same number of tool spaces – was ordered about a year later, and was finally connected to the system in 2019.
The overall number of pallets was accordingly increased to 55. The clamping towers include a total of 20 tool spaces and, if necessary they enable continuous production with multiple settings for primary and secondary machining.
Highly automated despite short machining times
There are currently roughly 30 different part numbers in the system, and the number of different components – mainly made of aluminium – is constantly being expanded. The machining times per component vary from a few minutes to up to one hour. Due to the potentially large number of settings per device, relatively long machine runtimes can be achieved even in the case of short machining times.
During the manufacturing process itself maximum precision and process reliability are essential. This is why, for instance, only pallets supplied by the machinery manufacturer are used. This eliminates the need for a zero-point clamping system as an additional interface, e.g. to a neutral pallet, and Horlacher says that this is also reflected in the precision of the machining operations.
Flexible production with
permanent cost reductions
"The FMS enables us to produce many different parts on two machines in a highly efficient and flexible manner. During each of the daytime shifts we only need one employee to take care of the settings and the loading and unloading. Since this enables us to reduce staff costs per component that we manufacture, it means that we can produce parts much more cheaply", Horlacher stresses.
Production is in a three-shift system with a manned early and late shift as well as an additional unmanned night shift, which means that manufacturing costs are reduced even further.
"And if necessary we also manufacture on a fully automated basis (unmanned) at weekends by setting up the system for highly automated production until late on Sunday evening based on an appropriate production schedule."
Ambitious tragets coupled wit high expectations
From the very outset ZEISS had clear rules about the expected levels of productivity that should result from investing in the Fastems MLS.
Felix Horlacher remembers this: "The first machine was to achieve at least 140 operational hours a week out of a total of 168 potential production hours. We managed to achieve this target with the FMS, and sometimes we actually exceeded it."
So the Project Manager has no doubts about the productivity of the solution, particularly as there is further practical evidence of it: "In the place where we've now got the FMS we had two MCs which were also supplied by DMG Mori and were conventionally operated in a three-shift system. By using the Fastems system with just one connected machine we have already achieved the same spindle runtimes that we previously achieved using both of those MCs."
Produktivity virtually doubled
So it's hardly surprising that mechanical manufacturing operations using just one of the two machines connected to the MLS have exceeded 6,000 spindle hours in the last year.
Felix Horlacher's conclusions are equally positive:
"The automation solution has enabled us to almost double our productivity. In addition to the savings in terms of staff costs, we have greatly increased throughput while shortening set-up times and reducing our manufacturing costs per unit"