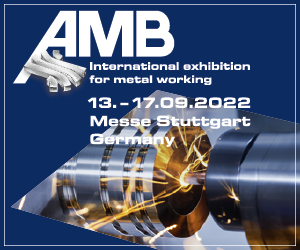 The heart of metal working beats in Stuttgart at AMB
From 13 to 17 September 2020 AMB will become for the 20th time meeting point for experts from the machining and metal-working industry. About 1,500 exhibitors will present their developments and innovations on a gross exhibition area of more than 120,000 square metres.
Meet the who's who of the machine tool and precison tool industry as well as leading experts on metal-cutting.
In AMB you have a chance to meet and discuss about productivity and manufacturing process development with Fastems CNC automation experts, as well as see some of the industry-leading solutions live: we are going to present new solutions for pallet and part handling, as well as the intelligent automation control software and solutions for adding extra value for CNC automation such as robotic finishing.
At our booth B82 in hall 10 we will present:
Flexible Pallet Tower FPT
Compact CNC automation for 4 to 5 axis machining centers with and without automatic pallet changers.
MMS Version 8
Automation software to plan, run and control your pallet and part handling systems or even manual operations now includes lot of easy use features and a practical way to utilize your production data for better decision making.
Robotic Finishing Cell RFC
Automate your grinding, polishing, deburring and other finishing processes for stable quality, smooth processes and lower costs.
myFastems app
myFastems 8760 application gives you real time virtual access to your Fastems automation systems, showing up-to-date status of each individual device of your systems, push alarms and easily contact Fastems support.
That sounds interesting?
Then we will see you at our booth B82 in hall 10.
We look forward to seeing you!
Read more about AMB