From alternative to established player
At the time of their modernization about seven years ago, Zwick GmbH & Co. KG took the opportunity to fundamentally review their existing automation strategies for machine tools. The decision ultimately fell in favor of a flexible pallet container (FPC) made by Fastems, which meant abandoning rotary storage systems or pallet pools.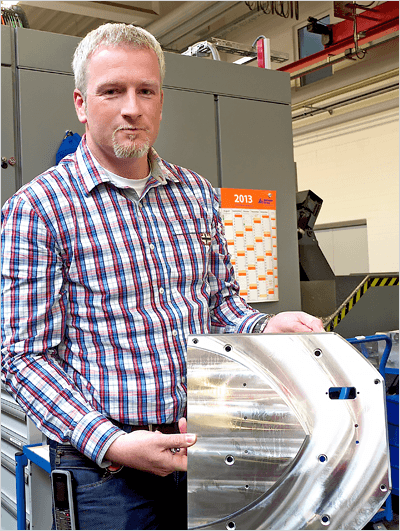 "We are ruining everything", said Reinhold Pöschko (Dipl.-Ing-, FH), and the production manager of Zwick was thereby not referring to either himself or his employees, but to the products of the company. When one speaks of destruction occurring intelligently, the testing systems of the Zwick Roell Group are usually involved. The company with headquarters in Einsingen near Ulm is in any case the market leader worldwide in statistical material testing and the leading supplier of dynamic testing systems.
Systems for a broad range of applications
As part of the Zwick Roell Group, Zwick GmbH & Co. KG develops and produces testing systems, devices and machines for industries involved in plastics, medical technology, as well as metal and automotive products, for which all solutions in the force range of 200 N to 250 kN are available in standard series production. "Everything beyond that is handled by our special department for project-specific machines, which, in addition to the larger force ranges, also includes all automation processes and dynamic testing applications", explains Reinhold Pöschko. The solutions of Zwick receive their "intelligence" through testXpert, the company's own specially developed master software for all systems which guarantee or regulate the non-conform test processes and which can be adapted according to customer specifications.
Series production also demands flexibility
The project-specific machine segment is above all customer-specific, since all of these systems from robot inspection systems to highly complex dynamic testing machines are developed and manufactured according to customer specifications. Pöschko calls the products from series production "to a certain extent catalog goods", which are deliverable within a few weeks. "Nevertheless, customer-specific developments ranging from small changes to more extensive adaptations are occasionally necessary on these devices as well." With nearly 50% of total sales, the series production segment is Zwick's strongest selling area.
Wide range of production with an integrated design
The product palette at Zwick arose from in-house machining work and has expanded to sheet metal cutting and in-house paint finishing. "This enables us to respond very flexibly through internal scheduling." For Pöschko, a broad product palette and flexibility also means a highly qualified staff able to operate multiple machines, as well as a comprehensive manufacturing concept, e.g. through the use of uniform machine controls of a single manufacturer or the division of production into machine tool islands, to name just a few examples.
Up to 15,000 different components
"We are basically providing services to the Zwick company and therefore produce for all company areas, in other words for series production and project-specific machines as well as the after-sales area. The variety of individual components ranges between 14,000 and 15,000 parts annually with about 4,000 new parts added each year, which in turn are largely replacing other production parts. In this context, a batch size of up to 60 parts would be a large series for us. For us, a medium-sized batch is on average 6 parts, so that we are basically talking about an individual series or small series production," states the production manager, adding: "That doesn't exactly make automation easy!" With a wealth of experience with rotary storage, Pöschko also knows that automation as well as flexibility are absolutely essential for maintaining uniformly high productivity:
"This is why we purchased the first machine tool with a rotary storage system in 1999 and have since then continuously invested in multiple-palette machines."
"For us, a medium-sized batch is on average 6 parts, so that we are basically talking about an individual series or small series production." In 2006, when a replacement investment was to be made for an older machining center, the existing automation concept was again scrutinized. "We had by this time gained a lot of experience with two machines including rotary storage. Investing in a new machine with a rotary storage system or pallet pool means that this automation solution is always bound to the respective machine. If you purchase a new machining center, you must again invest in the automation.
Alternative to an unflexible combination
Looking for an alternative to what was for the production manager a rather unflexible combination of solutions, Zwick ultimately decided on the flexible pallet containers (FPC) of Fastems. FPC are fully flexible manufacturing systems (FMS) which are delivered to the customer already completely configured in a container and can thus be very quickly implemented. Each FPC can be connected to two identical machine tools. If a machine is replaced, an FPC can be connected for the automation of the new machine. The automation solution from Fastems can also be expanded as needed with a container so that the number of pallet places can be increased.
Parallel retooling
With the purchase of the highly dynamic machining center HEC 400 D made by Starrag-Hekkert, an FPC from Fastems found its way into the manufacturing of Zwick for the first time. "The four-axis machine was used almost exclusively to produce steel accessory parts – primarily specimen holders and chuck jaws for our testing systems. The FPC-750, with a nominal load of 750 kg, has 12 pallet places for this in the configuration for Zwick. "Each fixture clamps a specific part to be machined, though we in any case always try to use standard fixing devices. For this we need to ensure that long cutting times are avoided and only very small quantities are run, though complete end-to-end machining always entails reclamping of the parts. Through parallel retooling, we save time and are able to achieve a high degree of automation with the machine tool in combination with the FPC, which in turn allows us to respond very quickly and flexibly to the demands of the customer," says Pöschko.
Lightly-manned shifts
The production can be planned according to the information of the production manager always only two days in advance.
"What comes after that is open. We therefore need to respond flexibly and also incorporate rush jobs into the already existing planning, which functions very well with the FPC. Since we also work in a flextime model of our own design in two-shift operation, we can produce in the afternoon in an offset unmanned shift using the FPC and the HEC 400 D.
Ideal for entry level operations with low space requirements
After now more than seven years experience with the FPC, Pöschko appears very satisfied with the automation solution. To the question of why an FPC was chosen and not immediately an FMS, the production manager responded as follows: "The potential range of applications for such multi-level systems is definitely greater, as from one machining cell with a single machine tool to complex flexible manufacturing systems for connecting different machine tools of the most varied manufacturers. But as with every production facility, our manufacturing floorspace is also at a premium. An FPC is compact and can therefore be very easily and also retrospectively integrated in existing production processes. An FPC is also ideal for companies wishing to simply gain experience with alternative automation solutions."
Three new flexible pallet containers within just three years
At Zwick at least, the solution from Fastems has long since ceased to be viewed as an alternative, since the FPC has by now established itself as an integral part of the production strategy. During the course of modernizing the machinery in 2011 with an H 2000 made by Heller, an investment was also simultaneously made in an additional 12-pallet FPC. In 2012, a machine tool made by Heller, in this case the H 4000, was added for the production of traverses. This machine was then connected with an FPC 1000 equipped with 10 pallet places. That Zwick is momentarily fully and completely won over by the automation concept of Fastems is reflected by their most recent proposition: this year an additional H 4000 is slotted to increase manufacturing productivity, including an FPC as an integrated automation component. The machining center and the FPC will then replace an older machine with a rotary storage system.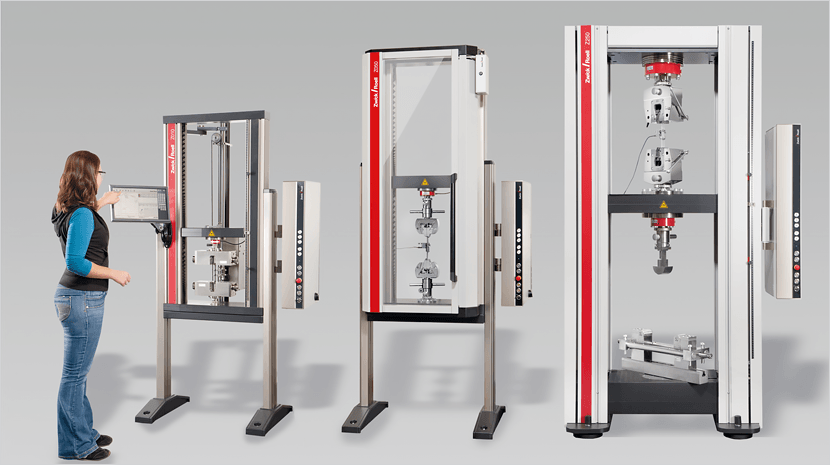 Want to learn more?
Give us a call or send an email.
"*" indicates required fields