Proudly standing behind machine utilization rates of 98.6 percent and world class machining efficiency
Located in Shenzen, China, Sant Hydraulic Technology is known to continuously overcome difficulties and create change. For the past 20 years, the company has consistently improved in terms of innovation and efficiency, allowing them to stand out and become China's manufacturing industry leader in hydraulics. Now, we read how the company was able to over come the challenges of High-Mix, Small-Batch manufacturing with Fastems FPC.
The miracle of extreme utilization-rate at Sant Hydraulic
How many minutes are there in a day? For Falin Zhang, managing director of Sant Hydraulic, the number is one he knows like the back of his hand.
"Time is highly utilized here at our manufacturing plant in Longhua," explains Zhang. "There are 1440 minutes in a day and the average cutting time of our machine tools is now 1420 minutes. This means the machine utilization rates are at 98.6 percent, which frankly speaking, is much higher than in many European companies. We have reached world class levels of production."
In addition to high efficiency, Sant Hydraulic also prides itself on excellent product quality and being a strong solution provider. These advantages have made Sant a first-class supplier for well-known Chinese construction machinery enterprises, including Xugong Group, Sany Heavy Industries and Shanhe Intelligence. In the field of high-altitude operating vehicles, Sant Hydraulic has more than 60% market share. Annually the company creates an output of around 400 million CNY.
The "powerful secret" behind operating at European standards
"From the beginning, my goal was to build a factory that operates at European standards," explains Zhang. "At Sant Hydraulic, we believe this translates to having good products that are also 'low-cost'. For us, this word lost-cost has two meanings. The first is high efficiency, meaning low production costs. The second is high quality, meaning low maintenance and using costs. Reliable products, on-time delivery, high machining efficiency and low product prices: this is the key to making a 'European-standard factory', which is also our core competence." As Zhang describes it, the "powerful secret" that allows for this at Sant Hydraulic is a Fastems Flexible Manufacturing System, and more specifically a Flexible Pallet Container (FPC).
"This is the key to us having competitive edge on the Chinese market."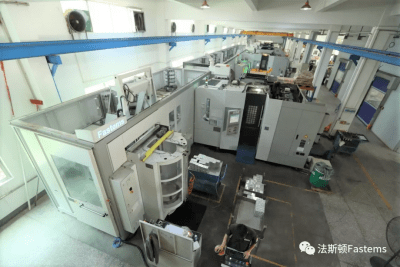 High-Mix, Small-Batch – A challenge, but also an advantage
The core technology and capabilities of Sant Hydraulic is in the designing and manufacturing of threaded plug-in valves and valve blocks. While these have the advantages of small size, compact structure, easy disassembly, and flexible application, their production is not necessarily easy. The biggest challenge here for Sant Hydraulic is High-Mix, Small-Batch production. Of the orders received the normal demand for the same batch of valve block is usually some dozens, with the largest orders going up to only 2000 to 3000 pcs. Currently, Sant Hydraulic produces up to 900 different kinds of products annually. The average per day is around 30 or 40.
From a need for change to a major turnaround
Five years ago these kinds of High-Mix, Small-Batch processing tasks were becoming a real problem at Sant. This was because at the time, the factory was still operating with conventional low efficiency, low capacity processing equipment, and inefficient processing methods. In addition, market competition was increasing and customer demands were changing. Zhang knew that the company needed to make a change when problems finally heightened in 2015.
After visiting a large number of European manufacturing companies, it became clear that flexible manufacturing had the ability to solve all problems related to High-Mix, Small-Batch manufacturing. Zhang saw it as a way to take their entire factory to a higher level. "The year 2015 was the most difficult year for us, but the investment of the Fastems flexible manufacturing system (FMS) and two horizontal processing centers brought us a huge turnaround."
Specifically, Sant Hydraulic invested in a Fastems compact modular pallet automation system – Flexible Pallet Container (FPC). Yongping Ding, from Fastems (Shanghai) Co., Ltd. explains how the FPC can be extended from one single machine tool up to three and is equipped with one RGV (rail-guided-vechile) for automatic pallet transfer. In addition, the FPC's ergonomically designed loading/unloading station meets the needs of the operator and keeps the machine tool(s) running smoothly, in combination with the storage racks.
Fastems FPC and MMS – Dramatic Improvement in Production Efficiency
Through integration with Fastems Manufacturing Management Software (MMS), the entire production operation at Sant Hydraulic can easily be controlled. This includes the machine tools, fixtures, tools and workpieces. In addition, MMS creates a clear view of production status and equipment utilization information, production scheduling, and real-time dynamic adjustment.
Although the FPC is an entry-level product of Fastems, Zhang explains how the production efficiency of Sant Hydraulic has dramatically improved since the integration of the application. "We've achieved a daily effective machining time of 1420 minutes, meaning that the machine tool utilization rate is 98.6 percent," explains Zhang. "The application of the Fastems FPC has also greatly enhanced our market competitiveness and contributed to our business development."
"Every time a customer visits our factory and sees this automated flexible manufacturing line, they will be confident in our delivery and product quality."

Real lights-out factory manufacturing
"Fastems FPC allows our machining to achieve truly unmanned production," explains Zhang. Now, the staff at Sant only work on weekdays, but production continues automatically throughout the night and weekends.
The Fastems MMS software is the key to enable unmanned production and efficient processing. Usually, in single machine running mode, CNC programs are independently stored in the machine tool, explains Ding. This means that if you want to switch to manufacturing a different product with a new machining process, you need to manually find different CNC programs from the machine tool. In turn, human interruption is needed, which introduces the risk of human error during the set-up.
With Fastems MMS manufacturing management software, the situation is very different. All CNC programs are stored in one single software. Required programs are downloaded to the corresponding machine tool as needed, thus eliminating the possibility of human error. MMS can also integrate the software of all machine tool equipment into a master controller, which is a great option for High-Mix, Small-Batch production.
Finally, MMS also makes the automatic fine scheduling of production possible. The operator only needs to enter what products to process, the required quantity, and production start/end time into the control panel. After this, MMS will automatically arrange all orders, and pre-calculate the required amount of materials, tool quantity, time nodes and so on. Through this, Sant Hydraulic's challenges related to High-Mix, Small-Batch production have now become its advantage among competitors.
"The FPC has turned these so-called challenges into our strength"
"Our kind of High-Mix, Small-Batch, and complex structures production would have been a challenge without Fastems. The FPC has turned these so-called challenges into our strength," Zhang said with excitement. Together with Fastems, Sant Hydraulic has achieved the seamless docking of hardware and software and a more intelligent production process. Integrating the FPC has also resulted in higher production efficiency, lower production costs and a more flexible market response. In turn, this enables Sant Hydraulic to continue to lead the industry.
Now, the "European-standard factory" envisioned at the time of the start of Sant Hydraulic has become a reality. However, this is not the end of developments, says Zhang. "In the following two years, we plan to invest 200 million CNY to build and upgrade our modern factory."
"I believe that through close cooperation with Fastems, we can take our manufacturing excellence to an even higher level."
This article is a summary based on an original article published in Fastems China WeChat official channel: https://mp.weixin.qq.com/Fastemschina