Project with Demanding Aerospace Industry Brings Fastems One Step Closer to Perfection
SOURCE: INDUSTRIAL PRIME
Leading industrial automation supplier Fastems has been adding finishing touches to one of the most challenging projects in its history.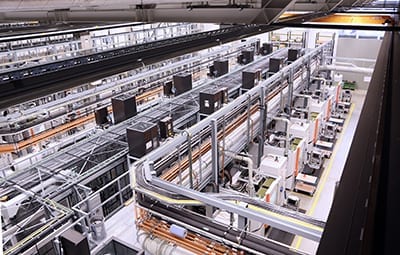 A few years back, MTU Aero Engines, a leading German engine manufacturer, began the construction of an all-new production hall dedicated to the manufacturing of individual components used in aero engines.
To maximize the production capacity of its machine tools, MTU signed a contract with Fastems for the delivery of an automation solution, a Fastems Multi-Level System (MLS).
According to Pasi Kauhanen, Team Manager, Software Development, Fastems, the delivery was among the most challenging ones in Fastems' recent history.
"The project took us years to complete, and it was indeed a great challenge for us," says Kauhanen. "MTU being a manufacturer of aero engines, it was always clear that the demands were going to be very strict. In the aerospace industry the design specifications are as strict as they can get, and everything has to be tested thoroughly."