The journey from a handshake to the first workpiece with a fully automated production system
ORIGINALLY PUBLISHED IN MEKPOINT.COM. IMAGE COPYRIGHT: MEKPOINT
Let's start with a press release from 2016 that changed a lot for Trestads Precisionsmekanik AB and allowed for them to take their contract manufacturing business to the next level.
Component manufacturer gets new owners

The deal gives Danish KP Komponenter A/S a foothold in the Swedish market. The Uddevalla company Trestads Precisionsmekanik AB, a manufacturer of complex machined components, has been acquired by KP Komponenter. The acquisition is the first step in Danish KP Komponenter's plan for further expansion in Sweden.

"TPM has built up a strong position in the Swedish market and their platform and technology match with the other companies in the group perfectly", states Martin Krogh Pederson. For 30 years, the previous owners of TPM, Anders Jonsson, Thomas Lööf and Ove Olsson, built a competitive business focusing on the high-quality machining of complex parts with a high degree of automation. In recent years the company has invested heavily in machines, robot-based automation and measuring equipment."

In late 2019 the name changed to KP Components AB, and the new machine hall with a completely new highly automated production system was taken into use. The technology investments are set to continue as good news keeps rolling in.
Speaking of good news, in the years 2014 and 2018 the engineering company was chosen as the supplier of the year by VBG Truck Equipment in Vänersborg. In order to receive this prize, the contractor must reach 100 percent delivery precision without any quality issues and provide a high level of service. It's also important that the supplier has high technical competence, ability to maintain a good cost level, as well as have various quality and environmental certificates.
The example above is just an example of the success in recent years. KP Components started their business already 34 years ago in 1987 with just a man and a machine. Today, the company is an industrial partner with 30 employees, turnover of 60 million, a production area of 4,500 square meters and an aim to grow even further by investing in new production and more personnel.
We meet Magnus Strömberg who has been employed by the company since 1994. He has come a long way in 27 years.
– I remember one of my first tasks: drill holes in small pieces of metal. After that I have worked as a machine operator and as a production technician. Today I am the production manager. I have basically worked my whole adult life here – luckily I didn't get sick of my first tasks here back then, laughs Strömberg.
What is your production philosophy?
– We want to continue to invest in automation. We have automation cells here that are ten and even twenty years old – but with the latest technology and systems we can produce safely and unmanned around the clock. This means much higher utilization rates compared to the older systems. I think automating is also the best way to remain competitive against countries with lower labor costs, says Strömberg.
You could say that I've had to readjust my mindset quite a bit over the years. Afterall, I started out working as a machine operator and production technician, often times running machines without any automation and all in one shift without a pallet changer. When we used to produce like this, unit costs were relatively high compared to what they are now at KP Components. Nevertheless, I think that even back then the company stayed true to its name "precision mechanics". Even without automation, KP Components made very good stuff, but just not as efficiently as today.
– It's a huge difference if you compare to what we had before. Due to long set-up times and various other factors, we were left with long machine idle times and the inability to utilize our full capacity. Now, we have truly unleashed our full potential with the automation solution that helps us run production around the clock, says Strömberg.
Today, global digitalization means that fast-growing and time technology-driven companies such as KP Components are investing in suitable technologies to streamline their production. All eyes are on automation and digitalization.
The next question goes to CEO Gunnar Andersson, who is highly involved in the development of the company both in short and long term. What is your production philosophy?
– I want us to improve every day and we've found that even the tiniest of advancements are often the most important ones. Many engineering companies focus so much on the big picture that they forget to review their daily operations. Of course, I want to think big, but in order to get there I think we must understand the importance of daily operations. This is where even the smallest improvements can make a big difference, says Andersson who wants to work actively on the shop floor as well.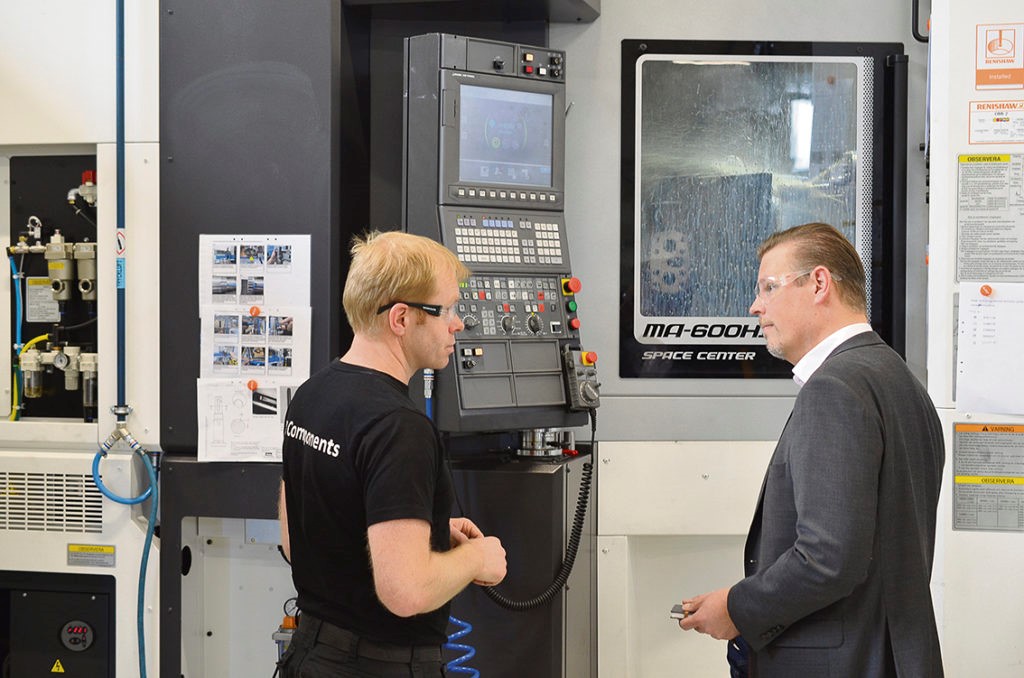 Andersson was recruited to KP group in 2018 and has a long history and broad competence in different industries – he has seen a lot during his career and knows what he wants.
– As a CEO, I don't want to just sit behind a desk. I want to be active on the shop floor to increase competitiveness. Every day, we aim to achieve higher and higher standards with our production technology solutions, and we constantly measure both our new and existing processes to see how they are improving. This has resulted in shorter lead times, better product quality, lower unit costs and better profitability, says Andersson.
– We get a lot of feedback, both positive and negative, during our daily meetings that take place between shifts. These short fifteen minute meetings are extremely valuable and provide us with a wealth of information. Especially because our factory works partly with highly automated production cells that are manned during office hours and unmanned during late evenings and weekends.
Gunnar Andersson apologizes for having to leave the meeting. He promised to bake a cake for all employees today to celebrate the company's best production month ever in the company's history.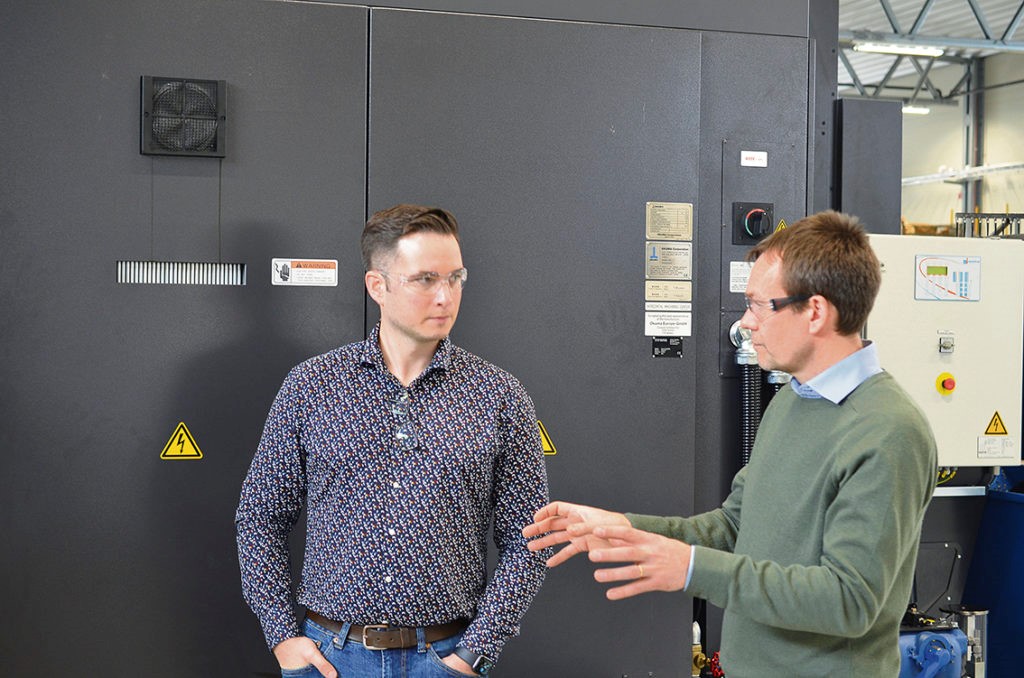 Now, we'll get into the machine investment and interview Henrik Brodén, Scandinavian Sales Manager of the Finnish automation company Fastems. Their success in the Swedish market is remarkable and there are a lot of companies in the market with Fastems' automation equipment.
– I have worked with automation for over 20 years now, so it is really close to my heart. I have worked at Fastems for the past nine years but have worked with Magnus for many years prior. First as a service technician for our older robot cells and later on as a sales manager.
What is your production philosophy?
– Fastems designs automation solutions, both standardized ones as well as customer-specific tailored systems. We streamline customer processes when it comes to machining and its surrounding processes in the manufacturing industries, striving to utilize the machinery in the best possible way. The automation solutions we have today, both hardware and software-wise, provide safer and simpler processes. Finding the best solution together with the customer and getting to be a part of their "automation journey" is what keeps me going and makes my work extra fun.
– With efficient automation, we can create reproducible production processes that bring a whole new level of competitiveness for manufacturers. That is my production philosophy, says Broden.
– Here at KP Components, they have truly grasped how important it is to automate. They really focus on improving their productivity by automating several of their processes to reach the goal of zero set-up times and utilize the most of 8,760 hours a year to produce parts. It's important to notice that even for semi-automated systems that also include manual operations, there are options such as pallet systems and intelligent production control software that can increase utilization rates.
– Fastems has a message that we want all our customers to realize. The number 8,760 refers to available hours in a year, and our aim is to help our customers get the most out of these hours by combining machines, automation, software and services in a meaningful way.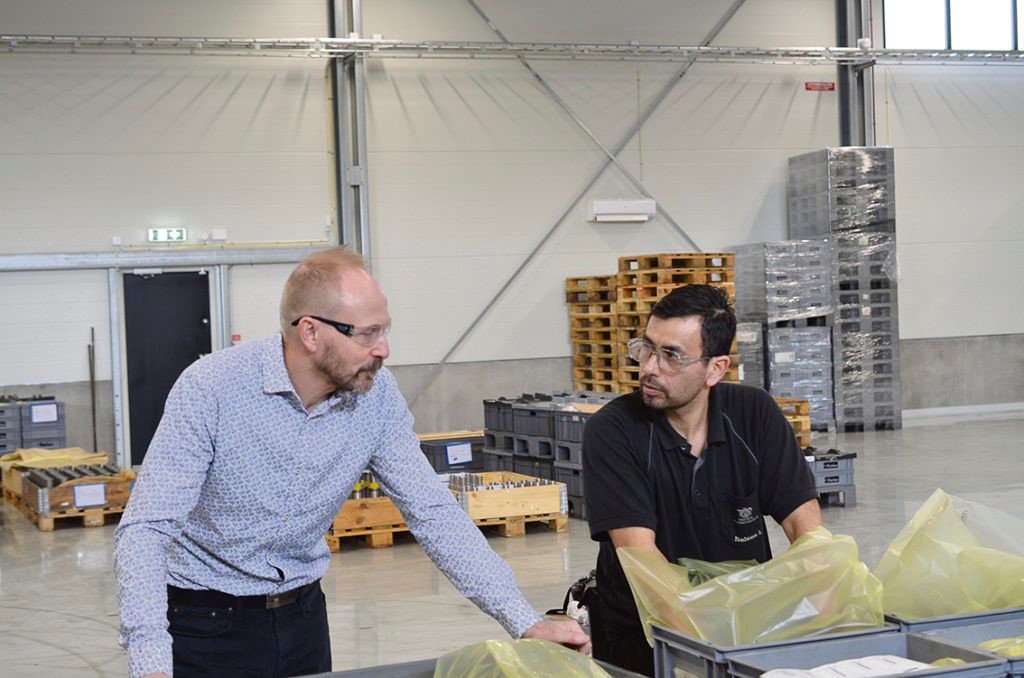 The machine supplier Stenbergs is also on-site. Next, we talk with Mathias Zingmark, Product and Technical Manager for multi-operation machines, as well as Johan Lundin, machine salesman in the Western region of Sweden.
– I have worked at Stenbergs since 2002. First as a production technician and then, after returning from working four years at another company, I worked close to our customers as Product and Technical Manager.
Stenbergs, which has an office and showroom in Jönköping, supplies the engineering industry with leading technology CNC machines and tools. As a representative of several world-leading machine builders, in this case Japanese OKUMA, Stenbergs can ensure high quality and the latest technology. The company is also a qualified partner for training, service and maintenance. High competence and long-term perspective in combination with innovative thinking contribute to giving our customers increased productivity and profitability, says Zingmark.
– If Sweden is to survive as an industrial nation, the engineering companies must increase their investments in new technologies. This is what will keep is from being overtaken by competitors.
– We want companies to continue reshoring their production to Sweden. We see the trend already but want to increase it further. Having a high degree of automation is one of the key factors in determining how things will look in the future for each individual manufacturing company, regardless of if they manufacture their own products or work as subcontractors like KP Components. We as a machine supplier have a strong background in connecting machines with automation and because OKUMA and Fastems cooperate globally, we have ready-made interfaces for many Fastems solutions.
– So, this is part of my production philosophy, Zingmark concludes.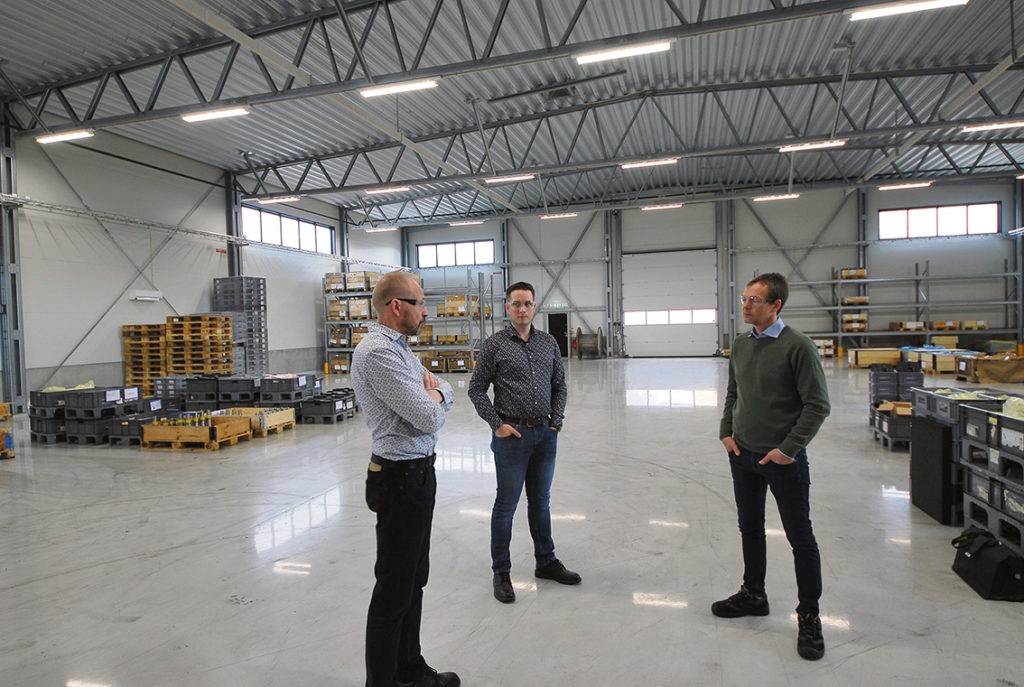 Last but not least we have machine salesman Johan Lundin, Stenberg's new regional salesman in Western Sweden.
What is your production philosophy as a machine salesman?
– My philosophy is to be a consultative salesperson. I want to meet and understand the customer and their situation and find a suitable solution together with them. No matter if it ends up being an automation solution or purely a machine solution. The vital thing is to understand the customer's production and how it can be developed further.
– In addition, I absolutely believe in increasing the degree of automation among our customers, regardless of batch sizes, etc. If we look at this fine plant here at KP Components, I can attribute the sale to our former machine salesman Tord Lövgren who had a very successful career at Stenbergs for over 30 years, says Lundin.
We return to Magnus Strömberg, the Production Manager, who we ask to answer to one last question.
What was the return of your automation investment?
– We needed to replace an old faithful servant. It was time to switch out an OKUMA with a pallet system to something else. I was worried every morning, that the machine would break down and it would not hit our customers' needs in respect of delivery times. Okay, now I'm exaggerating a little but we could not let this happen.
That's why I contacted Stenbergs – after all, we were and still are a satisfied OKUMA user. Together we discussed our concerns and in Stenberg's showroom in Jönköping we saw just the kind of machine we needed.
– The customer requirements from us were fast delivery, integration capability for automation, and to take advantage of improvements that both Fastems and Stenbergs have made in terms of software and mechanical components. The end goal was to reach higher productivity levels. We sealed the deal and the machine was shipped, installed and ramped up in just three weeks, says Strömberg.
The chip basket is filled. Now the facility has been up and running since December 2020 and the spindle time continues to increase as new programs and details are introduced. In the future, more complex processing will also be done. And of course, increased lights-out production – more machining hours per day.