The essentials of CNC machining and automation
Quick jump to:
What is CNC?
Terminology, history and applicable materials
By definition CNC (Computerized Numerical Control) means controlling a machine tool or other device automatically by a computer instead of direct manipulation by an operator. Machine tools, on the other hand, use different processes like milling or turning for a piece of raw material to produce a ready workpiece – this is often called discrete manufacturing. It's notable that the first NC-machines in 1940s and 1950s used paper tape or punched cards to control the motion. 'NC' turned 'CNC' only after computers were introduced as controllers in the 1960s.  The programming language that turns an NC-program – information – into precise machine tool movements is called G-code.
At first, most of of the CNC machines were custom-built for a certain part manufacturing needs, like in the below picture, although general purpose machinery were also produced for turning or drilling processes for example. Since the 1990s general purpose CNC machining centers, suitable for certain processes and part diameters (e.g. 4-axis milling machine with a table of 800x800mm) have evolved tremendously and taken over majority of the markets.
In principle CNC machines can be used on any material from metal to composites, wood, plastics and so on. Although Fastems has worked with customers in all of mentioned material domains, this page is focused on metals and composites.
The main CNC machining processes
CNC as such can be applied in a huge variety of manufacturing processes and machinery. In this page we focus on machining operations that can be identified by their production of chips. This means the processes are substractive by nature and the equipment involved are oftentimes called cutting machine tools.
Referring to the page title, CNC machining can be defined as automatically and digitally controlled machining processes. Main machining processes include:
Milling, where the spindle rotates removing material.
Turning, where the cylindrical workpiece rotates while spindle is fixed removing the material
Drilling, where a hole is cut into the workpiece
Grinding, where a rolling, abrasive wheel removes light amounts of material
Sawing where material is cut (into parts) with a blade.
Finishing operations

Filing that is about light amounts of material removing, combining grinding and sawing and is used mostly in deburring
Polishing and brushing, where a smooth or shiny surface is created with abrasive process.
The above are often called as conventional machining and abrasive processes. There are many other operations such as EDM (electrical discharge machining) or laser or water-jet cutting within the category of material removing operations that are not discussed in this page. Sometimes machining operations are also combined with additive manufacturing processes in hybrid machines. For more information on material removing processes, see for example Mikell Groover's Fundamentals of Modern Manufacturing where the below illustration is from: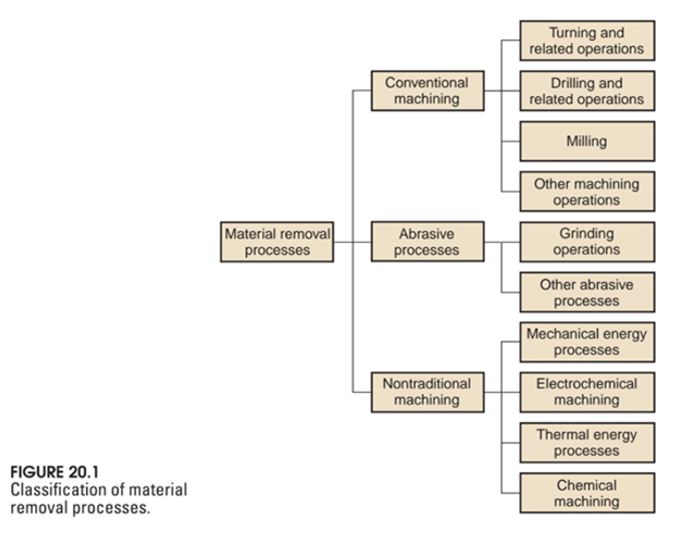 The main types of CNC machines
Given the machining operations context set above, the most typical CNC machine tools are:
3-, 4- and 5-axis milling machines, sometimes also called machining centers
Turning machines
Multitasking machines: turn-mills and mill-turns that combine a milling spindle and workholding for turning operations.
Grinding and sawing machines
When discussing the finishing and other supportive processes for machining, one can also add to the list various machinery or cells that are digitally and automatically controlled via PLC (programmable logic controller) such as deburring with a robot or can be considered to be CNC machines such as a marking machine.
These can include:
Deburring with robot
Sanding with robot
Polishing with robot
Washing machines
Marking machines
Measuring machines
CNC machining automation
Automating your CNC machines is a vast topic. This section begins the journey by explaining the typical activities offering automation potential. Finally, an illustration combining the type of automation with machinery/process types is introduce summarizing this whole page.
What activities can you automate?
Automation simply means the reduction of human intervention to a process. Below you can see the two main categories of activities offering the most automation potential around CNC machines. The best practices on how automate them are discussed here
Automating production planning and resource management
Orchestrating your people, machinery and IT-systems to work as one. In practice this means features like:
Automated information flows between different data systems and machinery or cells.
Proactively and constantly updating production plan based on production orders and their priorities

Automatic fetching of orders from ERP
Operator guidance to always take the right action at the right time

Workpiece manufacturing 'recipe' handling
Managing of (complex) production phasing within production process
Proactive resource management vs production plan and reports of missing resources.

Fixtures, pallets and grippers
Raw materials
NC-programs
Cutting tools, tool data and off-sets

Reporting and analytics

Production and machinery KPIs such as utilization, OEE, availability…
Order progress views
Inventory / work-in-progress
Production event history and traceability

Automated documentation (paperless production)
Automating physical movement and operations
Automation hardware can replicate reproducible and stable processes with very high efficiency and accuracy.  In practice this can mean activities like:
Transfers of (zero-point) machining pallets to/from machine table.
Automated fixture loading/unloading with a robot
Direct transferring of workpieces to machine table or chuck
Automated chuck adjustments or changes
Gripper and tool changes in robots
Tool transfers to tool magazines
Workpiece movements to/from machining supportive processes like

Deburring
Washing
Heat treatment
Washing
Marking
Polishing
Measuring

Raw material management and transfers
Semi-finished product management and transfers
How to combine automation and CNC machines?
The illustration below lists the typical (but certainly not all) CNC machining operations and machinery offering automation potential. Secondly, it shows what the required automation level implies for the automation system:
It's always possible automate the production planning and resource management activities – even without automation "hardware"! Example of such software is Fastems' WCO that is part of our Manufacturing Management Software (MMS) suite.
If one is looking to automate the physical movement of workpieces, pallets, tools, raw materials and so on, then going for different pallet or part handling automation solutions is the right way. Please keep in mind that production planning and resource management features are just as important when talking about physical automation. See our solution finder to explore your options for e.g. 4-axis milling machines or turn-mill machines.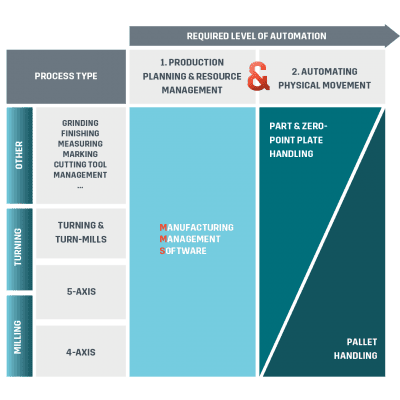 Or rather talk or mail directly with us?
"*" indicates required fields