Aero ITI – Inspiration through Innovation 2023
Alcester, UK
Welcome to Aero ITI 2023 – an event that highlights the values of collaboration in innovating the aerospace manufacturing industry. The event is hosted by Seco Tools, and Fastems is excited to be a partner again!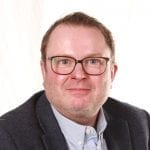 Our Head of Sales, Leigh Tricklebank will be speaking on day 1, October 11. Leigh will talk to you about the current automation marketplace, its legacy journey and the future. He will also walk you through the business value when adopting automation and Fastems 2030 visions!
Make sure to join Leigh on Day 1 of Aero ITI 2023, to hear about new developments in the world of engineering, ask your most pressing questions, and to network!
Imagine if your production process consistently executed the right tasks at the right moments, without fail. Achieving this level of precision and efficiency is possible with CNC automation solutions, which can significantly enhance business operations by optimising workflows and reducing errors. As automation continues to advance, it undeniably represents the future of industry, offering transformative opportunities for improving productivity and competitiveness.
Find out more about the event and register via the link below! We look forward to seeing you!